2019 CDI Waregem
Belgian Thibault Vandenberghe and his Rhinelander bred Santiago Song swept the small tour division at the 2019 CDI Waregem on 12 - 15 September 2019. 
It was in fact a trio of Belgian riders, all three coached by Carmen de Bondt and all three riding Belgian bred horses, that wielded the axe of power in the Prix St Georges, Intermediaire I and Intermediaire I Kur to Music.
Thibault Vandenberghe, Loranne Livens and Sam Verheyden pushed their way into the top three in the Inter I and Inter I freestyle and only in the Prix St Georges had to make room for French Corentin Pottier on the leader board.
Vandenberghe Leads the Charge
Thibault Vandenberghe led the Belgian charge in Waregem. In the Prix St Georges he was second with 73.235%, behind Corentin Pottier and the 8-year old Dutch warmblood Gotilas (by Totilas x Ferro), who won the test with 73.676%. In the Intermediaire I he topped the board with 73.235% and he won the Inter I freestyle on a whopping 77.770%.
"The first day he was very tense and nervous. He was nervous in the stable where he didn't see other horses but there was a lot of traffic in the corridor. After we moved him to another box, he came to rest," said Vandenberghe. "In the other two tests he felt really great, relaxed, loose and nicely uphill."
With the Hanoverian gelding Decadent (by Davignon x Calypso II), Thibault became the 2008 Belgian Young Riders Champion and was member of the Belgian team at the 2009 European Young Riders Championships in Ermelo, The Netherlands. He qualified to compete at the 2009 Young Riders World Cup Final in Frankfurt, but didn't show there.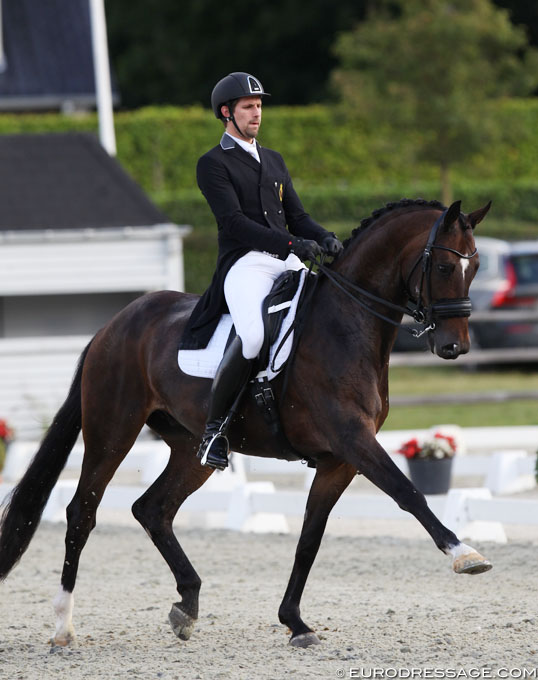 Nine years later he returned to the CDI arena on Santiago Song. Making his international come back at the 2018 CDI Nieuw en St. Joosland, the 30-year old Vandenberghe has since then competed at 8 more CDI's and clocked no less than 5 victories.
"After I lost Decadent in 2010 and I had bought Santiago as a 3.5 year old in the autumn of 2010, I took the time to teach him everything and not to rush things," said Thibault, who got married to Laurence Verstraeten in October 2013 and is now father to their 2-year old daughter.
Santiago Song is bred in Belgium by Mr Peeters of Horse Center Antwerp and is by Sir Donnerhall out of Loredana (by Larome). 
"Initially I didn't plan on buying a young horse, but wanted rather a 6 to 7-year old to compete quickly again," Thibault admitted. "We had already seen quite an amount of horses, but I never felt the click or thought 'this is it'. Through Stefan van Ingelgem we went to look at Santiago and the connection was instant."
Thibault and Santiago Song will be competing in the national Cup of Belgium in Torhout this weekend and then aim for the CDI-W Mechelen in December. "And then we'll work towards Grand Prix," he added.
Livens and Aragon Skip to Second
Loranne Livens and her home bred Rhinelander gelding Aragon L (by Aaron x Lord Loxley) were fourth in the Waregem Prix St Georges with 71.176%, and moved into second place in the Intermediaire I (71.529%) as well as in the Inter I Kur (74.485%). The bright bay gelding is a very talented mover with especially beautiful articulation in the flying changes.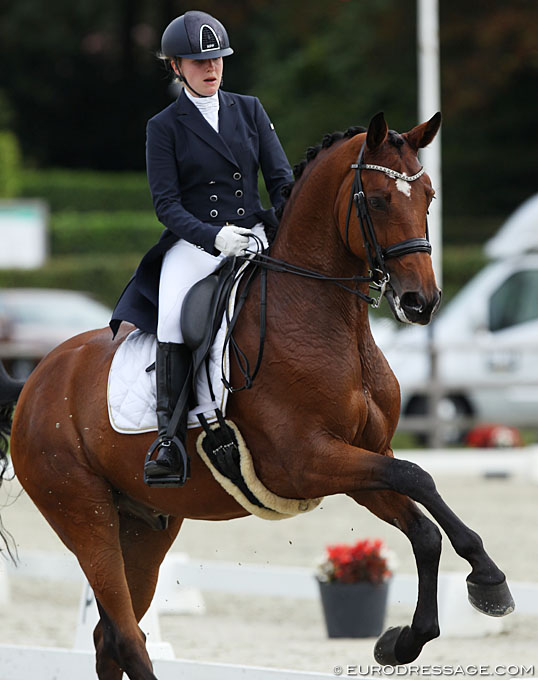 "The warm up for the Prix St Georges felt really good, but he got a bit nervous while heading to the ring, but as soon as we traveled the arena he was in his element," said Loranne. "The test went well aside from some blemishes. On the second day I had a mistake in the flying change between the half passes but still got second. He was quite nervous in the warm up for the freestyle, but again when he came into the arena he felt completely fine. I was able to ride a fantastic freestyle and had a super feeling to the music. We got 74% which is a personal best score. He's so willing to work and such a joy to train."
The 24-year old Livens represented Belgium at the 2011 European Junior Riders Championships in Broholm (DEN) on Vincent. A year ago she took Aragon L to the 2018 World Young Horse Championships in Ermelo (NED) and placed sixth in the consolation finals, while being five months pregnant with her first child, a daughter which was born in December. 
Aragon L is home bred by Loranne's grandfather Louis Livens, who also owns sire Aaron. The licensed stallion was trained to Grand Prix level by Jeroen Devroe and is now in Germany with Heiner Schiergen. Loranne works at her family's riding school De Pronkenberg in Kontich near Antwerp, where dad Ronny and she give lessons. 
"Aragon always loves to go away from home," Loranne gushed about her heart horse. "He's super easy in the stable and so nice to handle, but he definitely has energy enough. He's only 8 years old but he adapts to everything so well. Only the pirouettes need more work, for me and for him. Now I will train him further in all peace and quiet. He's horse with such enormous potential for Grand Prix and that is my dream, to ride Grand Prix one day. So if everything stays the way it is now and as long as Aragon stays fit, I hope to compete him at Grand Prix. But it's a long way."
Loranne also aims to ride Aragon L at the 2019 CDI-W Mechelen.
Verheyden and Kryptonite van de Performing Stables On Three
Sam Verheyden and his 9-year old Belgian warmblood gelding Kryptonite van de Performing Stables (by Detroit x Charming) completed the Belgian power trio in Waregem. Verheyden and Kryptonite started off with a 5th place in the Prix St Georges (70.539%) but then settled into third place in the Intermediaire I (70.206%) and kept a firm hold on that spot in the Freestyle (73.855%). The dark bay gelding is owned by Kristel Daelemans, who bought him as a foal from the breeder Freddy Guinis.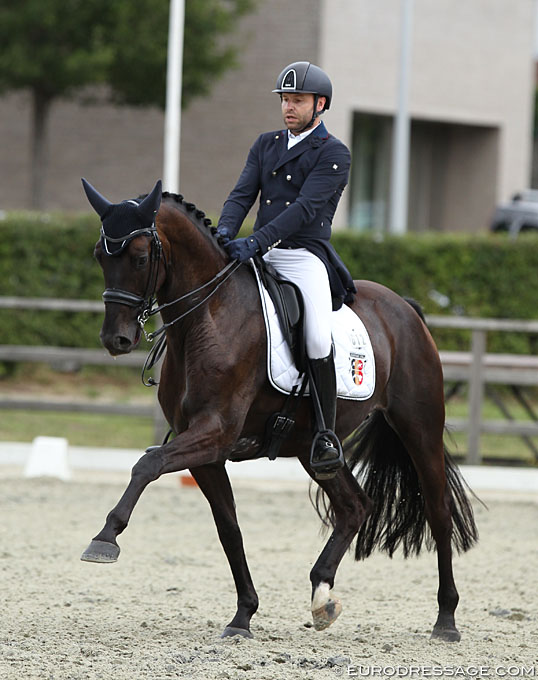 "'He gave me a super feeling every day," said Verheyden about his Waregem experience. "He had go and wanted to perform for both of us. Especially when I was traveling the arena before the Kur, I really had the feeling for the first time that he wanted to give extra and have a show. Wonderful! I truly enjoyed every moment."
The 37-year old Verheyden began his competition career in Belgium as a junior rider aboard Lotte, after which he focused on national level dressage. His international come back was on Belgian warmblood Crack C van het Vijverbos. He showed him at the CDI's in Lier in 2015 and 2016 after which the horse leased to Belgian young rider Hannelore Beckers. With Kryptonite he made his big CDI return three years later at the CDI Sint Truiden in April 2019.
Working full-time in the Belgian fashion industry as district manager for Fashion Club, Verheyden has only time to ride one horse, Kryptonite. 
"Kryptonite is feeling better and better. He's quite a strong horse with a lot of suspension, so in my trainings with Carmen we focus a lot on getting him supple and making trot 'smal'," Verheyden explained. "He's extremely intelligent, but also stubborn and only likes to do the movements that he likes. But that's why it clicks between us, because I'm very patient in my approach. I call him the 'extended trot monster' because he loves doing them."
Sam love to compete at the 2019 CDI-W Mechelen in December as next big show on his schedule. 
"Waregem was a compact show, well organized and it went smoothly. They really did their best. I think as a Belgian rider you need to support international shows in your country. That is why it's a childhood dream to compete in Mechelen, and I'll also be a candidate to ride at the 2020 CDI Lier."
Text and Photos © Astrid Appels  - NO REPRODUCTION ALLOWED
Eurodressage was on the scene photographing all riders competing on Thursday at the CDI Waregem. If you are interested in photos for print or social media, send us an email.
Related Links
Scores: 2019 CDI Waregem
Wagner, Hermes, Koschel Sweep Big Tour at 2019 CDI Waregem