New Zealand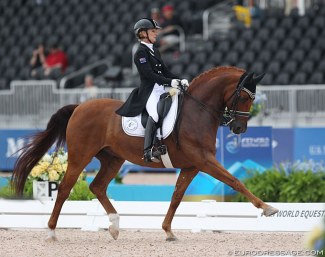 New Zealand's Rio Olympic dressage rider Julie Brougham made her competition come back at the national show at Manfeild Park on 14 - 15 September 2019 after battling cancer the last 12 months.
Brougham's last international start dates back to the 2018 World Equestrian Games in Tryon, U.S.A., where she and Vom Feinsten finished 36th in the Grand Prix with 68.991%.
The 65-year old returned home ill with stomach cramps. One month later she was diagnosed with serous carcinoma, a widespread abdominal cancer.
Brougham bravely fought for her life over the past 12 months, undergoing six rounds of chemotherapy to fight the aggressive cancer. 
She also had a series of setbacks, and emergency surgeries. In January her ovaries and fallopian tubes were removed, but it led to infections and the removal of part of her large bowel, which was dying. A stoma was inserted, but the next operation to reverse the stoma failed, which led to more emergency surgery. The stoma is now permanent.
"Steiny has played a big part in my recovery. Even when I was pretty unwell, I was still able to get on and ride him because we know each other so well," Brougham told Newsroom. "Stoma bags are notorious for leaking and bursting. You'd think that here in 2019 it would be possible to have foolproof bags. It's very frustrating. But I'm still here."
Brougham and her 16-year old Rhinelander Vom Feinsten (by Fidermark x Weltmeyer) were only the third New Zealand pair to ride dressage at an Olympic Games in Rio in 2016.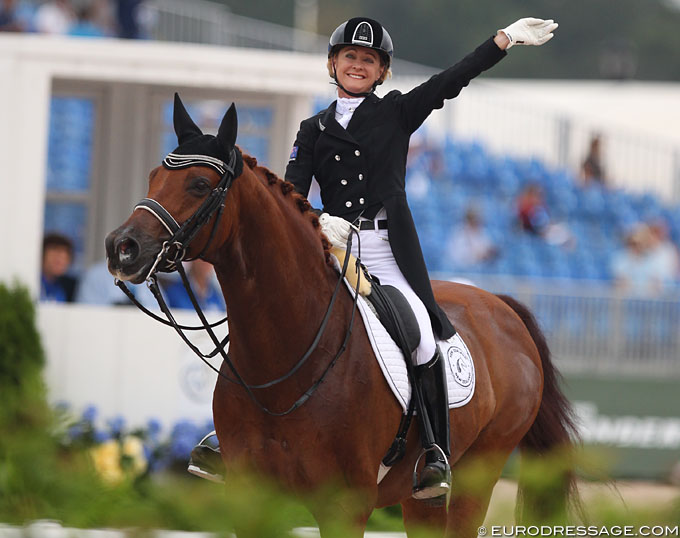 Based near Palmerston North, Brougham lives on her farm with her husband David, an orthopaedic surgeon, and they have two adult children. 
She was delighted to make her come back to the arena at the Premier league show at Manfeild last weekend
"Steiny had been going really well. But he's been at home for a year, so I was worried he was going to feel a bit fragile when he got out there in the atmosphere, in front of the judges," she told Newsroom. "I feel like the competitor I was. I still want to do well, I still want to win, I still want to get a high mark."
She continued: "I certainly don't have the energy I had before, but hopefully it will come back. I've given up my afternoon nap," she laughed. "I have a student here helping me at the moment. When she first arrived, it was such an effort to walk to the stables. When I think back to that time, I just feel so fortunate to have got to a place where I am relatively pain-free now. It's such a big deal."
Read the full story at Newsroom
Photos © Astrid Appels
Related Links
Brougham and Thompson Nominated as New Zealand Individuals for 2018 World Equestrian Games
Brougham on her Way to 2018 NZL Grand Prix Title, WEG Qualification Secure
Brougham and Von Feinsten Do the Double at the Inaugural 2017 CDN Equitana Auckland
Julie Brougham Officially Selected for 2016 Olympic Games
Julie Brougham and Vom Feinsten Win 2015 Horse of the Year Crown at CDI Hastings