Finland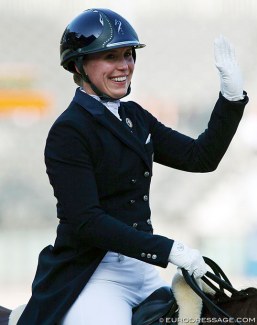 Finnish Grand Prix rider Terhi Stegars is relocating her dressage training business in Luxembourg from A Bis Grand Prix stables to Claude Niedner's brand new equestrian facility in Contern, Luxembourg. 
Stegars worked as head rider and trainer at Tanja Kayser's stable "A bis Grand Prix" in Befort (LUX) since 2010, replacing Fie Skarsoe.
In the 9 years that she has been there, Stegars had a career high on her own and Kayser's Axis TSF. She represented Finland at the 2011 and 2015 European Dressage Championships, the 2013, 2015 and 2016 World Cup Finals in Den Bosch and at the 2014 World Equestrian Games. Most recently she also took Kayser's Thai Pee to the 2017 and 2019 European Championships. 
After careful consideration, Stegars agreed to accept Niedner's offer to become head rider and stable manager at his new yard as of 1 November 2019. She will take on the ride on several of Niedner's horses as well as bring some clients' horses.
"I am really looking forward to the opportunities and challenges that we will face in building up this new stables from the very beginning," said Terhi. "I would also like to take time to reflect on the last decade and to thank all those I have worked with. I moved to Luxembourg in October 2010 and began working for the Kayser family. With their support and the help of the team at 'A bis Grand Prix' we have competed in four European Championships, two World Cup Finals, one World Championship and many more super exciting top-class shows around the world.  It has truly been an honour to work with these amazing people."
Niedner previously collaborated with Luxembourg Grand Prix rider Gaston Chelius.
Photo © Astrid Appels
Related Links
Terhi Stegars Back in Full Swing and Expanding Dressage Training Business
Terhi Stegars on the Road to Recovery
Terhi Stegars' Axis TSF Passed Away
Terhi Stegars and Tanja Kayser Acquire Axis TSF
Finnish Terhi Stegars Relocates to Luxembourg