2019 British Dressage Championships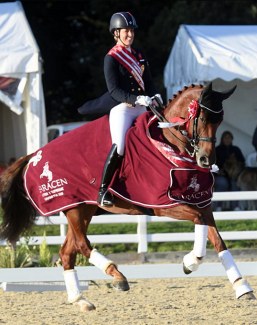 It was certainly a case of super sunny Saturday for day three of the 2019 British Dressage Championships at Stoneleigh Park on 14 September 2019 with the unque show ground basking in warm autumnal sunshine form morning until dusk.
Two worthy FEI level champions - all from the equine mecca of Gloucestershire were crowned.
Dujardin Wins Intermediate I Freestyle
The feature Saturday afternoon class, the Saracen Horse Feeds Intermediate I Freestyle was won for the third consecutive year by Charlotte Dujardin.
The withdrawal of Gareth Hughes, who opted to save young star Sintano Van Hof Olympia for another day, left the class wide open, but it was Dujardin who took the advantage. Aboard Mount St John Stud's Mount St John Valencia she wowed the crowds and judges with a programme packed with punch and power to a delightful soundtrack from the animated film Snowman and the Snowdog.
After their Fairfax Saddles PSG victory on Thursday, yesterday the mare had costly mistakes in the Inter I which paved the way for Gareth Hughes to take the win, but today Charlotte was able to tone down the mare's enthusiasm to pull off a high energy, expressive and this time, clean performance. A mark of 76.82% was on the board from the judging panel of Debbie Wardle (E), Penelope Lang (H), Nick Burton (C), Sandy Phillips (M) and Linda Whetstone (B), with Alice Oppenheimer and Headmore Davina, and Katie Bailey with Eagle Nouvelle on their heels with 74.05% and 73.05% respectively.
"She has all the go in the world," said Charlotte of the Vivaldi sired eight year old. "That was her third Inter I yesterday and her first ever music so she's never had to go through the programme. We hadn't even practised it at home, I just hoped that on the day it would go OK, and it did! I was really, really pleased with her, I couldn't have asked for much more."
"The horse is such a trier," continued Charlotte. "She's been doing that work since July, so really no time at all. She qualified at Hartpury and has just come on and on."
"Yesterday, it was just little tiny blips that were expensive. All the difficult things she did really well. They were just silly mistakes because she was trying almost too hard. That probably cost me the class, but she's young, she's inexperienced, and that all comes with time and confidence. Then today I just wanted to give her a good ride and have a nice clear round.
"This afternoon she was hot to trot, and in the canter I was like 'whoa slow down', but even though she's like that, she still tries. She still waits and she stays with me, so I can't ask for more. I really enjoyed it."
Hester and Nip Tuck Win the Grand Prix
This particular weekend in September has been targeted by Carl Hester since he sat with the calendar to plan 2019, with three titles the target with his own and Jane de la Mare's Nip Tuck. Today was part one, the Grand Prix and it was certainly a case of mission accomplished.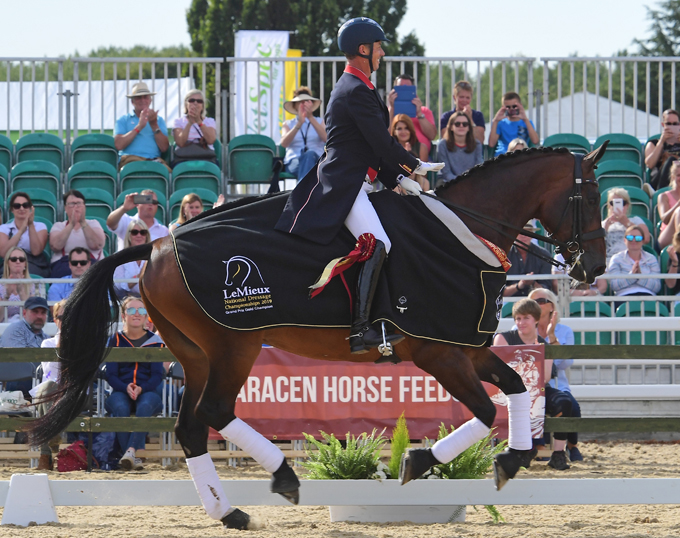 At 15, the Don Ruto sired gelding certainly knows his job - according to Carl, "he could do the Grand Prix with his eyes closed" but nothing is ever a given with Barney as can be unpredictable. But today, he looked delighted to be on such a big stage in the beautiful early autumnal sunshine and was on best behaviour.
Lara Butler set the pace with Dr Wilfried Bechlosheimer's home bred Kristjan after the first group of riders with a strong score of 73.06% - a great effort for the 14 year old in his first full season of Grand Prix. Her mentor Laura Tomlinson came very close to overtaking Lara with the striking black stallion Duvals Capri Sonne Jr, also owned by Dr Bechtolsheimer, but some errors in the one and two time tempi changes pegged the score back to 71.06% - one day it'll all fall into place for a clear round for the Rhodium 12 year old. 
Hot favourites to take the title, Carl and Barney delighted the gathered crowd as they swept effortlessly through the test to post 75.82%, their highest score of 2019, which awarded Carl his 66th Nationals title in a career spanning thirty years. 
"I had a dreamy ride – he just was on top form. He's happy to be here and in the warm up I knew he was going to give me a great ride. There was just one little mistake which was a shame. We've now got a really varied routine for Barney which is working extremely well and he's fresh, sound and supple. What more can you do with a 15 year old Grand Prix horse – you can't keep schooling. I ride him twice a week and Jane and Rob [Barker] mix hacking with some jumping," beamed Carl.
"It's special bringing him here. He won medals alongside Valegro for years so didn't compete at the Nationals and it's great to bring him for people to watch as he's a crowd pleaser. Year on year he comes up with the goods and when you think Jane and I bought him for £1000 and had no expectations but he achieved so much for us, it's a tale everyone can enjoy. He's been a dream for everyone involved," he said, with the adoration for this gentle giant clear in his expression.
Carl and Barney return tomorrow for to attempt parts two and three, the GP Freestyle title and of course the coveted National Champion's crown, which would be number ten for the Gloucestershire rider. Any bookmakers around have probably stopped taking bets as the odds could only be in favour of the dynamic duo.
Photos © Kevin Sparrow
Results - 2019 British Dressage Championships
Intermediaire I Kur to Music
1. Charlotte Dujardin - Mount St John Valencia - 76.825 %
2. Alice Oppenheimer - Headmore Davina  - 74.05 %
3. Katie Bailey - Eagle Nouvelle -  73.5 %
4. Luis Principe - RS Raphael - 73.425 %
5. Sophie Wells-  C Fatal Attraction - 72.775 %
6. Sarah Higgins-  Waldessarini -  72.275 %
7. Becky Moody - Odwigs Echo - 71.925 %
8. Becky Moody - Full Fusion BS  -  71.375 %
9. Kate Cowell - Dramatic Conquest 1- 71.15 %
10. Sara-Jane Lanning - Mi Amigo - 70.75 %
11. Jayne Turney - Penhaligon's Jupiter - 69.35 %
12. 129 Abigail Lyle - Farrell - 69.225 %
13. Robyn Smith - Francesco - 68.625 %
14. Jessica Dunn - LG Alicante Valley - 67.925 %
Grand Prix
1. Carl Hester - Nip Tuck - 75.82 %
2. Lara Butler - Kristjan - 73.06 %
3. Laura Tomlinson - Capri Sonne Jr - 71.06 %
4. Sadie Smith - Keystone Dynamite - 71 %
5. Louise bell - Into The Blue  -  69.92 %
6. Emile Faurie - Quentano II - 69.76 %
7. Willow Kemp - Dragon Heart II - 68.3 %
8. Dan Greenwood - Chevalier-O - 67.56 %
9. Maria Eilberg - Royal Concert -  66.36 %
10. Nicola Buchanan - Half Moon Dark Magic - 66.26 %
11. Ryan Todd - Charlex Eskebjerg - 65.74 %
12. Keith Robertson - Boheme Af Sulsted -  65.16 %
13. Steph Croxford - Mr Hyde - 64.74 %
14. Amy Schiessl - Mr Mercury - 64.64 %
15. Joanna Thurman-Baker - Highcliffe Apollo -  63.72 %
16. Vicky Thompson-Winfield - Artist -  63.34 %
17. Ellie McCarthy - Belafonte -  63.02 %
Georgia Stokes - Talented Mr Ripley - DNS
Related Links
Hughes Pips Dujardin for Inter I Title at 2019 British Dressage Championships
There's No Beating Dujardin at the 2019 British Dressage Championships