KWPN Foal Auctions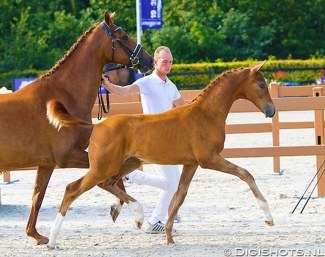 Oristo, the 2019 KWPN Foal Champion, became the top selling foal at the 2019 KWPN Foal Auction held in Dwingelo, The Netherlands, on 13 September 2019. 
Bred by Appie Dijkstra, the chestnut colt Oristo (by High Five US x Vivaldi) sold for 14,000 euro. 
A collection of 52 foals was sold and just 7 of them fetched a pricer of 7,000 euro or higher. The jumpers sold better than the dressage foals at this auction. 
The best selling jumper foal was Omar H2 (by Highway x Padinus), which sold for 8,500 euro. 
Two buyers paid 7,000 euro for dressage foals Otaine MWE (by Fontaine x Apache) and Ovanto H (by Hitmaker x Negro). 
The black colt Ocean (by Daily Diamond x Paganini) found a new owner for 6,500 euro
Only (by Governor x Flemmingh) sold for 5,493 euro, Orilana (by Indian Rock x Cupido) for 5,000 euro.
More Auction News on Eurodressage
Photo © Digishots