2019 British Dressage Championships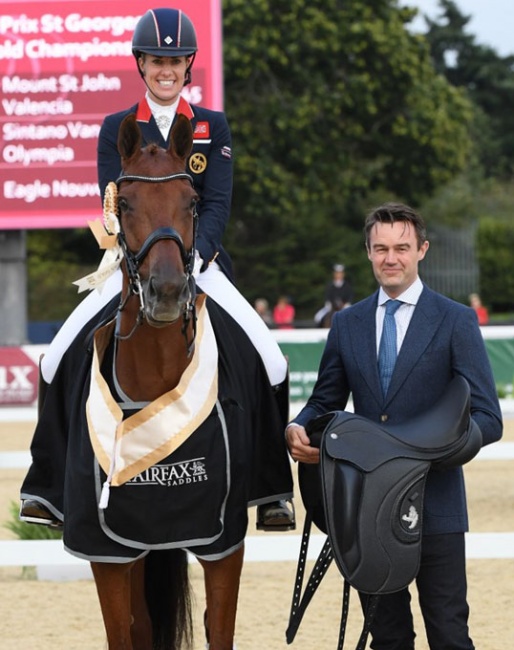 Warm September sun shone on a breezy Stoneleigh Park on Thursday 12 September for the opening day of the 2019 British Dressage Championships as competitors and spectators alike enjoyed a packed programme of first rate competition.
The first champions of the week were crowned, and inspirational stories and exciting combinations for the future revealed. At FEI level it was Charlotte Dujardin wielding the axe of power once again in the Prix St Georges and Intermediaire II.
Dujardin and MSJ Valencia Take PSG Title
Charlotte Dujardin and relatively new ride Mount St John Valencia claimed the Fairfax Saddles Prix St Georges on the opening day of the National Championships. Always a Nationals highlight, the class again featured a star-studded line up 30 with the top ten all above the 70% mark.
Gareth Hughes, Sophie Wells, Katie Bailey and Luis Principe all put up a good fight but it was Dujardin and super talent Mount St John Valencia who enjoyed a decisive victory with a score of 75.447% from the judging panel of Andrea Smith, Peter Storr, Nick Burton, Sarah Leitch and Clive Halsall.
"She's still quite new to me," said Charlotte. "I did a couple of Advanced Mediums to start, just to get my bearings really. She did her first PSG at Hartpury, then Somerford Park followed by Hartpury Premier League [where they won the Small Tour double], and this was her fourth one. So she's very low mileage."
"I was really pleased, because in the warm up it didn't feel very windy, then I went into that arena and I swear to God, it is the windiest arena ever and as you're coming towards those tents and marquees, the noise is phenomenal and you don't appreciate it until you're in there. We had a blip in the canter transition at the end of the walk, the walk was a bit on edge, but it was the first time we got the changes in the test. I was really really pleased with her, especially for her fourth one [PSG], and to get that score even with a few errors."
"She's so cool and so elastic," enthused Charlotte. "She's hot and fiery and she loves to work. She's a mare that if you give her confidence, she'll do anything. She lacks a bit of self-confidence, but when you're there and almost hold her hand she just does it. When I first saw her, I knew she was my type of horse."
Dujardin and Gio Take Inter II Title
At just 16hh the diminutive Dutch warmblood gelding Gio proved that talent and heart outweigh height in the Inter II as Charlotte Dujardin piloted her own talented son of the late Apache to victory with no less than 78.34%.
Speaking about her season with eight year old Gio Charlotte commented, "He's so talented at piaffe and passage so I thought I'd keep him at home for a while and then aim to ride an Inter II at Hartpury, we went, gave it a go, he got 78% - not bad for a first attempt! It's all so natural for him."
"He's the bravest little horse, he's so genuine and he never changes – I couldn't have asked for a better test," she continued about their performance in today's Cavalor showdown. "He has a heart of gold – he's gone from Advanced Medium this time last year to Inter II this year. I don't want to rush him so we'll go home and he'll have a little holiday. He'll definitely be a Tokyo contender – why not!"
Charlotte makes at least two more appearances this week with a ride in the Inter I on her second winner on day one, Mount St John Valencia, before Hawtins San Floriana has a shot at the Advanced Medium Championship on Sunday morning.
Second place went to the Kroll family's KK Dominant in the experienced hands of Team GBR's Gareth Hughes, whilst Vicky Thompson Winfield and the stunning palomino Artist claimed third.
Photos © Kevin Sparrow
Results - 2019 British Dressage Championships - Stoneleigh
Prix St Georges
1. Charlotte Dujardin - Mount St John Valencia - 75.447 %
2. Gareth Hughes - Sintano Van Hof Olympia - 73.526 %
3. Katie Bailey  - Eagle Nouvelle- 72.947 %
4. Sophie Wells - C Fatal Attraction -  72.5 %
5. Luis Principe - RS Raphael  - 72.474 %
6. Alice Oppenheimer - Headmore Davina - 71.711 %
7. Jayne Turney - Penhaligon's Jupiter -  71 %
8. Lara Edwards - Jazzed Up  - 70.474 %
9. Becky Moody - Odwigs Echo - 70.421 %
10. Tom Goode - Langley -  70.342 %
11. Tom Goode - Saint Julian -  70.105 %
12. Andrew Gould - Blue Hors Dexter -  69.947 %
13. Dannie Morgan - Knoxxs Figaro - 69.474 %
14. Darren Hicks - Hemisphere II -  68.789 %
15. Nathalie Kayal - Cleverboy -   68.789 %
16. Lucy Amy - Rudy - 68.763 %
17. Becky Moody - Full Fusion BS - 68.368 %
18. Vicky Thompson Winfield - Esquire -  67.658 %
19. Rebecca Hughes - Ibisco - 67.658 %
20. Robyn Smith - Francesco - 67.289 %
21. Jess Bennett - JB Dukaat - 67.158 %
22. Lara Kuropatwa - For Season - 66.421 %
23. Cara Shardlow - Detonator ii - 66.263 %
24. Abigail Lyle - Farrell - 65.974 %
25. Robert Waine - Nazareno Vicon -  65.289 %
26. Jessica Wade - Empire H - 65.026 %
27. Sarah Rao - Waldessarini -  64.579 %
28. Dylan Deutrom - San Marco  -  64.368
29. Helen Dutton - Valdorama D -  64.342 %
30. Olivia Towers -  Mercian Calisso -  56.474 %
Calum Whitworth - Fernando - ELI
Sam Duckworth - MSJ Top Secret  - RET
Debbie Poynter - Keystone For Real - DNS
Daniel Sherriff -  Bayford Hall Fergus - DNS
Kate Cowell - Rayban - DNS
Intermediaire II
1. Charlotte Dujardin - Gio - 78.342 %
2. Gareth Hughes - KK Dominant - 73.868 %
3. Vicky Thompson-Winfield - Artist -  70.053 %
4. Nikki Barker - Durable -  68.421 %
5. Maria Eilberg - Royal Concert - 68.316 %
6. Sam Duckworth - Mount St John Fairytale - 68.158 %
7. Claire Gallimore - Annette Ballerina -  68.105 %
8. Alice Oppenheimer - Headmore Diffinity - 67.842 %
9. Nicola Buchanan - Half Moon Dark Magic -  67.737 %
10. Amy Schiessl - Mr Mercury  - 67.237 %
11. Nathalie Kayal - Homerun - 67.132 %
12. Hannah Biggs - Don Caledonia -  67 %
13. Becky Moody - Eureko  -  66.579 %
14. Ellie McCarthy - Belafonte -  66.553 %
15. Pammy Hutton - Belmondo III 1- 66.447 %
16. Joanna Thurman-Baker - Highcliffe Apollo -  64.605 %
17. Sarah Higgins - Alfranco -  64.395 %
18. Lara Edwards - Bodyguard - 63.684 %
19. Julia Giner - Wytens - 61.132 %
Katrina Cantrell - Woodlander Donna Summer - ELI
Related Links
Charlotte Dujardin Buys 5-year old Toretto (aka Gio) At Clinic in California
Lara Butler Wins the 2018 British Grand Prix Championship
Hughes Wins 2018 British Grand Prix Test Championship, Dujardin Scores Small Tour Hattrick