2019 British Dressage Championships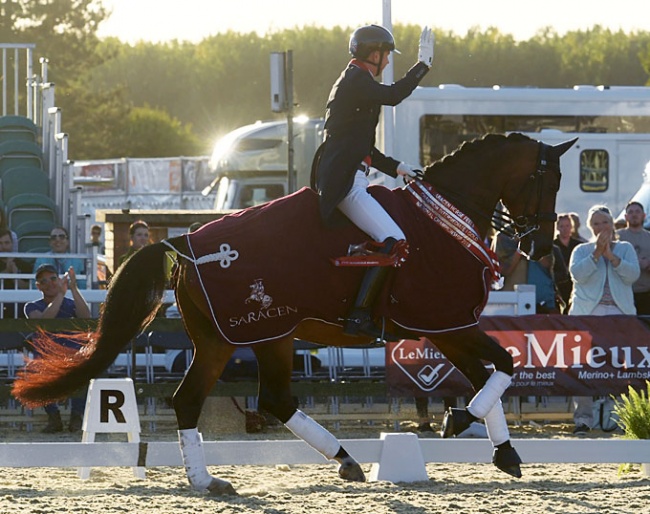 Though unlucky for some, Friday 13 treated the knowledgabele crowd at Stoneleigh to a day of top-notch dressage in fine weather on day two of the LeMieux National Championships. 
It had to happen sooner or later…and today was the day. Gareth Hughes scored a resounding victory in the Intermediaie I Championship riding Judy Firmston Williams and his own Sandro Hit sired Sintano Van Hof Olympia with an athletic performance to score 75.21%.
Probably what you'd expect from the Warwickshire rider brimming with confidence after his rides in Rotterdam a matter of weeks ago but it's the fact that he beat none other than Charlotte Dujardin to take the title and spoil her Nationals strike rate.
In yesterday's Fairfax Saddles PSG, it was Charlotte who took the honours with Mount St John Valencia but today, the expressive mare was on her toes with a few costly mistakes while Gareth and Sintano Van Hof Olympia were on song and well settled to the task at hand. The nine year old, discovered in the Netherlands by Rebecca when set the task to 'find something really special' by Judy, really impressed yesterday but today took it to the next level.
"He's pretty nice, isn't he?!" joked Gareth. "Today he felt like a Grand Prix horse in there. He has all the talent but now just needs the patience. He's quite like Classic Briolinca to ride; the harder you work them, the more they love it but they're super sensitive.  I'm thrilled for his owner Judy who bought him as a six year old, we're so excited by him. The Grand Prix will really suit him as it'll close him up more but for now it's a case of building confidence, strength and security.
Para super star Sophie Wells earned her place ont he podium today with Charlotte Hoggs' C Fatal Attraction after fourth in the PSG yesterday.
Gareth will take Sintano Van Hof Olympia to Keysoe CDI in October and on to his first Eruopean trip in France before taking the Winter to consolidate his work before coming out at Inter II next spring with a view to a Grand Prix debut later in the year – something everyone will be eagerly awaiting.
Photo © Kevin Sparrow
Results - 2019 British Dressage Championships
Intermediaire I
1. Gareth Hughes - Sintano Van Hof Olympia -  75.211 %
2. Charlotte Dujardin - Mount St John Valencia -  73.974 %
3. Sophie Wells - C Fatal Attraction - 71.974 %
4. Luis Principe - RS Raphael -  71.868 %
5. Jessica Dunn -  Alicante Valley - 71.526 %
6. Jayne Turney -  Penhaligon's Jupiter -  70.658 %
7. Alice Oppenheimer - Headmore Davina - 70.474 %
8. Becky Moody - Odwigs Echo - 70.211 %
9. Sarah Higgins - Waldessarini -  70.105 %
10. Katie Bailey - Eagle Nouvelle - 69.579 %
11. Sara-Jane Lanning - Mi Amigo - 69.289 %
12. Abigail Lyle -  Farrell - 69.263 %
13. Becky Moody - Full Fusion BS -  69.132 %
14. Kate Cowell -  Dramatic Conquest - 68.842 %
15. Robyn Smith - Francesco - 68.474 %
16. Becky Moody -  Eureko  - 68.053 %
17. Andrew Gould  - Blue Hors Dexter -  68.026 %
18. Nathalie Kayal - Cleverboy - 68 %
19. Dean Skeates - Super Blue - 67.842 %
20. Elder Klatzko - Woodlander Little Richard - 67.789 %
21. Zoe Sleigh - Finero - 67.605 %
22. Paul Friday - Romanno Rafiel - 67.184 %
23. Sarah Higgins -  Alfranco - 66.658 %
24. Kate Cowell  - Sirocco -  66.553 %
25. Damian Hallam - Black Jack Sollenburg- 65.974 %
26. Jess Bennett - JB Dukaat - 65.763 %
27. Darren Hicks - Hemisphere II - 65.579 %
28. Becky Edwards - Fantasia - 65.026 %
29. Sarah Williams - Bohingus w - 64.842 %
30. Kerry Mackin - Zatterhorn - 64.632 %
31. Rebecca Hughes -  Ibisco -  64.316 %
32. Amy Woodhead Branduardi  - 63.474 %
Katrina Cantrell - Woodlander Donna Summer - DNS
Deborah Childs - Berrifield Stuntman - DNS
Kate Smith - De La Veiga - DNS
Related Links
There's No Beating Dujardin at the 2019 British Dressage Championships
Lara Butler Wins the 2018 British Grand Prix Championship
Hughes Wins 2018 British Grand Prix Test Championship, Dujardin Scores Small Tour Hattrick