Japan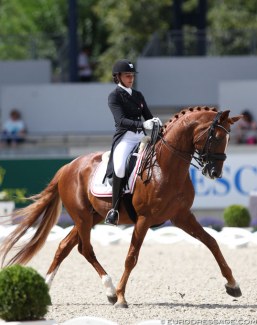 Japanese Grand Prix rider Kazuki Sado has increased his chances for a Japanese team spot for the 2020 Olympic Games in Tokyo, Japan, by getting a second Grand Prix horse to ride for the 2020 season. 
Sado's sponsor, Japan Racing Association, has leased Ludwig der Sonnenkonig. 
Ludwig der Sonnenkonig is a 13-year old Oldenburg stallion by London Swing x Liberator x Directeur. He was bred by Christian Richter. 
Initially owned by Marianna Pinyol Garcia, the horse made its show debut in 2010 under Anna Pfeilsticker, who took him up to L level until 2013. 
The stallion sold to British Sam Duckworth who first competed him at M-level in Neu Anspach in May 2014. Duckworth competed the stallion through Grand Prix level and in the Louisdor Cup qualifiers in Hagen and Donaueschingen until the end of 2016. 
Ludwig der Sonnenkonig moved to Helgstrand Dressage in Denmark to be sold. He was first competed in Denmark by Joao Moreira at a Danish regional show in June 2018. In the autumn on 2017 the ride was allocated to Danish Under 25 rider Victoria Vallentin, who became one of the Danish Grand Prix shooting stars of 2018.
Vallentin and Ludwig der Sonnenkonig were in the running for a team spot for the 2018 World Equestrian Games in Tryon, but were bested by Betina Jaeger on Belstaff in the CDIO Aachen head-to-head WEG team qualifier.
However, after reviewing the rules once more it was not such a bad idea for the then 20-year old Vallentin to go to the 2018 European Under 25 Championships in Exloo instead of Tryon. Senior team selection would have meant that she would no longer be allowed to compete in the Under 25 division in the next four years.  In Exloo she won the Short Grand Prix test bronze medal and in 2019 the pair won the Danish Under 25 Championships. 
Vallentin quit her job as a rider at Helgstrand Dressage to move to Dennis Fisker's yard and lost the ride on the stallion. The horse has now been leased to the Japan Racing Association as Sado's Tokyo hopeful. 
The 34-year old Sado began competing internationally in 2015 with Bellissimo and Ziroco at international GP level. He also rode at small tour level with Urban Legend, Di Luca B, and Soraya van het Trichelhof. In 2018 Japan Racing Association bought the Hanoverian Barolo (by Breitling W x Hitchcock) from A Seifert-Cohn and Carl Hester and competed him on the Japanese Team at the 2018 World Equestrian Games in Tryon.
To up his chances for Japanese team selection for Tokyo, Sado has now been given a second iron in the fire. The horse has already arrived at in The Netherlands, where Sado trains with Tineke and Imke Bartels.
The new duo is scheduled to make its CDI show debut next week at the CDI Waregem in Belgium.
Photo © Astrid Appels
Related Links
Dujardin's Barolo Sold to Japan
Victoria Vallentin Moves to Fisker Dressage
Vallentin and Bachmann Win the 2019 Danish Dressage Championships
Becks Takes Individual Test Gold at 2018 European Under 25 Championships