Oldenburg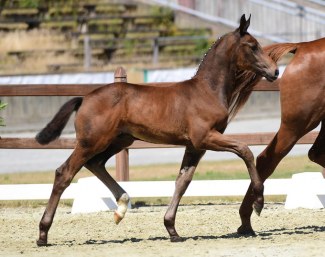 The 2019 Oldenburg Elite Foal auction on 31 August 2019 boasted another stellar price highlight as Helgstrand Dressage acquired the colt Serge Gainsbourg for 150,000 euro. 
The Oldenburg breed society knows how to treat its customers! With a stunning collection of foals and lots of entertainment during the auction (a whole water fountain installation was installed in the indoor arena), the atmosphere was set for a legendary auction night. 
Serge Gainsbourg (by Secret out of the full sister of Foundation (by Fidertanz - De Vito) sold for 150,000 euro to Andreas Helgstrand. Breeder Gerd Pigge ran the last lap with his mare and foal before the hammer struck on 150,000 euro.
Austrian Sissy Max-Theurer acquired filly Viva Riwera (by Vitalis - Welt Hit II - Noble Roi xx), bred by Elisa Donner for 96,000 euro. The filly's dam is a full sister of Rihanna, who produced Dante Weltino OLD and Riwera de Hus. Interestingly, Max-Theurer acquired Riwera de Hus as a 3-year old mare in Vechta, but ended up returning her because of fitness issues. She then sold to Haras de Hus and became an Olympic horse for France under Jessica Michel.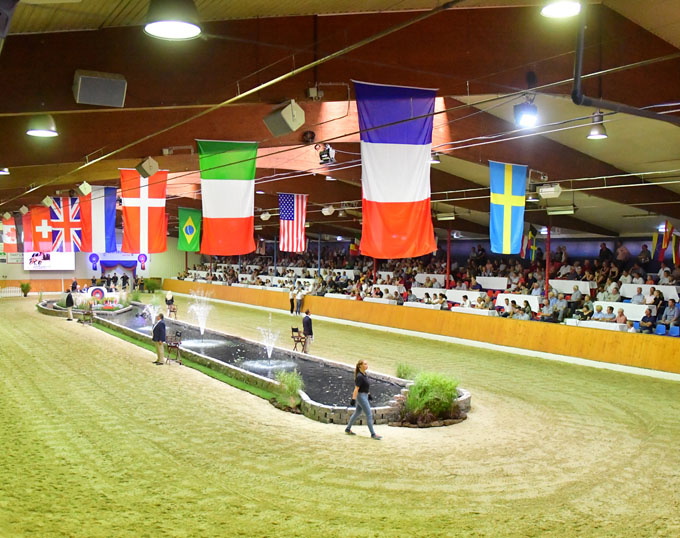 Austrian clients also purchased the colt Secret Emperor (by Secret x Fürst Romancier x De Niro) for 42,000 euro. The same price was paid for the colt Fantastico (by Finest x Dressage Royal x Sandro Hit) who moves to The Netherlands. 
German clients acquired Best Choice (by Bernay x Sir Donnerhall I x Wolkentanz) for 30,000 euro, Je t'Aime (by Jovian x Bretton Woods x De Niro) for 24,000 euro, the filly Zumba (by Zackerey x Fidertanz x Sandro Hit) for 22,000 euro.
Swedes paid 24,000 euro for filly Ballerina (by Benefit x De Niro x Sir Donnerhall), 18,000 euro for Revue Faire (by Borsalino x Dancier x Sunny Boy), 16,000 euro for colt Just for Fun (by Jovian x Benaggio x De Niro), and 11,000 for the colt Battenberg (by Bonds x Sandro Hit x Pik Bube).
Dutch customers paid 16,000 euro for Vincente (by Vitalis x Sandro Hit x Brentano II) and for Viavelli (by Vitalis x For Romance x De Niro).
U.S. Under 25 Grand Prix rider Lauren Asher purchased  the liver chestnut colt Vittorio Rossi (by Vitalis x Samarant x Rubinstein) for 16,000 eur, Jack Daniel's (by Jovian x Diamont Hit x De Niro) for 9,5000 euro and she co-invested with friend Isabelle Harding in the jumper Comme L'Image (by Comme il faut x Carrico x Lavall) for 15,500 euro.
The most expensive jumper foal sold was Temptation (by Taloubet Z x  Mr. Blue x Lord Z) which sold to a German for 32,000 euro. Jumper Toomey (by Tobago Z x Cardento x Grannus) sold for 28,000 euro to a jumping stable in Switzerland.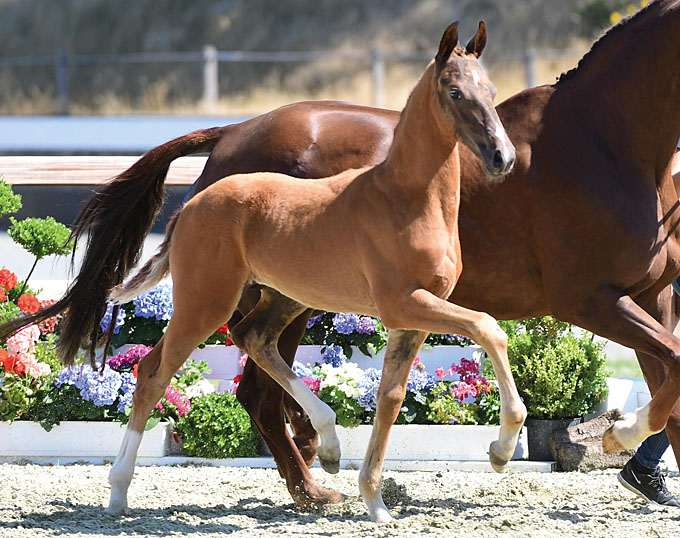 A Danish client paid 12,000 euro for the colt Emiliano (by Escamillo x San Amour x Ex Libris), a Spanish customer got colt For Ever (by For Romance x Quaterback x Dauphin) for 13,000 euro, and a Brit got colt Da Sergio (by Da Costa x Christ x De Niro) for 20,000 euro. 
American Jaime White acquired Vavicii (by Vitalis x Quaterline x Don Bosco) for 10,000 euro. Luxembourg Grand Prix rider Mandy Zimmer secured Schatzmeister (by Secret x De Niro x Florencio) for 12,000 euro. 
The colt Bon Chance (by Bon Coeur x Dancier x Frappant) found a new home in Switzerland for 12,000 euro.
The foreign countries showed great interest in the Oldenburg foals. 35 out of a total of 90 auctioned foals moved to Switzerland (8), Netherlands (7), Sweden (5), Great Britain (4), Denmark (3), Spain (2), Austria (1), Belgium (1), Italy (1), Luxembourg (1), Russia (1) and USA (1).
The average price for a foal at this auction was 14,533 euro.
Complete results here.