2019 PS Online Auction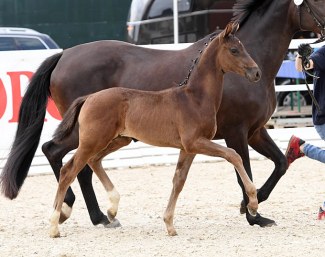 Vidivan became the most expensive dressage foal in the collection of the 2019 PS Online Foal Auction which concluded on 28 August 2019. 
This 9th edition of the PS Online Auction featured a collection of mainly show jumping bred youngsters and foals and a few dressage foals. 
The top seller was the 3-year old Casatol PS (by Casallco x Stakkatol) which sold for 51,000 euro to Belgium. The 3-year old Cor du Lys PS (by Cornet du Lys x Chacco Blue) sold to Poland for 46,000 euro and the 3-year old Chacgran PS (by Chac Boy x Cartogran) sold to Belgium for 40,000 euro
The most expensive dressage foal was Vidivan (by Vitalis x Furst Heinrich) sold to Belgium for 15,000 euro
Total Black (by Totilas x De Niro) found a new German owner for 14,000 euro, while Sunny Star (by San Amour x For Romance I) moves to a new barn for 11,000 euro.
Danish clients purchased Suntastic (by Sezuan's Donnerhall x Furst Piccolo) for 11,000 euro, while Germans bought D-Jane (by Dante's Junior x De Niro) for 10,500 euro.
Furst Zonik (by Furst Toto x Zonik) sold for 8,500 euro to a German customer, while Viva Rubina (by Vitalis x Sir Donnerhall) stays in Germany for 7,000 euro.