The Netherlands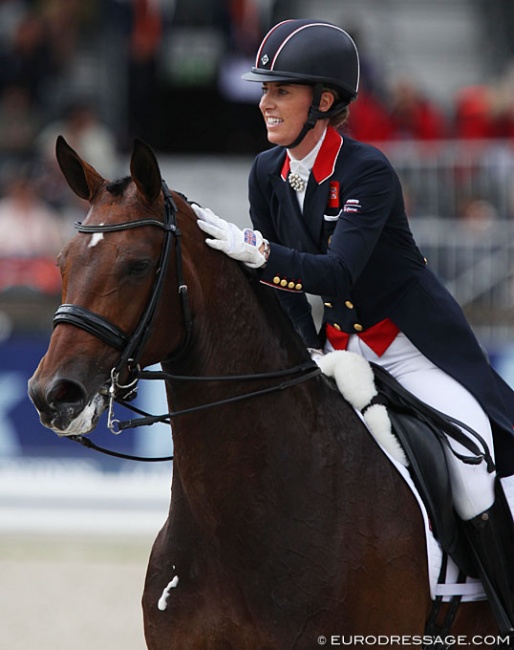 The show organisation of the 2019 European Dressage Championships in Rotterdam issued the following official statement on the elimination of Charlotte Dujardin from the Grand Prix
Official Statement
British athlete Charlotte Dujardin and Mount St John Freestyle were eliminated from the Grand Prix competition today at the FEI Dressage European Championship Rotterdam.
Blood was found on the left flank of the horse in the post-competition check and, in accordance with Article 430.7.6.2 of the FEI Dressage Rules, this results in elimination.
Elimination under this rule does not imply there was any intent to injure the horse, but the rules are in place to protect the welfare of all competing horses.
Quotes from the official Team GBR statement
 
Charlotte Dujardin commented: "I'm obviously absolutely devastated – nothing like this has ever happened to me before. The health and welfare of my horses is always my number one priority, but of course I accept the decision."
Emma and Jill Blundell, owners of Mount St John Freestyle, commented: "We fully support Charlotte. Today's was a great performance, but we accept the decision. We know how seriously Charlotte takes the welfare of our horse and we're proud to have her ride for us."
Vikki Underwood, Chef de Mission for Great Britain, commented: "This is extremely difficult because in Britain we pride ourselves on our animal welfare. Charlotte is one of our most respected and talented athletes, who dearly loves her horses, but she would not hesitate to accept this decision. It takes a great deal of teamwork to get the horses and riders to a championship, and all the connections will be devastated, but the horse is fit and well and will contest many more championships. This obviously means the end of the European Championships for Charlotte and Freestyle, but she'll be with us cheering on the remaining three combinations."
Photo © Astrid Appels
Related Link
Eurodressage Coverage of the 2019 European Dressage Championships