U.S.A.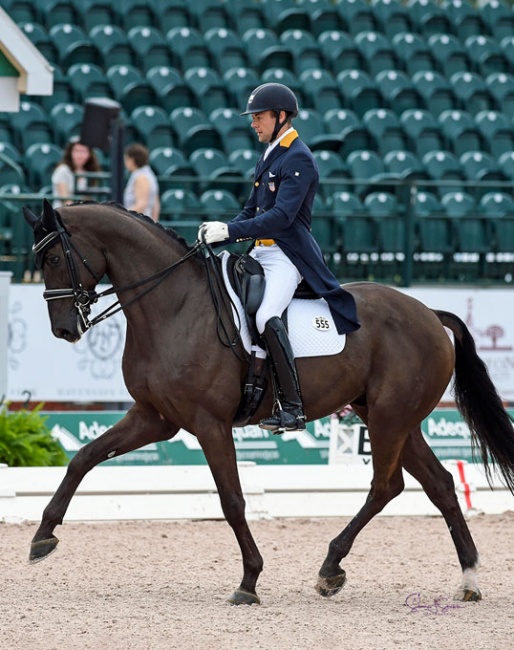 Endel Ots and Lucky Strike have had their share of "luck", but like most "lucky" horse and rider champion combinations their journey has been a product of hard work and dedication.
This summer many fans thought Ots and Lucky Strike's luck had run out when they experienced a big blow of misfortune. But Ots has a knack for finding the good in every situation and doesn't waste much time on setbacks. In fact, his shattered dreams in late July, left him even more motivated and more grateful to be at Lamplight able to compete at the US Festival of Champions this week. And being ranked number one in the country in the Intermediaire standings coming in to the competition seems far more "normal" for Ots than the surreal events that made competing in this year's Festival a reality.
Last year, Ots and Lucky Strike (Lord Laurie-Heidi X His Highness) the Hanoverian gelding by Endel Ots and his father, Max Ots, were at the top of the rankings in the Developing Horse Prix St. George and went on to handily win the Developing Horse Prix St. George US National Championship title.
The 2018 victory was just the next step in an almost text book career path for Ots and Lucky Strike. Ots purchased Lucky Strike as a three year old and Lucky hit his stride on the world stage in 2015 when the pair represented the U.S. at the FEI World Breeding Championships for Young Dressage Horses in Ermelo, in The Netherlands and also competed in the World Breeding Championships in 2015. Lucky Strike is one out of the rare handful of U.S. horses to have ever qualified to compete at the FEI World Breeding Dressage Championships for two consecutive years. Back on US soil in 2016, Ots and Lucky Strike won the Markel/USEF Six Year Old Dressage National Championship.
In July the pair was named to the US Dressage Team headed for Pan Am, but fate intervened. While in route to the Miami airport with the other US Dressage Team horses, a malfunction in Lucky's stall on the shipper's van caused him to scramble and fall. Lucky sustained cuts in several places that would make it impossible for him to travel Lima. Endel's dreams to compete in the 2019 Pan Am Games vanished in an instant.
Instead of focusing on a dream lost, Endel swung into action. "It was hard realizing I wasn't going to compete in Peru, but in the same week I was overcome with gratitude when I learned that Lucky was going to be 100% okay. I decided I was not going to let this tragedy overshadow the thrill of the Games. I had made the team and that was a victory in itself, one that I will continue to savor," said Ots. While Lucky Strike was recovering at Palm Beach Equine Clinic in Florida, Ots head to Lima horseless to support his teammates and his country from the side lines. In Lima, Ots showed his true colors and it turns out they were Red, White and Blue!
As soon as he got word that Lucky Strike would be 100%, Ots also activated his "plan B" and set his sights on competing Lucky at the USEF Festival of Champions. With Lucky Strike again number one in the rankings (this year for the Intermediaire Championships), Ots hopes for a repeat of last year when his number one ranking led to winning the US National Championship. "I am grateful that Lucky is 100%", said Ots, "He (Lucky Strike) arrived at the Lamplight show grounds safely and I am bringing my A-game to my plan-B," Ots shared. His enthusiasm and positive attitude have a lot to do with his success and if social media is any indicator, there are a lot of fans pulling for Endel Ots and Lucky Strike at this year's US Festival of Champions August 20th-25th at the Lamplight Equestrian Center in Wayne, Illinois. It's been a roller-coaster ride to get here this year, but none of that matters this week. We simply have to go into the arena and lay down an accurate, quality test and that is my focus", added a determined and grateful, Ots yesterday.
Originally from De Pere, Wisconsin, Ots now calls Wellington, Florida home. To learn more about Endel Ots or to inquire about becoming part of the Ots team, please call (920) 562-5714, email endelots@gmail.com or visit www.EndelOtsDressage.com
Text by Johnny Robb - Photo © Sue Stickle
Related Links
Endel Ots Withdrawn from U.S. Team for 2019 Pan American Games
Endel Ots & Lucky Strike: Palm Beach Derby CDI Wins Ignite Pan Am Team Dreams
Hicks and Ots Take Last FEI Level Titles up for Grabs at 2016 U.S. Dressage Finals
American Horses Selected for 2015 World Young Horse Championships