Great Britain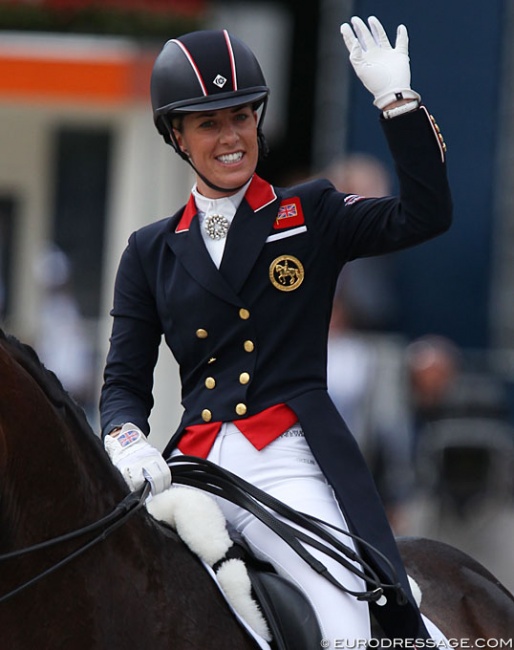 Charlotte Dujardin's elimination from the Grand Prix at the 2019 European Dressage Championships has caused much upheaval; not so much because the FEI rules for the welfare of the horse were followed, but more because of the social media storm it has caused. 
Dujardin posted the following statement on Facebook
Today has been one of the most difficult days of my career and I'm finding this really hard here in Rotterdam knowing what to write, to you, my supporters, as I am truly devastated. Social media has always been something I have embraced and something I have utilised to share my journey with horses with you all. Today, it has been a very different place for me.
Freestyle, like all the horses in my life have become my family and all the moments that keep the team and myself in this unconditional love affair are the reasons we get up every day and do what we do. The friendship, the partnerships and the priceless moments that make us smile far outweigh all the success, and I have always felt the privilege of being with these horses that give me so much. This is what makes us speak to them in our silly voices every day and hug them tightly for learning just the slightest thing. It's the child within us, where most of our love of horses comes from and stays with us.
Today was a sadness I have not experienced before and I write to you, those who have supported me over the years and have continued to today. I am sorry if I have let you down. I'm sorry to have let the team down and to Carl, Alan, and all behind the scenes who stand by side.
I know I haven't met most of you on here and I can't even begin to tell you how it feels to have so many people you haven't met, share your journey and send you their well wishes in comments everyday, including today.
They say the challenges in life make us stronger and whilst I am heartbroken as I write this, please know I am grateful to all of you who have sent your well wishes. To those who have taken to social media in the cruelest of ways today, each and every one of you is entitled to your opinion and I cannot stop that. I can only thank those of you who believe in me; my team, the Blundell family, all of who have gone above and beyond today. And lastly to the lovely Freestyle for giving me such a beautiful ride in the arena and making me as proud as she always does
- Charlotte Dujardin
Photo © Astrid Appels
Related Link
Eurodressage Coverage of the 2019 European Dressage Championships