KWPN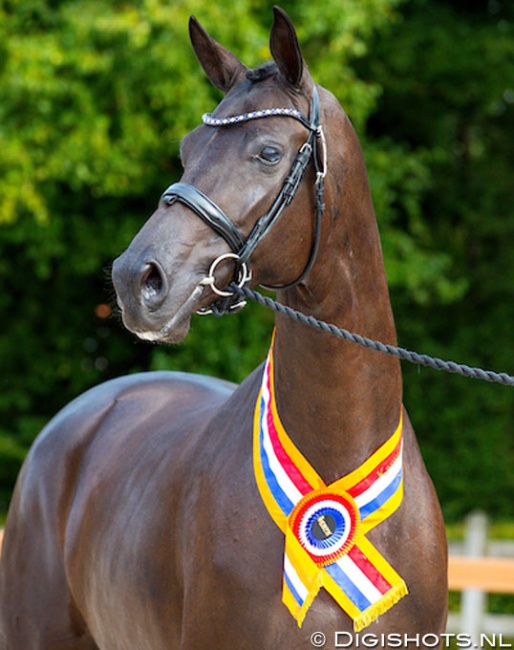 Lolana (by Galaxie x Vivaldi) has been named the KWPN Mare Champion of 2019 at the KWPN Championships in Ermelo, the Netherlands, on Friday 16 August 2019. 
Eleven mares were invited to the champion's ring at the end of the day. The G-crop of stallions dominated this year's Mare Championship as no less than 7 out of 11 were sired by G-stallions.
The mares were judged by Toine Hoefs, Henk Dirksen and Bart Bax. 
The winner was Lolana, who is by the now French owned Galaxie out of elite mare Dolana (by Vivaldi). Bred by Appie Dijkstra and owned by Leen van der Graaf and Yvonne van Vliet, Lolana was praised for her great movements, sufficiently long topline and musculature. She stood out with her suppleness, relaxed way of moving and good walk.  Breeder Appie Dijkstra celebrated an incredible double whammy at the KWPN Championship as he also bred the KWPN Foal Champion, Oristo!
The reserve champion was Livestream (by Guardian S x Lord Loxley). Bred by Corinna van der Heijde and owned by Peter van de Sande, she scored high marks for walk and her strong hind leg. 
The third ranked mare was Lillyfee (by Toto Jr x Ziesto). She is bred by I. Ahne-Schillemand and owned by MT Stables in partnership with Louis and Gabrielle Röst. The mare is built in an uphill way and moves with much technique and suppleness, but could be muscled a bit more in the hindquarters. 
Results - 2019 KWPN Mare Championship
1. Lolana (by Galaxie x Vivaldi) 
2. Livestream (by Guardian S x Lord Loxley)
3. Lillyfee (by Toto Jr x Ziesto)
4. Lorabel (by Toto Jr x Don Schufro)
5. Lancelin (by Governor x Sir Donnerhall)
6. Lady Lamelia (by Glamourdale x Dream Boy)
7. Lita Morka (by Glamourdale x Jazz)
8. La Grande Ciretha (by Toto Jr x Jazz)
9. Loïs Lena (by Grand Galaxy Win x Florencio)
10. Lisa Morka   (by Florencio x Jazz)
11. La Diva (by Gamble H x Haarlem)
Photo © Digishots
Related Links
Kiss Me Set Named 2018 KWPN Mare Champion
Jatilinda Named 2017 KWPN Mare Champion
Iveniz Texel Named 2016 KWPN Mare Champion
Heliana VOD Named 2015 KWPN Mare Champion
Gamante D Named 2014 KWPN Mare Champion
Flieka Wins 2013 KWPN Mare Championship
Eskara de Jeu Wins 2012 KWPN Mare Championship
D.Obertje Proclaimed 2011 KWPN Mare Champion of the Year
Crisjena Wins 2010 KWPN Mare Championship
Brooklyn Wins 2009 KWPN Mare Championship