2019 European Pony Championships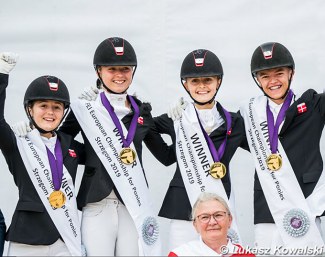 The Danish pony dressage team achieved a historic, first ever team gold medal at the 2019 European Pony Championships in Strzegom, Poland, on Thursday 15 August 2019. 
The Danish pony team traveled to Denmark as hot favourites for team gold coming from a highly successful spring season at CDI's throughout Europe. The ever-winning German team was rocking on its foundations this spring as Danish pony riders beat the Germans in the lion's den at the CDIO-P Hagen in June and gave an impression of what was to come to Strzegom. 
Historic Gold for Denmark
Still, it needed to be done at the Championships but Denmark fully lived up to the expectations. After team silver three years in a row from 2016 through 2018, they finally struck gold with a team total of 226.829 points. Their gateway to gold was created by Alexander Yde Helgstrand on the 13-year old Danish team routinier Adriano B (by De Angelo B x Flying Dream). They posted the high score of the day and won the team championship test with 77.543% 
The Team Championship test was judged by Tissot (FRA), Ebert (GER), Graham (GBR), Tornblad (DEN), and Hillier (HUN). Although their scores were not that far apart for Helgstrand, they were not unanimous in their ranking of the pair. The combination scored between 76.143% and 78.571% and placed between first and third. The second Danish team result came from Liva Addy Guldager Nielsen and D'Artagnan, who were the overnight leaders in the team test after group one, with 76.029%. They only dropped one place  to second after the class concluded. Denmark's third result came from team newcomer Nathalie Thomassen on the 10-year old Danish bred Lykkehoejs Dream of Dornik (by Melli's Dornil x Cupkehof's Winobert). An issue in a simple change and a not so pretty turn on the haunches made their score drop to a still strong 73.257% and 10th place. Thilde Rude Hare's 72.857 % became Denmark's drop score. 
"It is quite exceptional that we have beaten Germany and the Netherlands," said Danish team captain Rigmor Kristensen. "We are so proud, the coach (Jette Nevermann) and I, because Danish talent development over the years has reaped the fruits today. People cheered and came running across the track when Alexander had ridden as last rider, and Danish songs were sung and we ugged and got congratulations from all the other countries. Finally we broke the dominance of the Germans in the pony dressage world by winning gold."
Germany has held a subscription to gold for the past two decades, only losing it twice, in 2010 to Holland, and in 2015 to Great Britain. 
Silver for Holland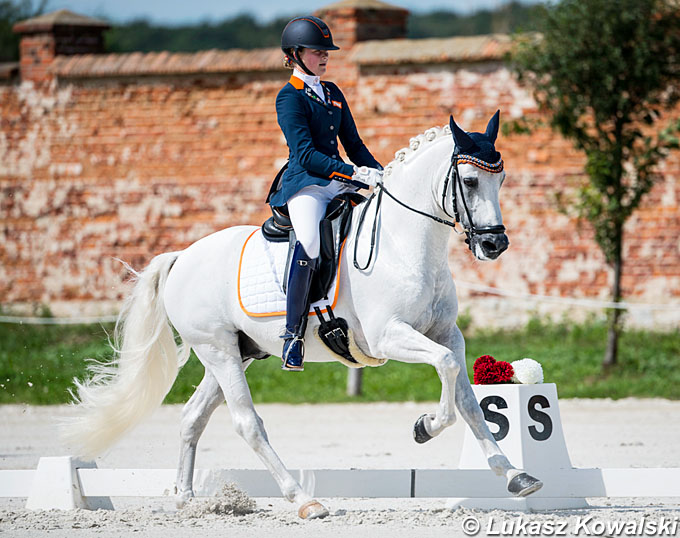 The Netherlands were the overnight leaders in the team ranking after day one, but dropped to silver on day two with 225.771 points, just 1% difference from the gold medalists (226.829 points). Holland's leading score was produced by team routinier Micky Schelstraete on Rose van der Lof's 17-year old German bred Elin's Noncisdador (by Nostradamus x LP Nixen). They became fourth with 75.629% although her marks ranged from 74.143 (Tornblad - 5th) to 78.429 (Ebert - 1st). The pair is riding its last competition in Strzegom as Elin's Noncisdador will be retired after the Championships. 
 Floor van der Kuijl and Champ of Daily were the best Dutch duo on day one and they ended up fifth with 75.171% at the end of the team test. Robin Heiden and Colourful Cannonhall stayed right behind her team mate (74.971%) and landed sixth place. Holland's scratch score came from Evi van Rooij on the 10-year old King Stayerhof's Jango (by Kosmo van Orchid's x Jacobpeel's Rocky). The combination was already selected on the team for the 2018 Europeans in Bishop Burton, but had to withdraw last minute due to an injury. This year they made the selection again and posted 74.257% for a 9th place in the team test. 
"I'm super happy. Everyone rode their own personal best score. It's not an easy thing to do that at a European Championship," said Dutch pony team trainer Imke Schellekens-Bartels. "Everything went incredibly well. The atmopshere is great, everyone stimulates each other and then all of sudden everything falls into place here. All Dutch riders rode tests without mistakes."
Germany Drops to Bronze
German pony team trainer Connie Endres selected four debutants this year for her team and they made a strong effort for a podium place and landed on the bronze medal spot with 224.915 points.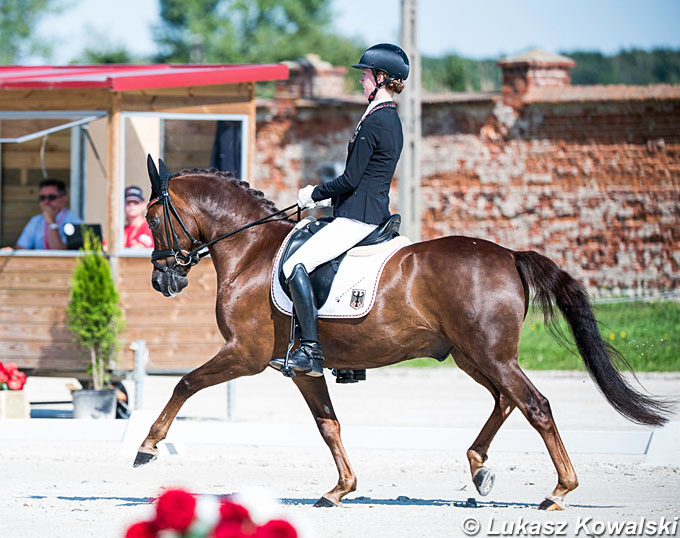 Germany's best score came from the oldest rider on the team, 15-year old Shona Benner on the 9-year old Oldenburg bred Der Kleine Sunnyboy (by Der Feine Lord x Valentino). They placed third with 75.800% but had the judges divided between a 78.571 (Graham  - 2nd) and 73.429 (Tornblad - 7th).
Lana- Pinou Baumgurtel took over the ride on her sister Lucie-Anouk's 2016 and 2017 European Pony Champion Massimiliano (by Monsun P x Cap Cennedy N) this year and immediately captured a team spot. They produced Germany's second best score in Strzegom with 74.829% and 7th place. Her marks ranged between 73.143% (Graham - 10th) and 77.143% (Ebert - 4th). Antonia Busch-Kuffner and Daily Pleasure rode on Wednesday and ended up eighth overall with 74.286%.
Germany's drop score came from the youngest rider in the field, 11-year old Rose Oatley on Daddy Moon. Her talented palomino was not entirely sharp on the aids and with a few blips in the test landed 38th with 67.071%. 
"We came here with a young, rather inexperienced team," said Connie Endres. "All four riders had their Championships debut here. We have good ponies and talented children, but they are a bit green and probably they were a bit overwhelmed by this grandeur of a European Championship. Denmark fielded experienced pairs and Holland rode with much focus and we left some points here and there. We'll start fully motivated in the individual test and do everything to make it hard for the Dutch and Danes."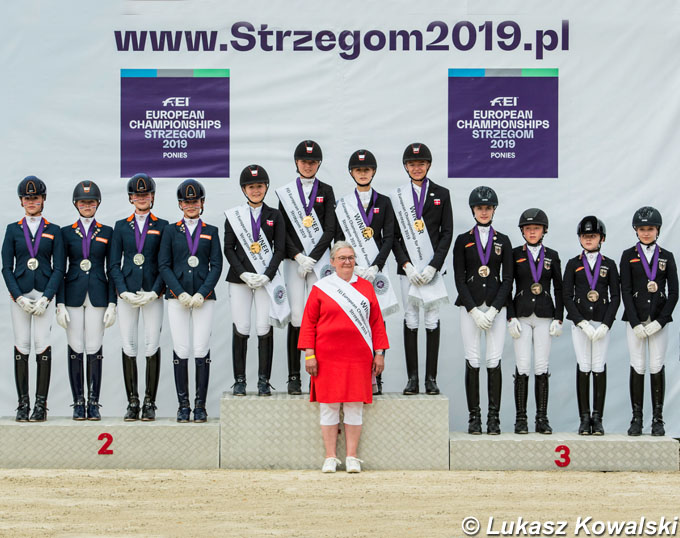 Brits Fourth
The British team finished just off the podium in fourth place with a team total of 212.886 points.
The British team anchor was Annabella Pidgley on the 11-year old Cognac IX (by FS Chambertin x Waldemar). Trained by Cathrine Dufour, Pidgley scored 71.543% to place 14th. Right in her wake was team mate Isobel Lickley on Mister Snowman with 71.314%, whereas Holly Kerslake and Valhallas Zorro (by Valhallas Lord Matrafal x Fjordglimts Sir Johnson) were 19th with 70.019%. Bonneville Bourne and the 16-year old German riding pony Fin C (by Famos x Eiger III) were the drop score with a respectable 69.400% and 25th place. 
Text by Astrid Appels
Photos © Lukasz Kowalski - Image Gallery from the 2019 European Pony Championships on Facebook
Related Links
Scores: 2019 European Pony Championships
Eurodressage Coverage of the 2019 European Pony Championships