U.S.A.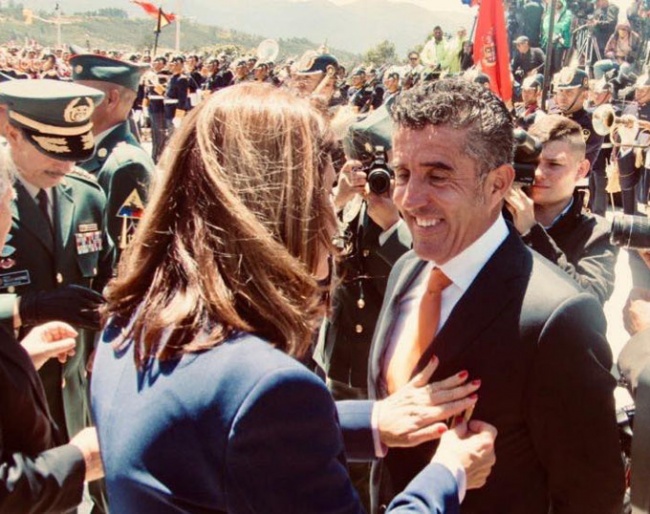 On 25 July, 2019 Colombia's Calvary Day and the Bicentennial of the Battle of the Vargas Swamp, the Vice President of Colombia, along with the General Commander of the Colombian Forces and the Colombian Secretary of Defense, presented Dr. Cesar Parra with the San Jorge Military Medal in recognition of his work and support as coach of the National Army Cavalry riding school and as reward for his effort and service.
Colombian-born Dr. Parra has long demonstrated his commitment to the Colombian Army Cavalry, its program and the cadets. Lieutenant Colonel David Rodriguez, the director of the institution, has been a great promoter of this project and Parra's friend since the beginning of their careers. Dr. Parra has been frequently traveling to Colombia to provide instruction and insight to the Cavalry team, and he hosted Captain Diego Toledo at his farm in Jupiter this spring. Toledo trained under Parra's watchful eye and returned to Colombia with what he said was a "bag (full) of knowledge and tools to improve and transmit to the riding school."
Colonel Rodriguez and Dr. Parra are part of the history of the Cavalry school and proof that goals are achieved with ties of fraternity. Rodriguez told the local paper, "We awarded this medal to César in recognition of his trajectory, for being one of the best sons of this country, for his suitability and talent in addition to his vocation as a teacher. César Parra has been our mentor, our friend and another soldier of our Columbian Calvary, added to his good heart, altruism and generosity. César Parra is for us more than a teacher, César is an example of discipline, perseverance and professionalism; values that have undoubtedly made our officers not only better riders but better human beings."
Dr. Cesar Parra has been riding for the United States for quite some time, winning Team Gold in the 2011 Pan American Games, and has called the USA his home for over two decades. He has found success both in and outside of the competition arena, with success in hundreds of international competitions. He is also known for sourcing and developing horses for discerning clients as well as turning out top young riders. Most recently, he has created a program to help bring talented, young, U.S. riders up through the levels, at his Performance Farms in both New Jersey and Florida. He prioritizes giving back to the sport of Dressage, and is also committed to helping his beloved homeland, Colombia. One of the many hats he wears today is that of coach of the National Army Cavalry riding school, training officers in the sport of Dressage.
"Cavalry holds a very important place in Colombia's military tradition," says Parra. As its historical review puts it: In this way today, as was years ago, the Army Riding School maintains that warrior lineage and characteristic of Cavalry men. When asked his reaction to receiving a recognition such as this, Dr. Parra replied, "I am humbly honored and blessed."
Text by Denise Davis-Woods
Related Links
Parra and GK Sir Beckmann Score Personal Best and Clinch Semican Achievement Award at 2019 GCDA Finale
Parra Brings Sir Beckmann Up Through The Ranks, Winning 7-YO Classes at 2019 CDI Wellington
Van the Man and Dr. Cesar Parra to Represent U.S.A at 2014 World Cup Finals
Dr. Cesar Parra Sworn in as U.S. Citizen
Dr. Cesar Parra: A New Future for Piaffe Performance Farm in New Jersey