2019 North American Youth Riders Championships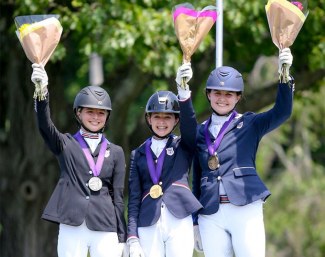 Annelise Klepper assisted her Region 2 team to the silver medal at the 2019 North American Youth Championships on Thursday 1 August 2019. However, her first trip to the NAYC got even better on Friday. Klepper, the youngest athlete in the class at 14-years-old, and Happy Texas Moonlight scored a personal best of 71.441 percent, winning junior individual test gold.
The United States swept the podium as Dennesy Rogers and Chanel earned silver with a score of 70.206 percent and Isabelle Braden and Dali de la Ferme Rose took bronze with a 70.147 percent.
Even with a team silver medal, Klepper (McCutchenville, Ohio) went into Friday's test with very few expectations. She and the 12-year-old Oldenburg gelding owned by Shannon Klepper have only been working together since December. However, a strong relationship has developed in such a short period of time.
"I have never scored a 71 in a CDI, so I felt like my horse was really with me [today]," said Klepper, who was excited to show Happy Texas Moonlight on a larger scale at the NAYC. "I was able to think about every [movement] to perform a good, fluid test. I was really happy with it. [This] is unreal; it hasn't set in, yet."
Rogers (Thousand Oaks, Calif.) arrived at her first NAYC with an abundance of confidence in the 14-year-old Danish Warmblood owned by Dorriah Rogers. Although they have only been showing together for eight months, the mare brings a strong track record having competed at the Grand Prix level with Olympian and U.S. Dressage Development Coach Charlotte Bredahl. Rogers performed boldly, showing off the mare's strengths, making the most of her trip from the west coast. The combination delivered a worthy performance for Region 7, giving Rogers her first NAYC individual medal.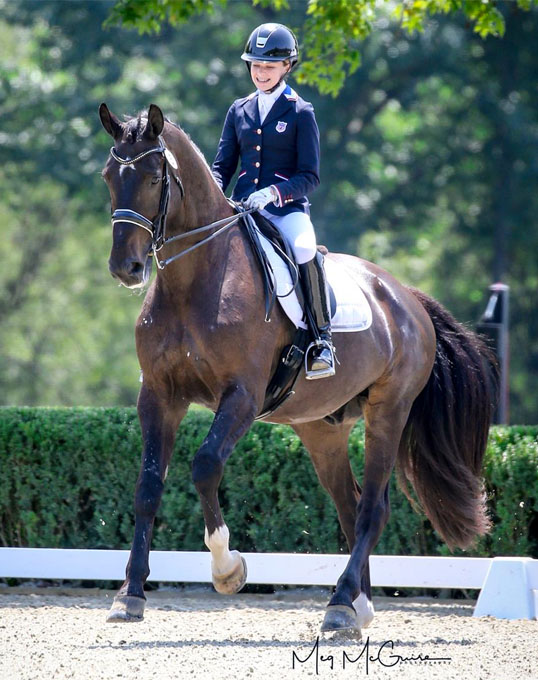 "I went in with the mindset to ride the best I could. Christine Traurig [Olympian and U.S. Dressage Young Horse Coach] once told me to ride like a winner, and that just [sticks] in my head every time I go into the arena. I give all the thanks to my horse, sponsors, chef d'equipe, my trainer, and my mom. They really helped get in a great mindset to perform well with my horse," said Rogers.
Isabelle Braden (Decatur Ga.) and Dali de la Ferme Rose, Chris and Erin Braden's 10-year-old Hanoverian gelding, rode a clean, accurate test to round out the podium. After winning team gold with USDF Region 3 in 2018, Braden could not be more thankful to return and be awarded with an individual medal.
"It feels really awesome, and I owe it all to the huge village that it took to get me here, including my amazing team vet, groom, trainer, chef d'equipe, Old Salem Farm, USDF, USEF, and Adequan," said Braden. "It takes so much sacrifice, time, and money to get the riders here and I'm grateful that my horse is here."
Photos © Meg McGuire
Related Links
Scores: 2019 North American Youth Riders Championships
Region 1 Wins Gold by a Whisker at 2019 North American Young Riders Championships
Region 4 Wins Team Gold at 2019 North American Junior Riders Championships