Great Britain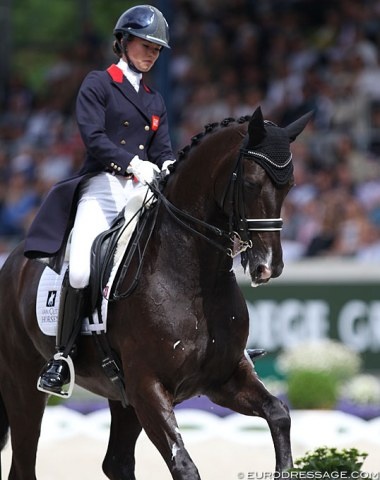 The British Equestrian Federation and British Dressage have announced the dressage squad which will compete at the 2019  European Dressage Championships in Rotterdam, Holland on 20 - 25 August 2019.
Team GBR stalwarts Charlotte Dujardin and Carl Hester will be looking to build on the team and individual bronze medals they earned in Tryon at last year's World Equestrian Games, while Gareth Hughes and Charlotte (Lottie) Fry are capitalising on some successful Nations Cups results this season. This will be Lottie's first senior championships, although she and Dark Legend achieved Individual silver and Freestyle gold at the European Under 25 Championships in 2018.
In alphabetical order, the selected squad has been named by the British Dressage selectors as:
Charlotte Dujardin CBE with Emma and Jill Blundell's Mount St John Freestyle (bay, mare, 10yo, 16.2hh, Fidermark x Donnerhall. Grooms – Alan Davies and Lucy Scudamore) Charlotte commented: "It's a real privilege to be riding on the team – and such an exciting team too! I'm really looking forward to returning to Rotterdam where I first rode for Britain at the European Championships in 2011 with Valegro, it'll feel special to be back there."
Charlotte Fry with van Olst Horses and her own Dark Legend (bay, gelding, 11yo, 17hh, Zucchero x Tango. Groom – Claire James) Charlotte commented; "I am super excited and so thankful for the whole team around me and my horses for making this possible. And I'm honoured that in my first year of competing at seniors, I've been given this amazing opportunity."
Carl Hester MBE with Lady Anne Evans, Ann Cory and his own Hawtins Delicato (bay, gelding, 11yo, 16.2hh, Diamond Hit x Regazzoni - Grooms – Alan Davies and Lucy Scudamore). Carl commented; "I'm delighted to be part of such an exciting team heading to Rotterdam for the European Championships. It's wonderful that we've got our Olympic qualification secured so that we can just enjoy it and ride to our best in search of a medal."
Gareth Hughes with Rebecca Hughes, Julia Hornig and his own Briolinca (bay, mare, 13yo, 16.2hh, Trento B x Royal Dance. Groom – Steph Sharples) Gareth commented: "There is no greater honour than to represent your country. I'm very proud to be riding Classic Briolinca because Rebecca and myself, along with our long-time friend and supporter Julia Hornig, have owned her since she was three or four years old. Steph Sharples, my travelling groom and Head Girl, has looked after Briolinca throughout her career, so it will be exciting and emotional for all of us to be there. It's great to be back on the team with Charlotte and Carl, and to have Lottie with us – she has been one of the most exciting stars this year. We have a very strong team and it will be an exciting championship."
In addition, two reserve combinations have been selected:
First reserve: Richard Davison with Gwendolyn Meyer and his own Bubblingh
Second reserve: Lara Butler with Wilfred and Ursula Bechtolsheimer's Rubin Al Asad
Charlotte Dujardin has also been selected with a direct reserve horse, Sonnar Murray-Brown's Erlentanz.
Performance Manager Caroline Griffith said "I am absolutely thrilled to be working with such a fantastic team this year. All the combinations have had phenomenal results in preparation including several personal bests and scores which evidence they are amongst the best in the world. The selectors have included young horses, older horses, young riders and more experienced riders, combined it has all the ingredients of an amazing recipe for success. I feel honoured and privileged to be working with the riders, owners and grooms all of whom play such a major part in making this happen and I have absolutely no doubt that we head to the Championships excited by the opportunity to show our capabilities to the full. The riders have asked me to thank everyone for their support, they are keen now to get on with the job and make Team GBR proud."
Jason Brautigam, British Dressage Chief Executive, commented; "It's great to have a new addition to the team in Lottie Fry and, with the experience of Carl, Charlotte and Gareth, it makes for a very strong squad. Lottie has made such a strong impression in the last 12 months since winning gold at the European U25 Championships, while Carl and Charlotte obviously impressed us all with their exciting young horses last year at the World Equestrian Games. All four riders can use Rotterdam as an important stepping stone towards the Olympics in 2020, so hopefully Team GBR will be able to make a strong statement of intent a yearout from Tokyo."
Photo © Astrid Appels
Related Link
Eurodressage Coverage of the 2019 European Dressage Championships