2019 Pan American Games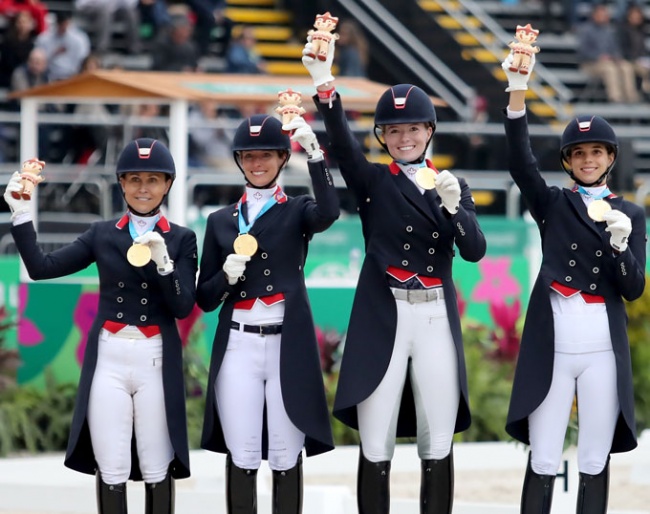 Canada came out on top in a tight battle with the USA when the Team Dressage medals were decided today at the Pan American Games 2019 taking place at the Army Equitation School at La Molina in Lima, Peru.
The three-member US side had a fractional advantage after yesterday's opening competitions, but consistently strong performances from the Canadian crew today saw the defending champions having to settle for silver in the final analysis, while Brazil stood on the third step of the medal podium.
Canada On Top
This was Canada's third time to take the team title in the 68-year history of equestrian sport at the Pan Americans, their first victory posted in Cali, Colombia in 1971 and their second in Havana, Cuba in 1991. 
The Pan Am format sees team members compete at both Small Tour and Big Tour level, and Team USA, already qualified for the Tokyo 2020 Olympic Games following their silver-medal-winning performance at the FEI World Equestrian Games™ 2018 on home ground in Tryon, sent an all-Small-Tour side of just three horse-and-rider combinations.
Canada fielded two Small Tour and two Big Tour partnerships, and when Lindsay Kellock (Floratina), Tina Irwin (Laurencio) and Naima Moreira Laliberté (Statesman) all posted scores of 73 percent, their final tally of 440.111 left them 2.32 points ahead of USA in silver and over 31 points clear of the Brazilians in bronze. Fourth team member Jill Irving (Degas 12) provided Canada's discard score when the top three results for each team were counted.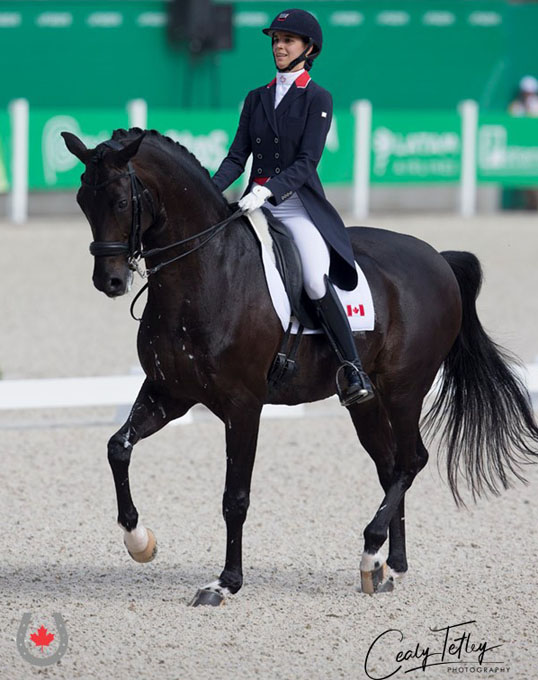 Canada's star performer was 22-year-old Moreira Laliberté, daughter of Cirque du Soleil founder Guy Laliberté, who won both yesterday's Grand Prix and today's Grand Prix Special with her 12-year-old Sandro Hit gelding, Statesman. "This is my first year of Grand Prix, my sixth competition at this level and my first major Games" said the talented rider. Irving is also a Big Tour contender, and the 56-year-old steered her WEG 2018 ride, the 17-year-old Hanoverian gelding Degas 12, into third behind her team-mate.
"The goal today was a really steady and clean ride for the team, and we achieved the plan, so I'm really happy about that," said Moreira Laliberté. "Once I realized that this is a big venue, but really, it's another sandbox that just happens to be here at the Games, then I just focused on riding like I usually do and that took my pressure away."
In the Small Tour Intermediate 1 today, Irwin and Kellock finished second and third. This is Irwin's second Pan Am Games, having helped her country to team silver in Guadalajara (MEX) in 2011. The 38-year-old rider and her 12-year-old gelding Laurencio are Small Tour stars, setting a world record at that level in 2017 before moving up to Big Tour. However they moved back down to Small Tour this year with the specific goal of helping Canada earn their spot at the Tokyo 2020 Olympics, and it has worked a treat. "The whole team gave it our all today. Yesterday it was close behind the Americans, and today we were on our "A" game!" Irwin said.
Kellock and her 11-year-old Hanoverian, Floratina, are a relatively new combination who clicked from the moment they came together. The mare was bought as a schoolmaster for a friend who couldn't find the time to ride her as much as she would like, so loaned her to Kellock who got a really high score with her on their first outing and they have blossomed from there. "The next goal in our minds is Tokyo, we all three have horses that are aimed at that!" said the ambitious 29-year-old.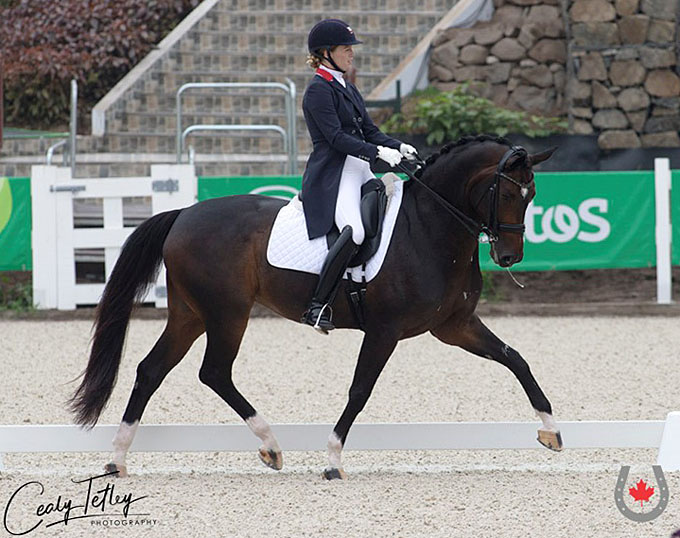 "I am thrilled. Today was by far the best feeling I've ever had in the ring with Floratina, and I couldn't be happier – she brought it," said Kellock, who took over the ride on Floratina less than a year ago, yet has never scored below 70% in a single class entered. "When you go at the beginning, you want to start strong for your team."
Irwin and Kellock finished second and third on the Individual leaderboard ahead of Wednesday's Individual Final in which the top 50% in the rankings from both the Big and Small Tour competitions will battle it out in the Grand Prix Freestyle and Intermediate 1 Freestyle for the Individual Pan American Dressage title, and in which everyone starts from scratch.
"I needed to go for more energy today, so I did that," said Irwin, who is attending her second Pan American Games, previously earning team silver during the 2011 edition in Guadalajara, MEX. "No risk, no gain – so I had a little bobble in my half-pass, which was a coefficient, but I don't regret it because I think you have to go big or go home. You've got to go for it, and you've got to push, so I'm happy I did that today."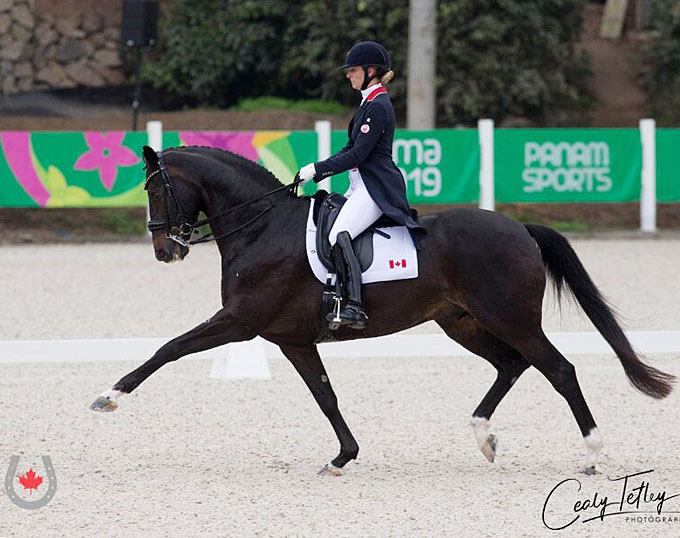 Speaking to the feeling of winning team gold, Irwin continued, "It's a huge accomplishment. There was a lot of pressure on our team (to qualify Canada for Tokyo), but we gave it our all today. We brought our 'A' game and we're very, very proud."
Irving, 56, also contested the big tour, finishing third in the Grand Prix Special and contributing a score of 67.851% to the team aboard Degas 12 (De Niro 6 x Regazzoni), a 17-year-old Hanoverian gelding owned by Irving and Windhaven Farm. Irving also took third in the Grand Prix during the first day of competition to stand 11th on the individual leaderboard.
"Degas is in great form but he was spicy yesterday, and really spicy today, and it cost me some very expensive mistakes," said Irving, who also rode Degas 12 for Canada at the 2018 FEI World Equestrian Games in Mill Spring, NC. "But, my teammates made up for it. I'm really proud of our team. I think it's great to be coming in the second day a little bit behind – you don't have to ride defensively, you just put on your 'A' game, and that's what they did. It's been an amazing Games. The venue is world class, the footing is great, the stabling is great, and the food is amazing. Honestly, it's been epic."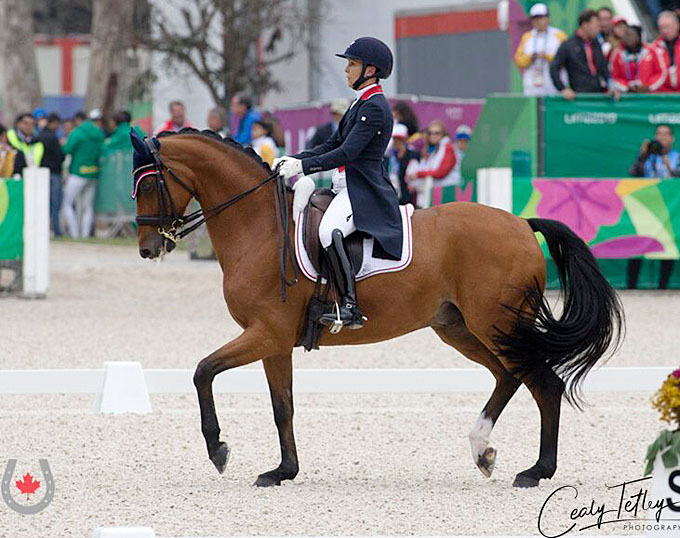 Lima represents the third team gold for the Canadian Dressage Team, having also topped the Pan Am Games podium in Havana, CUB in 1991 and Cali, COL in 1971.
"Coming here, right from the start, there was no question that we were here to win gold. That was the goal and they made it happen." said Canadian Dressage Team Chef d'Équipe, Christine Peters. "These girls rode their heart out for Canada and I'm very proud. What impressed me the most about this group is how they came together as a team and supported each other; the four of them have been like sisters. To have them bring home team gold for Canada for the first time in so many years is incredible."
Silver for the U.S.A.
The U.S. contingent of Nora Batchelder and Faro SQF, Jennifer Baumert with Handsome, and Sarah Lockman aboard First Apple each contested the Intermediate I test and, ultimately, captured their first career championship medal together for the United States.
Batchelder and Faro SQF, an 11-year-old Hanoverian gelding (Fidertanz 2 x Rotspot) owned by Batchelder and Andrea Whitcomb, were the first combination to enter the arena for the U.S., receiving a score of 71.529 percent to begin the day on a high note for the team.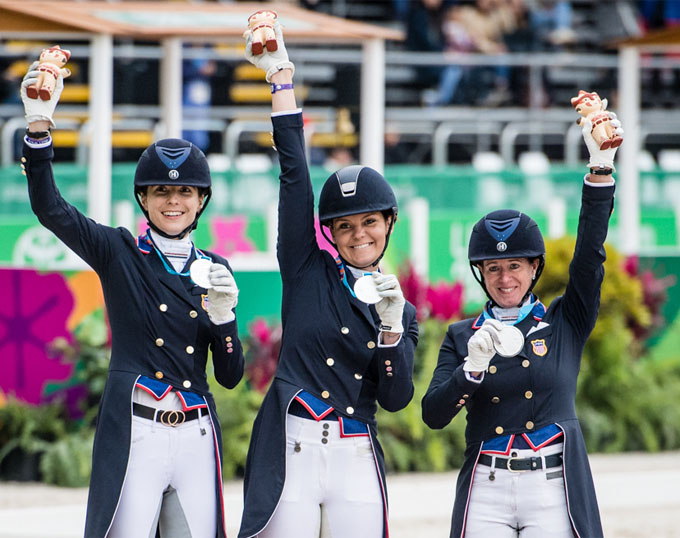 "The tempi changes were pretty good, and I thought the pirouettes were also very good. We warmed those up quite a bit with Debbie [McDonald], and I thought they went pretty well in the ring. I think our biggest challenge was balancing going for it, but also keeping him relaxed at the same time. I had to balance the expression and the relaxation together," explained Batchelder.
Leading off at the conclusion of the afternoon break once again was Baumert and Handsome, a 14-year-old Hanoverian gelding (Hochadel x Weltmeyer) owned by Betsy Juliano LLC, who received a 70.382 percent from the judging panel for their efforts in the ring.
"I thought the left pirouette was really quite good, and I was excited about that. The pirouettes can be difficult for us, but I was really happy with that. I actually thought on the whole, the canter work was a lot more rideable than yesterday," said Baumert.
Earning a team medal for the U.S. has been on Baumert's career bucket list her entire life and achieving that goal today was a significant accomplishment for both her personally and for Handsome. She described the environment of the competition, which ultimately provided both challenges and rewards for the pair.
"I can speak for myself and Handsome, he is pretty experienced and has been to a lot of shows, but this is definitely the biggest for him. The venue just has a great atmosphere. It's electric, but not overwhelming, and I was pretty proud of my horse. He did get a little bit more excited as my test went on, which is unusual, but it was nice, and he really gave me his all."
Sarah Lockman and First Apple (Vivaldi x T.C.N. Partout), a nine-year-old Dutch Warmblood stallion owned by Gerry Ibanez, concluded the day's Small Tour competition with another impressive high score, as the duo received a 75.912 percent, the day's top mark.
"Today was another amazing day that I want to pinch myself for. Apple brought out all of the stops and felt amazing. We had a pretty much mistake free test, and I couldn't ask for much more from him under pressure in this team situation," said Lockman.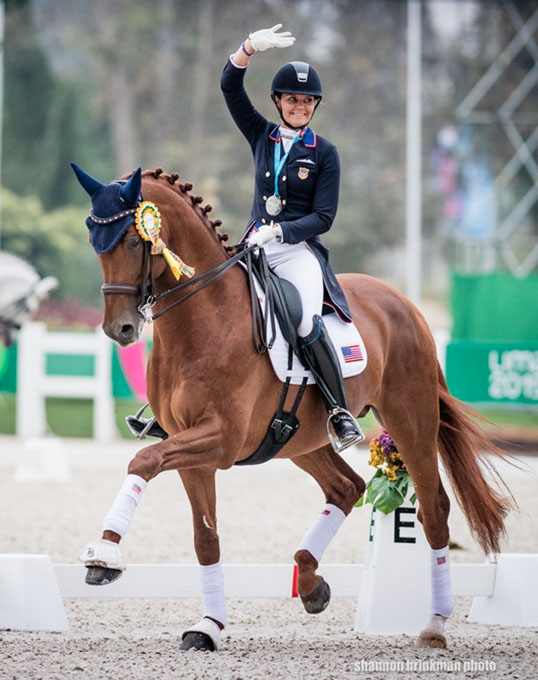 Lockman has been overcome with emotion the past two days, recording a personal best in yesterday's Prix St. Georges and earning a class-topping score today in the Intermediate I with First Apple. In her inaugural appearance donning the official U.S. tailcoat, Lockman described how much she has cherished the opportunity to compete alongside her teammates and for her country at Lima 2019.
"It's a feeling like no other. It really started with us walking around the barns in our country's colors, and there's so much pride. It's such a great experience for us since our sport for the most part is an individual sport, so it's very cool to be on a team. We root for each other as professionals all the time, but it really brought a different element here to this event," she commented.
Chef d'Equipe Debbie McDonald was ecstatic with the team's overall performance in the pressurized environment of the Pan American Games. The U.S. Dressage Team has consistently performed well at these championships, which has offered a platform for combinations to test their skills and composure in a team-focused setting.
"I'm really proud of the team and their performances over the last two days. There is a lot to look forward to when you look at the direction of this program and I believe the future is very bright. The more international and championship exposure we can give our athletes, the better we become as a team," said McDonald. "Overall, I think everyone handled the environment to the best of their ability, and they have each benefitted so greatly as a group and individually from this experience."
Bronze for Brazil
And the experienced bronze-medal-winning Brazilian side of Joao Paulo Dos Santos (Carthago Comando SN), Joao Victor Marcari Oliva (Biso das Lezirias), Leandro Aparecide Da Silva (Dicaprio) and Pedro Manuel Tavares de Almeida (Aoleo) also have every reason to be pleased as they, like the winning Canadians, are now Tokyo-bound. Oliva said "we are very happy with this qualification, we came here for this, we trained for this, so thank you to my team mates and to everybody who is behind us. Now we have to celebrate!"
Text by Louise Parkes for the FEI, edited by Eurodressage 
Photos © Raul Sifuentes - Cealy Tetley - Shannon Brinkman
Related Links
Scores: 2019 Pan American Games
Eurodressage Coverage of the 2019 Pan American Games