2019 Bundeschampionate Qualifier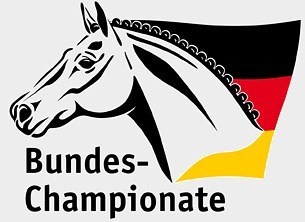 The 5-year old DaVinci G and the 6-year old Fernando became the winners of the Bundeschampionate qualification classes held at the Mecklenburger regional Championships in Redefin, Germany, on 11 - 14 July 2019. 
After winning the Kayhude Bundeschampionate qualifier, Tessa Frank and Brigitte Müller's Westfalian gelding DaVinci G (by Don Juan de Hus x Stedinger) also dominated the one in Redefin. With a total score of 8.1. they won the 5-year old division. The gelding got 8.5 for walk and canter, 7.5 for trot, and 8 for submission and general impression. Kira Ripphoff and the Oldenburg mare Champagne's Fienchen (by Franziskus x Samarant) were second with 8.0. The liver chestnut mare got 8.5 for walk, 8 for trot and canter, 7.5 for submission and 8 for general impression. 
Four combinations competed in the 6-year old class, which was won by Jacob Schenk aboard Michael and Dorothee Schenk's Hanoverian stallion Fernando (by Foundation x Danone II). The pair totaled 8.3 after receiving 8.5 for walk and canter, 8 for trot and submission and 8.5 for general impression. Sabine Oberdieck and the Trakehner mare Special Selection (by Imhotep x Consul) were the runners-up with 7.5. The dark bay mare earned 8 for walk and trot, 7.5 for canter, 6.5 for submission and 7.5 for general impression. 
Results - 2019 Bundeschampionate Qualifier - Redefin
5-year olds
1. DaVinci G (by Don Juan de Hus / Stedinger) - Frank,Tessa - 8.10
2. Champagne's Fienchen (by Franziskus / Samarant) - Ripphoff,Kira - 8.00
3. Zonith (by Zonik / Diamond Hit) - Frahm,Steffen - 7.70
4. Baroness (by Beltano / Weltfriede) -  Frahm,Steffen -  7.60
4. Pac Man (by Rheinklang / Latimer) - Schenk,Jacob - 7.60
6. His Moment (by Millennium / Le Rouge) - Nass,Vera -  7.50
7. Bretton's Firegirl GD (by Bretton Woods / Fürst Heinrich) - Ahland,Laura­Sophia - 7.40
8. Silberglanz (by Sir Galanto I / Swarovski) - Mencke,Libuse - 7.30
8. Vernissage (by  Negro (Novabor) / San Amour) - Tippens,Kiri - 7.30
10. Cartoon (by Totilas x Don Frederico) - Korte,Annika - 7.20
11. First Finest Lady (by Finest / Donnerhall) - Wahlers,Pia Sophie  -  7.10
12. Nice in Black (by Nutrix I / Pole Position) - Lubs,Jana - 7.00
Quintilio (by Quaterback / Just Perfect) - Hock,Bettina - RET
6-year olds
1. Fernando (by Foundation / Danone II) - Schenk,Jacob - 8.30
2. Special Selection (by Imhotep / Consul) - Oberdieck,Sabine - 7.50
3. Victoria's Secret SL (by Vitalis / Quaterback) - Appendino,Victoria - 7.10
4. Santo Domingo II (by San Amour / Fürst Heinrich) - Brähler,Heinrich Damian - 6.80 
Related Link
Eurodressage Coverage of the 2019 Bundeschampionate