F.O.C.U.S.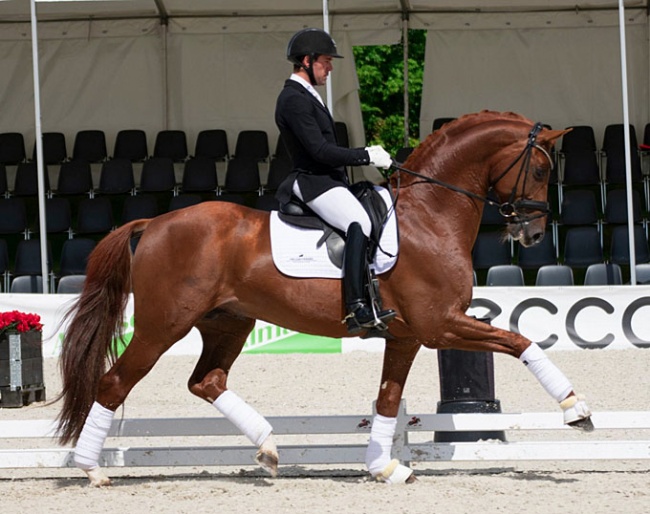 Andreas Helgstrand and his business Helgstrand Dressage have shown to be in control of the international young horse scene with no less than 13 horses from his stable qualified for the 2019 World Championships for Young Dressage Horses in Ermelo, The Netherlands. 
In just ten years time Helgstrand developed his company from a normal sized dealing yard into a multinational sales and stallion station with branches in Germany, Holland and the U.S.A. With approximately 250 horses in his care and a staff of 70 people working for him, Helgstrand Dressage has become mega size. 
Since its establishment in 2008 Helgstrand has won 11 medals at the World Championships for young horses. In 2017 Helgstrand Dressage won 3 medals; Severo won gold on Fiontini and got became World Champion for the third consecutive time, Andreas won silver on Ferrari OLD and Severo won bronze on Quel Filou. In 2018 11 horses from Helgstrand qualified for Ermelo and they produced a double whammy: Andreas won gold on Revolution and Severo won gold with D'Avie. It's not only the young horses who achieve great success, Severo also rode Lorenzo into the Kur Finals at the 2016 Rio Olympic Games.
Andreas has a large team of scouts driving across Europe to purchase foals, young stallion prospects, youngsters as well as rising Grand Prix horses and Andreas is in the position to pay top dollar for their finds as he works with co-investors. 
Helgstrand Dressage is a major force to be reckoned with and they prove that again with 13 horses qualified for Ermelo. Five of them are licensed breeding stallions standing in Denmark or Germany. The international character of the business is furthermore exemplified by the fact that this team of horses will represent countries such as Denmark, Germany, Sweden, and Portugal at the World Championships. 
5-year-olds:
NED: Jovian, KWNPN by Apache x Tango (Andreas Helgstrand/DEN)
GER: Valverde, Westfalian stallion by  Vitalis – Ampère  (Eva Möller/GER)
GER: Espe, Westfalian mare by Escolar – Dimaggio (Eva Möller/GER)
SWE: Springbank II VH, Swedish warmblood by Skovens Rafael (Severo Jurado Lopez/ESP)
POR: Join Me De Massa, Portuguese Sport Horse by Everdale x Rieto (Eric Guardia Martinez/ESP)
DEN: Queenparks Wendy by Sezuan x  Soprano (Andreas Helgstrand/DEN)
DEN: Skovens Tzarina  by Zack x Don Schufro (Betina Jæger/DEN)
DEN: Elverhøjs Raccolto by Sezuan x Sandro Hit (Meike Lang/GER)
6-year olds:
GER: Revolution, Westfalian stallion by Rocky Lee – Rouletto (Andreas Helgstrand/DEN)
DEN: Zhaplin Langholt, Danish warmblood stallion by Zonik x Stedinger (Andreas Helgstrand/DEN)
7-year olds:
GER: Bonderman, Westfalian gelding by  Belarus x Alabaster (Bettina Jäger Jensen/DEN)
GER: D'avie, Hanoverian stallion by Don Juan de Hus x Londonderry (Severo Jurado Lopez/ESP)
SWE: Icing for U, Swedish warmblood by Ampere x Bocelli (Meike Lang/GER)
Related Links
Eurodressage Coverage of the 2019 World Young Horse Championships
Waterland and Helgstrand Dressage Enter Partnership to Become the World Leader in Equestrian Sports
Helgstrand Dressage Named Title Sponsor of Dressage Discipline at 2018 WEG
Cathrine Dufour Joins Helgstrand Dressage Team
Bengtsson and Helgstrand Establish Elite Show Jumper Sales Stable in Germany
Ulf Möller to Build American Sales Stable for Helgstrand Dressage
Helgstrand Dressage Celebrates Golden Glory at 2018 World Young Horse Championships