2019 French Dressage Championships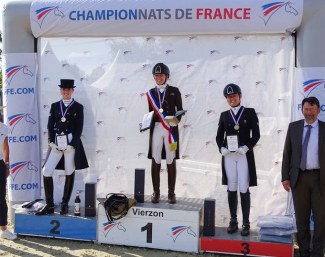 In her first year at senior Grand Prix level, the 28-year old Charlotte Chalvignac became the champion of the 2019 French Grand Prix Championships in Vierzon, France, on 5 - 7 July 2019.  The silver medal went to last year's champion Morgan Barbançon while Anne-Sophie Serre got bronze.
The Senior Championships were contested over two rounds, the Grand Prix and Special and the average scores from both rounds was calculated to determine the final standing.
Aboard the 15-year old Hanoverian gelding Lights of Londonderry, Charlotte has made an impressive debut at international senior GP level this year and they topped off a great season with the national champion's title. The pair has only been a combination since March 2019.  Lights' owner Berndatte Brune gave the ride to Chalvignac because the horse was not commercially interesting enough to be sold because of his age and not scoring high enough for a German B-squad place under Brune herself. Charlotte and the chestnut truly gelled this year and produced strong starts at the CDI's in Saumur, Compiègne and Geesteren and have now put the icing on a cake with a stellar national title.
Chalvignac and Lights of Londonderry (by Londonderry x Weltmeyer) were second in the Grand Prix with 71.739% but won the Special with 73.043% to average a winning total of 144.782% for the title and gold medal.
The 2018 French Champions, Morgan Barbançon and her 13-year old Oldenburg licensed stallion Sir Donnerhall II (by Sandro Hit x Donnerhall) were good for silver this year. They won the Grand Prix with 72.435% but a mistake in the Special reduced their score to 72.021% for a silver total of 144.456 points. 
Anne Sophie Serre and Sylvain Massa's 9-year old Lusitano mare Actuelle de Massa (by Pastor x Fuzilador) scored the bronze after earning 69.304% in the Grand Prix and 70.043% in the Special  (139,043 pts).
"This is fabulous," said a thrilled Chalvignac, "Morgan is a rider that I admire much  and it's true that placing in front of her is a bit of a double victory. For my first senior elite Championship I wanted to finish with the first fives especially because there was real competition. I have only started riding Lights in March. I had the chance to benefit from the enormous kindness of Bernadette Brune who entrusted me the horse for the seasons to compete and then his retirement. It's a horse with a lot of character and we understand each other marvellously since the beginning we were paired."
Results - 2019 French Grand Prix Championship - Vierzon
1. Charlotte Chalvignac - Lights of Londonderry - 71.739 %-  73.043 % --- 144.782
2. Morgan Barbançon - Sir Donnerhall II - 72.435 % - 72.021 % --- 144.456
3. Anne Sophie Serre - Actuelle de Massa - 69.000 %-  70.043 % --- 139.043
4. Alexandre Ayache - Zo What - 67.609 % -  68.957 % --- 136.566
5. Arnaud Serre - Ultrableu de Massa - 68.826 % - 67.553 % --- 136.379
6. Stephanie Brieussel - Amorak - 68.326 % - 67.532 % --- 135.858
7. Guillaume Lundy - Tempo ENE - 68.109 % - 67.128 % --- 135.237
8. Marie Emilie Bretenoux - Quartz of Jazz - 68.478 %-  66.106 % --- 134.584
9. Pierre Volla - Sir Piko -  67.457 % - 66.638 % --- 134.095
10. Nicole Favereau - Ginsengue - 68.022 % - 65.553 % --- 133.575
Alizee Cernin - Douglas - DNS
Related Links
Charlotte Chalvignac Gets Ride on Brune's Lights of Londonderry
Morgan Barbançon Mestre Wins 2018 French Grand Prix Championship
Volla Wins 2017 French Grand Prix Championships, Takes Second Consecutive Title
Karen Tebar Wins 2015 French Grand Prix Championships
Catherine Henriquet Wins 2013 French Dressage Championship
Jessica Michel Wins 2012 French Grand Prix Championships
Arnaud Serre Renews Title at 2011 French Dressage Championships
Arnaud Serre Captures 2010 French Grand Prix Title on Corellou's Helio II
Siat and Collier Win at 2009 French Dressage Championships
Marc Boblet, 2008 French Dressage Champion
Karen Tebar Wins the 2006 French Dressage Championships
Hubert Perring, 2005 French Dressage Champion
Odile van Doorn Reconquers French National Dressage Title 
Scores 2003 French Dressage Championships 
Van Doorn and Parodie van de Wateringhoeve, 2002 French Dressage Champions
Marietta Almasy, 2001 French Dressage Champion