Switzerland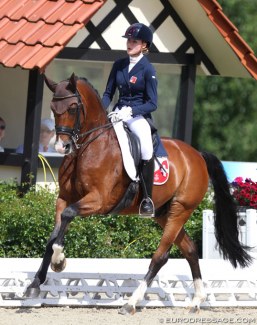 The Swiss Equestrian Federation has announced the horse and rider combinations that will represent Switzerland at the 2019 European Youth Riders Championships in San Giovanni in Marignano, Italy, on 24 - 28 July 2019. 
Following the final observation trial at the 2019 Swiss National Dressage Championships in Basel, the selectors were able to pick their riders for the season continental Championship highlight. 
Switzerland will not be fielding any Children, nor Under 25 riders, and only two individual young riders. It does however a team of three juniors. 
Going to Italy are:
Juniors
Tallulah Lynn Nater - De Vito W - Owner: Tallulah Lynn Nater
Renée Stadler - Cappucino XIV - Owner: Carol and Josef Stadler
Noemi Zindel - Delphino - Owner: Sandra and Arno Zindel-Weber
Young Riders
Carl-Lennart Korsch -  Dias Desperados ST- Owner: Carl-Lennart Korsch
Lars Bürgler, - Remember Passion- Owner: Marianne Bürgler
Photo © Astrid Appels
Related Link
Eurodressage Coverage of the 2019 European Youth Riders Championships