2019 Bundeschampionate Qualifier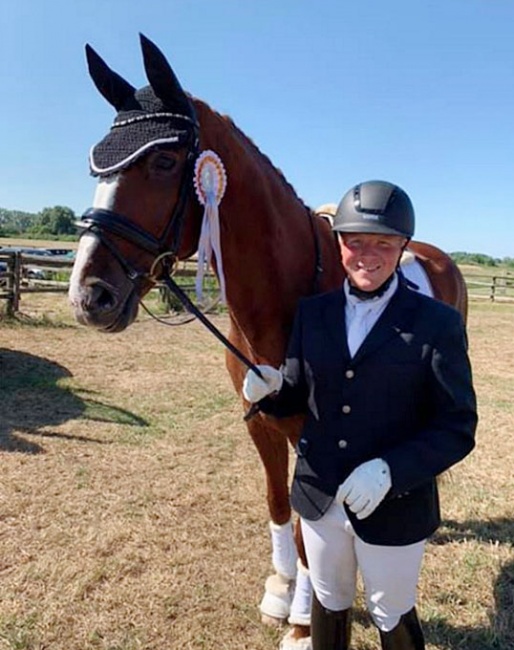 The 5-year old Dschamilja and the 6-year old Felicity Romance became the winners of the Bundeschampionate qualification classes held at the regional dressage show in Isernhagen, Germany, on 28 June 2019. 
Sixteen horses competed in the L-level dressage horse test and Madeleine Bendfeldt steered Henning Mues' Hanoverian mare Dschamilja (by Dancier x Lauries Crusador xx) to the top of the board with an 8.1 total score. Merethe Wempe and Andreas Wempe's Oldenburg stallion Franco Battiato (by For Romance x Rubin-Royal) were second with 8.0, edging out Danish Martin Christensen on the 2018 Bundeschampion Bitcoin (by Bordeaux x Rubinstein) with 7.7. 
Thirteen 6-year olds gathered in Isernhagen for the M-level dressage horse test. Judith Flach and Von Unger's Hanoverian mare Felicity Romance (by Furst Romancier x Weltmeyer) moved into the winner's circle with an 8.2 total score. Two horses tied in second place with 8.0: Albert Habermann and Catrin Brehm's Hanvoerian gelding Dexter (by Dancier x Pommery) and Malte Kalus on Anke Dieckell's OLdenburg gelding Der Donnerstag (by Dimaggio x Londonderry).
Results - 2019 Bundeschampionate Qualifier - Isernhagen
5-year olds
1. Dschamilja -   Bendfeldt,Madeleine  -   8.1    
2. Franco Battiato  -  Wempe,Merethe  -  8    
3. Bitcoin  -  Christensen,Martin-    7.7    
4. Lightroom  -  Habermann,Mike -   7.6    
4. Et voilá Emma  -  Böhnke,Sascha -  7.6    
6. Livaldi  -  Roth, Stella - 7.5    
6. Donovan -  Laser,Hannah -   7.5    
6. DaVinci G -   Frank,Tessa  -   7.5
9. Lamantia   - Hatzl,Ulrike  -  7.4
10. His Moment  -  Nass,Vera -  7.2
11. Diamantina - Thalmann,Ina -   7.1
12 . Little Hollywood -  Kunz,Saskia Sophie  -   7
12. Lake Worth -   Böhnke,Sascha -   7
14. Federleicht - Schulze,Thomas  -   6.9
15. Negreina  -  Koch,Katarzyna - 6.7
16. Artistix  -  Lensky,Kevin -  6.6
6-year olds
1. Felicity Romance -   Flach,Judith  -  8.2    
2. Dexter-   Habermann,Albert -   8    
2. Der Donnerstag  - Kalus,Malte - 8    
4. Double Surprise -   Frank,Tessa - 7.7    
4. For Friendship N -   Niermann,Franziska  - 7.7
6. Vincent -  Fircks,Johanna von   -  7.6
7. Quaterdance -   Hecker,Victoria -  7.5
7. Fleetwood Mac -   Liebregts,Mayke  -   7.5
7. Sternengold -   Müller,Franziska  -  7.5
10. Special Selection -    Oberdieck,Sabine  -  7.2
11. Fynicia  -   Liebregts,Mayke-  7.1
12. Fever Tree -    Schenke,Julia-  6.9
13. Der Alois-     Krüger,Katrin -  6.4
Related Link
Eurodressage Coverage of the 2019 Bundeschampionate