Germany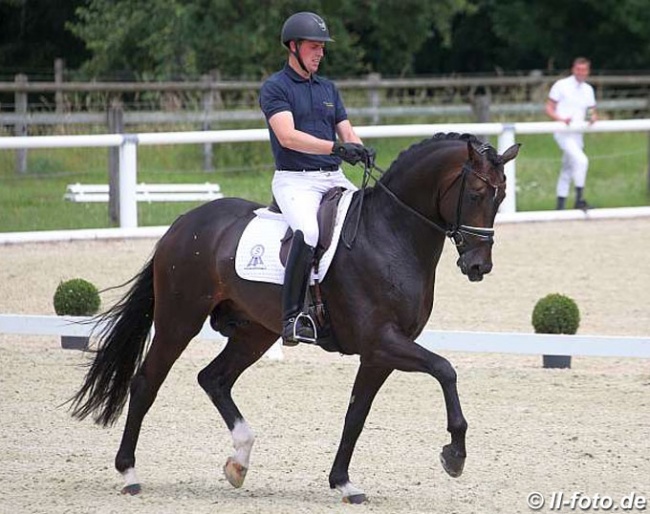 The German equestrian federation has selected the horses that will represent the German breeds for Team Germany at the 2019 World Championships for Young Dressage Horses in Ermelo, The Netherlands, on 1 - 4 August 2019. 
The German federation held its second of two observation and team selection trials in Warendorf on 2 July 2019. 
The German WCYH selection panel over the two rounds includes judges Reinhard Richenhagen and Klaus Ridder, as well as German team trainer Monica Theodorescu, assisted by developing team trainers Sebastian Heinze, Hans-Heinrich Meyer zu Strohen and Oliver Oelrich.
Selected for Germany are:
5-year olds
Dante's Hit, Oldenburger gelding by  Dante Weltino – Sandro Hit (Dorothee Schneider)
Espe, Westfalian mare by Escolar – Dimaggio (Eva Möller)
For Gold, Oldenburger stallion by Franziskus – Zack (Stefanie Wolf)
Moosbend's Rockadera, Rhinelander mare by Rock Forever I – Ricardos (Jill de Ridder)
Quiana W, Rhinelander mare by Quaterstern – Rubinstern Noir (Nicole Wego)
Secret, Baden Wurttemberger stallion by Sezuan –St. Moritz (Jessica Lynn Thomas/SWE)
Valverde, Westfalian stallion by  Vitalis – Ampère  (Eva Möller)
1. reserve is Go Twitter, Oldenburger gelding by Grey Flanell – Sandro Song (Lena Waldmann)
2. reserve: Donatella, Hanoverian mare by Diamond Hit – Fürst Heinrich (Ann-Christin Wienkamp)
3. reserve: Velvet, Westfalian stallion by Van Vivaldi – Fidermark (Ann-Christin Wienkamp)
6-year olds
Caracciola MT, Holsteiner stallion by  Chin Champ – Calido I (Melanie Tewes)
Destacado FRH, Hanoverian stallion by Desperados – Londonderry (Matthias Alexander Rath)
Feel Free OLD, Oldenburger mare by Foundation – Sandro Hit (Bernadette Brune)
Meggle's Fidelio Royal, Baden Württemberger stallion by  For Romance I – Rubin-Royal (Matthias Bouten)
Revolution, Westfalian stallion by Rocky Lee – Rouletto (Andreas Helgstrand)
Zucchero OLD, Oldenburger stallion by  Zonik – Prince Thatch xx (Frederic Wandres)
Zum Glück RS2 OLD, Oldenburger Hengst by  Zonik – Florestan I (Robin van Lierop)
1. reserve: Ben Vito, Hanoverian gelding by Benicio – Lauries Crusador xx (Stefanie Wittmann)
7-year olds
Bonderman, Westfalian gelding by  Belarus – Alabaster (Bettina Jäger Jensen/DEN)
D'avie, Hanoverian stallion by Don Juan de Hus – Londonderry (Severo Jurado Lopez/ESP)
Matchball OLD, Oldenburger gelding by Millennium – De Niro (Stefanie Wolf)
Quadrophenia, Hanoverian mare by Quasar de Charry –Hochadel (Carina Bachmann)
Revenant, Westfalian stallion by  Rock Forever I – Sir Donnerhall I (Rudolf Widmann)
Sisters Act OLD vom Rosencarre, Oldenburger mare by  Sandro Hit – Royal Diamond (Dorothee Schneider)
Total Hope, Oldenburger stallion by  Totilas – Don Schufro (Isabel Freese)
1. reserve: Bon Coeur, Hanoverian stallion by . Benetton Dream – Sandro Hit (Caroline Darcourt/SWE)
2. reserve: Florine, Oldenburger mare by  Foundation – Lauries Crusador xx (Maike Mende), 
3. reserve: Vernissage, Westfalian gelding by Vitalis – Hochadel (Katrin Burger)
Photo © LL-foto
Related Links
Eurodressage Coverage of the 2019 World Young Horse Championships
Short List of Horses Invited to Second 2019 German WCYH Selection Trial
Horses Participating in First 2019 German WCYH Selection Trial