2019 Bundeschampionate Qualifier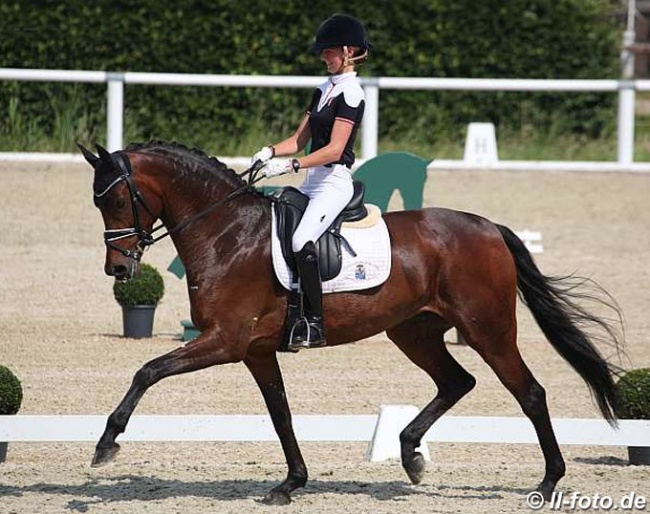 The 5-year olds PBM Cosmopolitan and the 6-year old High Heels became the winners of the Bundeschampionate qualification classes held at Catharinenhof in Hamburg-Wedel  on 9-10 June 2019. 
In the 5-year old division no less than 24 combinations were entered but just 13 showed up. Anna-Catharine Schöffner topped the board with the German Sport Horse bred PBM Cosmopolitan (by Concetto x Larinar) on a total of 8.2. Two combinations tied into second place with 8.0 points: Hermann Gerdes aboard Ulrich Vité's DSP stallion Belgardo (by Best of Gold x Sonnenstrahl) and Frederic Wandres on Hof Kasselmann's Beau Monde (by Bordeaux x Weltmeyer).
A similar scenario took place in the 6-year old division with a strong field of 24 originally entered, but just 14 competing. Patricia von Merveldt and her home bred Oldenburg mare High Heels (by Damon Hill x Roadster) aced the M-level dressage horse test with 8.2. points. The bay mare earned 8 for walk, canter and submission and 8.5 for trot and general impression. Hannah Laser and Burkhard Wahler's Hanoverian gelding Dave Brubeck (by De Niro x Belissimo M) were the runners up with 8.1. The liver chestnut gelding earned 8.5 for walk, 8 for trot, 7.5 for canter, 8.5 for submission and 8 for general impression. 
Photo © LL-foto
Results - 2019 Bundeschampionate Qualifier - Wedel-Hamburg
5-year olds
1. PBM Cosmopolitan (by  Concetto / Larimar) - Schöffner,Anna­Catherine - 8.2
2 Belgardo (by  Best of Gold / Sonnenstrahl) - Gerdes,Hermann - 8.0
2 Beau Monde (by Bordeaux x Weltmeyer) - Wandres, Frederic - 8.0
4 DaVinci G (by  Don Juan de Hus / Stedinger) - Frank,Tessa - 7.7
4 Nuit D'or (by Negro x)  - Ligus, Lars - 7.7
6 Champagne's Fienchen (by  Franziskus / Samarant ) - Ripphoff,Kira - 7.6
7 Despacita (by  Destano / Wanderbursch II) - Schucher,Mareike - 7.5
8 Sterntaler (by  Sir Heinrich / Fidermark) - Locklair,Caroline - 7.2
9 Dancing Duffy (by  Dr. Watson / Fürst Nymphenburg) - Gröger,Lilly Marie - 6.9
10 Georgette (by  Quaterback / De Chirico) - Lilienthal,Laura - 6.5
­­­Donovan (by  De Niro / Pik Noir) - Laser,Hannah - RET
Franco Nero (by  Franziskus / Sorento) - Maruhn,Esther - RET
Don Allegro (by  Don Nobless / Fürst Heinrich) - Heemsoth,Greta - RET
6-year olds
1.  High Heels (by  Damon Hill / Roadster) - Merveldt,Patricia von - 8.20
2 Dave Brubeck (by   De Niro / Belissimo M) - Laser,Hannah - 8.10
3 462 Barolo (by  Belissimo M / Hochadel) - Bewerungen,Eike - 8.00
4 San Cloud`s Lucky (by  San Amour / Wolkenstein II) - Giese,Shereen - 7.70
5 Fernando (by  Foundation / Danone II) - Schenk,Jacob - 7.60
5 Crocket the Rocket (by  San Amour / Royal Hit) - Weiland,Annett - 7.60
7 Daily Bee (by  Don Juan de Hus / Diamond Hit) - Svenson,Nadine - 7.50
8 First Agent (by   Fürst Romancier / Diamond Hit) - Lens,Jan - 7.40
9 Turmalino K (by  Tailormade Temptation / Carolus) - Kracht,Anna­Lena - 7.20
10 Silence Rose (by  Sir Donnerhall) - Mann,Ragna - 7.10
10 D'Avie (by  Deveraux / Hochadel) - Sönnichsen,Jana Christin -  7.10
12 Diamond in Red (by  Don Frederic / Diamond Hit) - Kneese,Felix - 6.90
13 Double Surprise (by  De Niro / Latimer) - Heuer,Kristina - 6.70
14 Catoo's Filippa (by  Catoo / Aljano) - Weber,Jennifer - 6.50
Related Link
Eurodressage Coverage of the 2019 Bundeschampionate