Denmark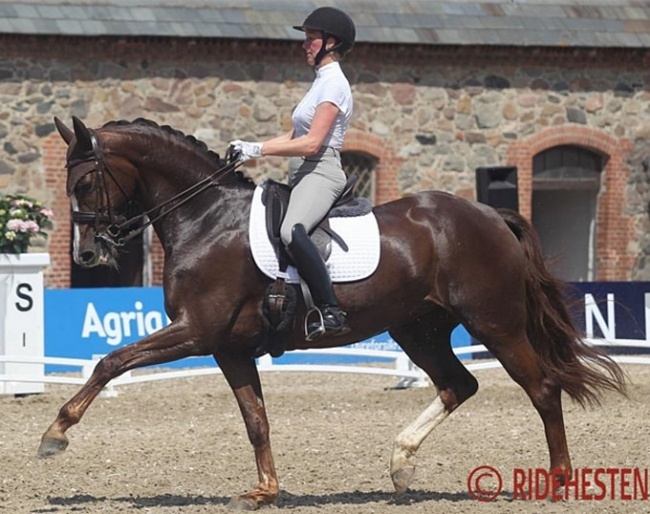 The Danish Equestrian Federation and Danish Warmblood Society have made their selection of horses that will represent the Danish warmblood breed at the 2019 World Championships for Young Dressage Horses in Ermelo, The Netherlands, on 1 - 4 August 2019.
At the second and final observation and selection trial in Vilhelmsborg, Denmark, on 25 June 2019, the selectors made their choice. 
Judges Birthe Lyder Nielsen and Gunilla Nyman Faurby and rider and Danish youth team trainer Dennis Fisker assessed the horses in Vilhelmsborg.
Selected for Ermelo are:
5-year olds
Elverhøjs Raccolto (by Sezuan x Sandro Hit) - Rider: Meike Lang
Queenparks Wendy  (by Sezuan x  Soprano ) - Rider: Andreas Helgstrand
Søgaards Bon Royal (by Bon Bravour x De Noir) - Rider: Camilla Ahlers Pedersen
Skovens Tzarina  (by Zack x Don Schufro) - Rider: Betina Jæger
1. reseve Zidan-DN  (by Sezuan x  Future Cup) - Rider: Betina Jæger
2. reseve Tørveslettens Sylvester  (by Sezuan x Stedinger) - Rider: Severo Jurado Lopez
6-year olds
Baunehøjens Carpaccio  (by Charmeur x  White Talisman) - Rider: Anette Ejlersgaard
Lindballe's Just Perfect  (by Johnson x De Niro) - Rider: Ann-Christin Wienkamp
Zhaplin Langholt (by Zonik x Stedinger) - Rider: Andreas Helgstrand
Straight Horse Ascenzione  (by Zack x Don Schufro) - Rider: Helen Langehanenberg
1. reseve Atterupgaards DeLorean  (by Bon Bravour x Sandro Hit) - Rider: Selina Solberg Vittinghus 
2. reseve Azett Lynghøjgaard  (by Zack x Schwadroneur) - Rider: Kenneth Damgaard
7-year olds
Nikitaro (by Romanov x Don Romantic) - Rider: Ditte Mikkelsen
Hesselhøj Donkey Boy  (by ERA Dancing Hit x Milan) - Rider: Jan Møller
UNO Don Olympic  (by Don Olymbrio x Del Piero) - Rider: Anna Zibrandtsen
Ryvangs Damon Dione  (by Damon Hill x Come Back II) - Rider: Julie Dyrgaard
1. reserve: Vestervangs Garson (by De Noir x Ragazzo) - Rider: Emma Ahlberg
2. reserve: Feldborgs Lantano  (by Tailormade Lancelo x Rendevous) - Rider: Adam Olesen
Photo © Ridehesten
Related Link
Eurodressage Coverage of the 2019 World Young Horse Championships