2019 Bundeschampionate Qualifier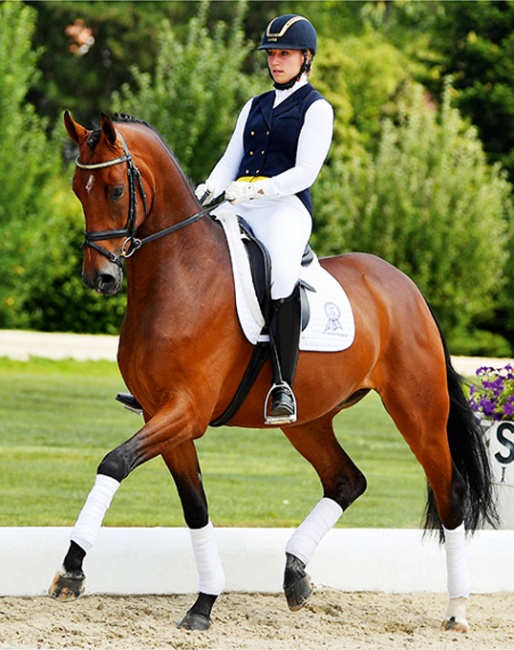 The 5-year old Dasador and the 6-year old Vanotti became the winners of the Bundeschampionate qualification classes held at the regional dressage show in Auendorf, Germany, on 9 - 10 June 2019. 
Nine combinations competed in the 5-year old division, which was won by Michael Bühl aboard the Hanoverian stallion Dasador (by Danone x Lauries Crusador xx). The Hanoverian, which sold at the 2018 PSI Auction for 195,000 euro to Erika Schwarzkopf,  scored 8.4 for the victory. Ina-Katrin Schmud and the Hanoverian gelding Lemon (by Londontime x Dancier) were second with 8.2.
Another group of nine contested the 6-year old division and Jasmin Schaudt bested the field aboard the Westfalian gelding Vanotti (by Vitalis x Florestan) on a score of 8.3. Julia Meller-Motzet and Carina Christa's Westfalian gelding Feruccio G (by Franziskus x Don Frederico) followed in their wake on 8.0.
Photo © LL-foto
Results - 2019 Bundeschampionate Qualifier - Aulendorf
5-year olds
1. Dasador (by Danone I / Lauries Crusador xx) - Bühl,Michael -  8.4
2.  Lennon (by Londontime / Dancier) - Schmid,Ina­Katrin - 8.2
3.  Qu'est­ce que c'est (by Quaterhall / Silberschmied) - Jung,Linda - 7.7
4.  Fiderhall (by Fidertanz / Sir Donnerhall) - Fuchs,Anna­Louisa - 7.6
4.  Le Roc (by Londontime / Lauries Crusador xx) - Schwalm,Sandra - 7.6
6.  Dark Amber M (by Dante Weltino / Rubinstein) - Fitz,Julia - 7.5
6.  Dancing Star (by Dancing World / Rascalino) - Rummenigge,Charlotte - 7.5
8.  Dubai (by Danone I / Lauries Crusador xx) - Pürmaier,Sarah Viktoria - 7.1
9.  Shadow Warrior (by Spörcken / Likoto xx) -Eggensperger,Michelle -  6.9
6-year olds
1. Vanotti (by Vitalis / Florestan) - Schaudt,Jasmin - 8.3
2.  Feruccio G (by Franziskus / Don Frederico) - Meller­Motzet,Julia -  8.0
3.  Giulianna (by Bon Bravour / Sir Donnerhall) -  Ritzel,Ramona - 7.5
4.  Durello (by Destano / Sancisco) - Eberhardt,Rolf - 7.4
4.  Belcanto (by  Belissimo M / Regazzoni Z: Walter,Peter / B: Walter,Peter Ritzel,Ramona -  7.4
4.  Little Rouletto (by Little Charly / Rouletto) - Wolf,Marcel - 7.4
7.  Man in Black (by Millennium / Dream Rubin) - Hempel,Juliane  - 7.3
7.  Lemony S (by Lemony's Nicket / Wolkentanz I) - Rummenigge,Charlotte - 7.3
9.  Charmeur (by Cascadello I / Ahorn) - Knoll,Ines - 7.2
Related Link
Eurodressage Coverage of the 2019 Bundeschampionate