2019 Spanish Dressage Championships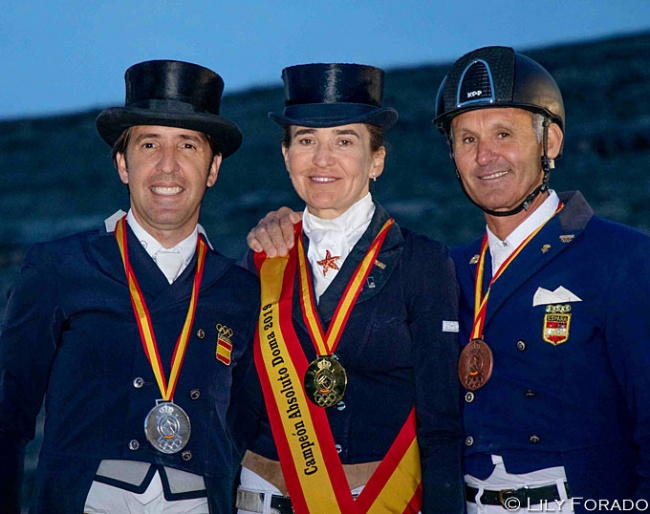 Senior Grand Prix rider Beatriz Ferrer-Salat became the winner of the 2019 Spanish Dressage Championships held in Segovia, Spain, on 6 - 9 June 2019. 
No less than 26 combinations gathered in Segovia for the National Grand Prix Championships. The event was action packed with national classes across the levels but only the senior Grand Prix riders had their Championships for the Medals and title, while the youth riders will have their Nationals in September. 
Eighteen riders completed all three rounds with the Kur to Music finals on Saturday. Spain's most experienced Grand Prix rider Beatriz Ferrer-Salat wielded the axe of power once again on her evergreen, 18-year old Westfalian Delgado (by De Niro x Weltmeyer). The pair won all three rounds with 74.783% in the Grand Prix, 74.702% in the Special and 80.850% in the Kur. Her overall victory granted her the gold medal and seventh title in her career. Beatriz also brought along her rising Grand Prix horse Elegance (by Negro) to Segovia and placed second in the GP and Special but was only eligible to rode one horse in the freestyle.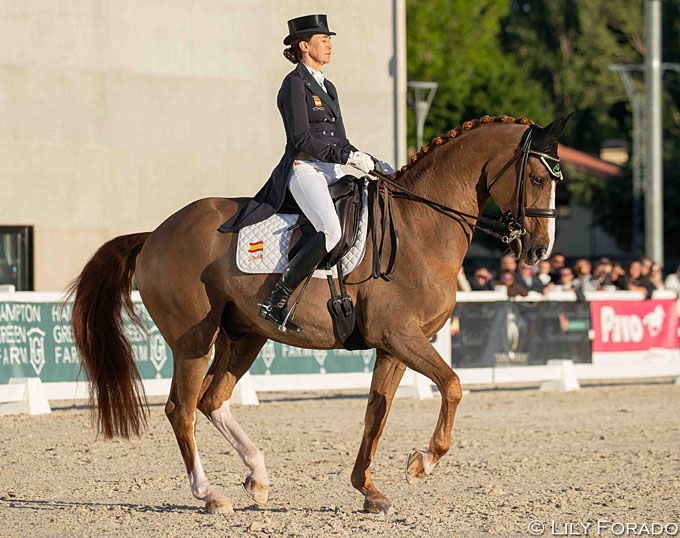 The silver medal went to Claudio Castilla Ruiz on the 14-year old Lusitano Alcaide (by Lobito x Novilheiro). They were only fifth in the Grand Prix  (70.543%), but worked their way up to a 73.553% score in the Special and 76.830% in the freestyle.
Juan Antonio Jimenez triumphed on the Mexican owner Lusitano stallion Euclides MOR (by Riopele x Gingao) and finished with the bronze medal. The pair achieved 71.609% in the Grand Prix, 69.404% in the Special and 74.300% in the Kur to Music.
The Spanish Championships were the come back event for Juan Matute Guimon's Hanoverian gelding Quantico (by Fighting Fight), who last competed at the CDI Madrid in November 2019. The pair finished fourth overall. 
Photo © Lily Forado
Results - 2019 Spanish Dressage Championships - Segovia
Seniors
1. Beatriz Ferrer - Salat -  Delgado - 74.783 - 74.702 -  80.850 --- 230.335
2. Claudio Castilla Ruiz -  Alcaide- 70.543 - 73.553 - 76.830 --- 220.926
3. Juan Antonio Jimenez Cobo - Euclides Mor - 71.609 - 69.404 - 74.300 --- 215.313
4. Juan Matute Guimon - Quantico -  67.478 -  71.064 - 76.150 --- 214.692
5. Cristobal Belmonte Roldán - Diavolo II de Laubry- 69.304  - 68.532 -  74.300 --- 212.136
6. Jordi Domingo Coll - Dolman - 68.087 - 67.213 - 72.775 --- 208.075
7. Alejandro Asencio Mendez - Focus - 67.478 - 68.681 - 70.875 --- 207.034
8. Alfonso Expósito Santiso - Estoque - 68.826 - 66.532-  69.715 --- 205.073
9. Adin Rodríguez Peinado - Spirit JM - 66.522  - 67.638-  70.415 --- 204.575
10. José Ignacio López Porras -  Naipe XIII - 66.761 - 66.106 - 69.725 --- 202.592
11. Manuel Pérez Valle -  Enebro XXXII  - 66.391 - 64.191 - 69.035 --- 199.617
12. Sonsoles Roldan Martínez -  Deo H.P.V. - 64.065 - 65.085-  68.350 --- 197.500
13. Ismael Sánchez Moreno -  Dominante - 66.457 - 62.617 - 68.150 --- 197.224
14. Juan De Dios Ramírez García - Quaterback -  65.174 - 64.553 - 66.285 --- 196.012
15. Miguel Polo Ruiz - Impetu -  64.087 - 63.979 - 66.710 --- 194.776
16. Arturo Diaz Mellado - OVD-Karin -  64.261 - 63.447 - 66.875 --- 194.583
17. Miguel Ruiz Olmos -  Roscatelli - 64.065 - 60.766 - 66.525 --- 191.356
18. Manuel García González -  Eye-Catcher - 62.174 - 58.128 -  62.650 --- 182.952
Related Links
Laiz Zandio and Ferrer-Salat Win the 2018 Spanish Dressage Championships
Matute Guimon and Ferrer-Salat Win 2017 Spanish Dressage Championships
Ferrer-Salat Grabs Grand Prix Title at 2016 Spanish Dressage Championships
Carmen Naesgaard Wins 2015 Spanish Grand Prix Championships
Jose Daniel Martin Dockx and Grandioso Win 2014 Spanish Grand Prix Championships
Jose Antonio Garcia Mena and Norte Win 2013 Spanish Grand Prix Championship
Martin Dockx Captures First Grand Prix Title at 2011 Spanish Championships
Beatriz Ferrer-Salat Recaptures National Title at 2010 Spanish Championships
Scores: 2009 Spanish Dressage Championships
Munoz Diaz, 2008 Spanish Grand Prix Dressage Champion
Juan Matute, 2007 Spanish Dressage Champion
Rafael Ortiz, 2006 Spanish Dressage Champion
Jimenez Wins 2005 Spanish Dressage Championships in Home Town