2019 CDIO-PJYR Hagen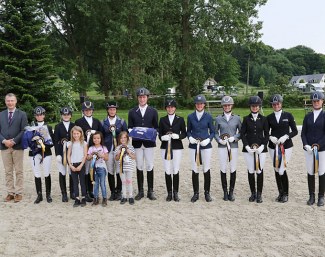 It is one of the most important youth riders competitions in the world and a selection trial for the European Championships in dressage and jumping. At Future Champions at the Hof Kasselmann in Hagen a.T.W. (11 - 16 June 2019) is a test event for the new formats of the riding competitions at the Olympic Games in Tokyo 2020.
In other words, numerous officials from all over the world will test the system for the draw, as well as time recording for show jumping and e-judging with seven judges for dressage.
Future Champions started today with a qualification for the Bundeschampionat for five-year-old dressage horses. Here, 9 pairs were able to break the 8.0 mark and are thus qualified for the Bundeschampionat in Warendorf in September. Eva Möller and her Westphalian mare Espe (Escolar x Mi Maggio) twice earned the 9.0 for trot and perspective. Thus the pair achieved an overall score of 8.80 and the first place in the first division in this competition. Hof Kasselmann rider Lars Ligus and the Hanoverian stallion Nuit D'or took first place in the second division with an overall score of 8.40.
From Wednesday on, the age groups Pony Riders (up to 16 years on ponies), Children (up to 14 years on large horses), Juniors (up to 18 years on large horses) and Young Riders (up to 21 years on large horses) will continue in the disciplines dressage and jumping. Team and individual decisions will be made in each category. The process is therefore exactly the same as the one used for seniors at championship level.
Future Champions is both a selection and a practice event, because the experience gained by the young talents at Borgberg is valuable for life and for their future careers in the saddle.
"Future Champions is also a very important meeting place," says Ullrich Kasselmann, host of the show. "This is where friendships for life develop and Future Champions also contributes to an international understanding. Young equestrians from all over the world meet here, exchange ideas and share their passion for horses. That creates connection!"
The highlights are the team championship tests, which are held in classes for all age groups, and the kur to music finals. 
Future Champions also rolls out the red carpet for the youngest rider who can compete in the Prize of the Sparkasse Osnabrück, a simpler riding competition.
Admission to Future Champions is free!
We have a solution for everyone who can't be there LIVE! In cooperation with ClipMyHorse.TV all competitions on the jumping ring and all competitions in the dressage stadium will be broadcast LIVE and free of charge. 
Instagram - @hofkasselmann
Facebook - Horses & Dreams / P.S.I. Events
YouTube - Horses and Dreams#had2019 #horsesanddreams