France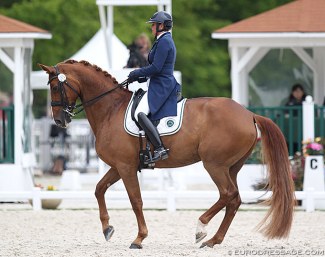 The French equestrian federation has announced the team that will represent France at the fourth leg of the 2019 Nations Cup series held at the 2019 CDIO Geesteren on 22 - 23 June 2019. 
Once again, French team trainer Jan Bemelmans and Dressage Director Emmanuelle Schramm opted for riders on the team who are not A-squad listed, even though the controversial national rules of 2019 stipulate that for a 4* (or higher) level competition, riders have to be A-squad/Group 1 listed. 
Representing France in Geesteren are:
Stéphanie Brieussel - Amorak - Group 1
Charlotte Chalvignac - Lights of Londonderry  – Group 2
Nicole Favereau - Ginsengue  – Group 2
Jean-Philippe Siat - Lovesong - Group 2
In format for the CDIO Geesteren will be similar to Compiegne: all riders compete in the Grand prix and score points (1st place = 1 point, 2nd place = 2 points, etc). Two riders contest the Grand Prix Special and two the Freestyle, where the same points will be allocated according to place. The team with the lowest points is the winner of the leg.
Photo © Astrid Appels
Related Links
French Team Selected Last Minute for 2019 CDIO Compiègne Nations Cup
Dutch Team Announced for 2019 CDIO Geesteren
U.S. Team Named for 2019 CDIO Geesteren
Geesteren and Järvenpää Added to 2019 FEI Nations Cup Series