2019 CDI Hamburg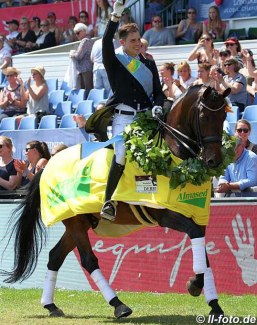 Frederic Wandres won the renowned Hamburg Dressage Derby which was held during the CDI Hamburg in the Klein Flottbek park on 31 May - 2 June 2019.
Aside from taking one of the most important dressage titles in German dressage, Wandres also carried the flag for his employer Ullrich Kasselmann: This is the third Hof Kasselmann rider in a four-year run to capture the coveted victory. In 2017 Emile Faurie did it and in 2016 Borja Carrascosa achieved the feat. 
The Hamburg Dressage Derby was initiated in 1955 and is open to riders from all nations. The Derby is decided via the Grand Prix, which serves as a qualifier for the finals. The top three of the CDI Grand Prix move on to the Finals with Horse Change, in which each rider has to do the Short Grand Prix on each other's horse.
The 31-year old Wandres has been riding the wave of success the past half year, bagging a World Cup victory in Zakrzow, winning the Grand prix at the CDI-W London from Charlotte Dujardin as well as claiming the 2019 German Professional Dressage Riders Championships in May. Now Hamburg was added to that tally.
First in Grand Prix and Special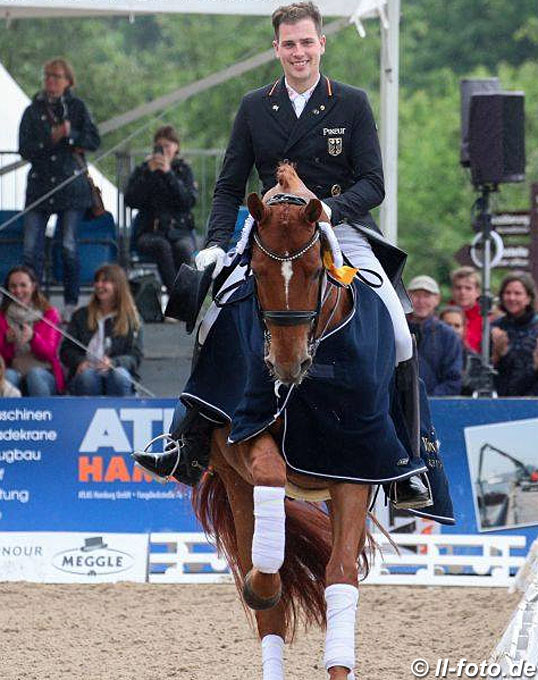 The 32-year old Frederic won the CDI Grand Prix on Hof Kasselmann's Duke of Britain (by Dimaggio x Rubinstein) with 73.761%, ahead of British Susan Pape on Harmony Sporthorses's PSI auction highlight Don Nobless (by Dancier x Don Davidoff) who finished second with 71.739%. Anabel Balkenhol and her father's 12-year old Hanoverian mare Davinia La Douce (by Don Frederico x A Jungle Prince) landed third place with 70.152%.
Wandres went on to claim victory in the international Grand Prix Special on 73.000% ahead of new Dutch rising star Agatha van der Lei on the 12-year old KWPN gelding Caron (by Florencio x Goodtimes) with 70.213%. Julia Burfeind and the 10-year old Holsteiner gelding Devanto (by De Chirico x Lorentin) were third with 70.085%.
In the Kur to Music the German based Pape topped the board on Don Nobless with 75.850%, leaving second placed Charlotte Haid-Bondergaard on the 14-year old French bred Roberto des Frettes (by Carinho des Noes) well behind her on 70.550%. Rainer Schwiebert and the 12-year old Holsteiner stallion Catoo (by Con Air x Caletto) were third on 69.775%.
Wandres Wins 2019 Hamburg Derby Title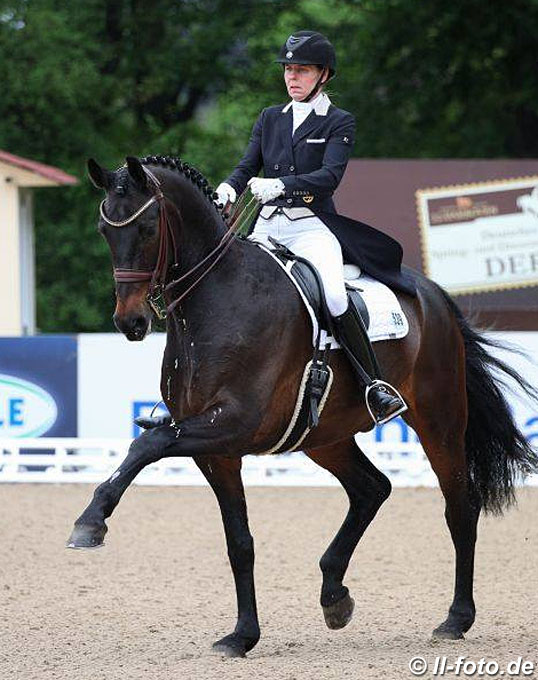 For the horse change finals, Wandres opted to ride Saskia Bauer's 14-year old Westminster (by Weltissimo x Davignon) while Susan Pape brought her husband's 13-year old Baden Wurttemberger bred Grafit (by Grafenstolz x Ganymed) to the game. 
Wandres scored the highest overall total of 214.000 points after three rounds on Westminster (72.200%), Davinia la Douce (71.200%) and Grafit (70.600%). 
"Today a childhood dream became true. Nobody can take that away from me and this will stay on the results lists forever," said Wandres. "In the preparation I deliberately did not think too much and just went with my feeling on every horse."
Pape stayed well behind the young professional with a total of 209.734 points, after earning 70.967% on Westminster, 69.667% on Davinia la Douce and 69.100% on her own Grafit. He was the only rider to score over 70% on all three horses. Westminster also became the overall high scoring horse of the three.
After winning the Hamburg Derby in 2015, Balkenhol was back in the Derby finals and landed third place now with 208.466 points. She earned 69.500% on Westminster, 69.733% on her own Davinia La Deuce and 69.233% on Grafit.
Photos © LL-foto
Related Links
Scores: 2019 CDI Hamburg
Emma Kanerva Wins 2018 Hamburg Dressage Derby
Emile Faurie Wins 2017 Hamburg Dressage Derby
Borja Carrascosa Wins 2016 Hamburg Dressage Derby
Anabel Balkenhol Wins the 2015 Hamburg Dressage Derby
2014 Hamburg Dressage Derby: a Scandinavian Show Down
Fabienne Lutkemeier Wins the 2013 Hamburg Dressage Derby
Scores: 2011 CDI Hamburg
Scores: 2008 CDN Hamburg
Scores: 2007 CDN Hamburg
Scores: 2006 CDN Hamburg
Scores: 2005 CDN Hamburg
Scores: 2004 CDN Hamburg
Scores: 2003 CDN Hamburg
Scores: 2000 CDI Hamburg