2019 Bundeschampionate Qualifier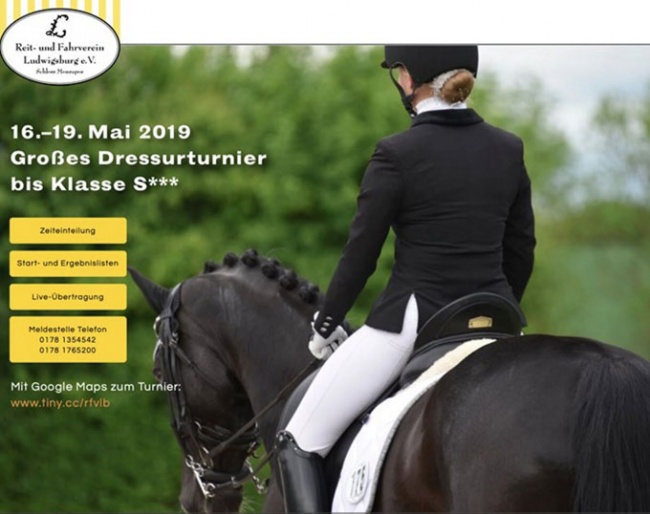 The 5-year old Faberge Rouge and  the 6-year old Fair Game became the winners of the Bundeschampionate qualification classes at the regional show at Mon Repos in Ludwigsburg on 16 - 19 May 2019.
Nine horses competed in the 5-year old division and Marie-Luise Misztl steered her own Oldenburg stallion Faberge Rouge (by For Romance x Krack C) with an 8.0 score. The stallion got 8.5 for walk, 8 for trot and canter, 7.5 for submission and 8 for general impression. Jill de Ridder and her home bred Rhinelander mare Moosbend's Rockadera (by Rock Forever x Ricardos) were the runners-up with 7.4. The mare got 7 for walk, 7.5 for trot, 8.5 for canter, 6.5 for submission and 7.5 for general impression. 
Just five combinations competed in the 6-year old division and Oliver Luze topped the board on Thomas Casper's Oldenburg stallion Fair Game (by Furst Wilhelm x Ron William) with 8.2.. The black stallion gor 8.5 for walk, 8 for trot, canter and submission and 8.5 for general impression. Jasmin Schaudt and her own Westfalian gelding Vanotti (by Vitalis x Florestan) were second with 8.0. The bay gelding earned 8 for walk and trot, 7.5 for canter, 8 for submission and 8.5 for general impression. 
Results - 2019 Bundeschampionate Qualifier - Ludwigsburg
5-year olds
1. Marie­Luise Misztl - Faberge Rouge (by For Romance I / Krack C) -8
2 Jill de Ridder - Moosbend's Rockadera (by Rock Forever I / Ricardos) - 7.4
3 Ann­Kathrin Lindner - Jazztime (by Jazz / Florestan) -7.3
3 Ina­Katrin Schmid -  Lennon (by Londontime / Dancier) -7.3
5 Linda Jung -  Qu'est­ce que c'est (by Quaterhall / Silberschmied) - 7.1
6 Jasmin Claudia Moghaddam - Crimetime GT (by Chambretto GT / PlacidoSun) -6.9
6 Andrea Dlugos -  Faris Toni (by Fürstenball / Alassio's Boy) - 6.9
8 Charlotte Rummenigge -  Dancing Star (by Dancing World / Rascalino) - 6.8
9 Jerome Schaack - San Christobal SG (by Susu's Boy / Dancier) - 6.5
6-year olds
1. Oliver Luze - Fair Game (by Fürst Wilhelm / Ron William) - 8.2
2 Jasmin Schaudt - Vanotti (by Vitalis / Floresta) - 8
3 Charlotte Rummenigge - Lemony S (by Lemony's Nicket / Wolkentanz) - 7.8
4 Hannah Milena Rother - Dimitroff MT (by Dimaggio / Brentano II) - 7.6
5 Katrin Burger - Glamour (by Fürst Romancier / Amidou) - 7.4
Related Link
Eurodressage Coverage of the 2019 Bundeschampionate