2019 Bundeschampionate Qualifier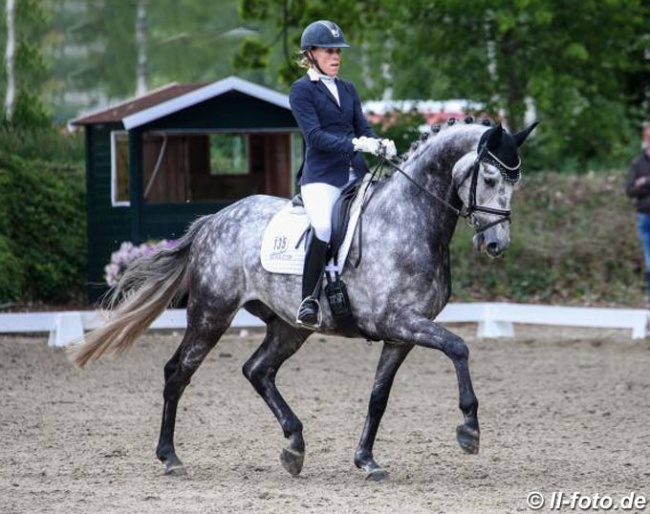 The 5-year old Eyleen MT and the 6-year old Di Magic became the winners of the Bundeschampionate qualification classes held at the regional show in Bülkau, Germany, on 31 May 2019. 
Yvonne Kläne dominated the 5-year old division aboard Elisabeth Max-Theurer's Westfalian mare Eyleen (by Escolar x Laurentianer). She won the class with 8.4 after receiving 9 for walk, 8.5 for trot and canter, 7.5 for submission and 8.5 for general impression. Greta Heemsoth and the Hanoverian mare Selfie (by Scuderia x St. Moritz) placed second with 8.1. The pair received 7.5 for walk, 8.5 for trot, 8 for canter, 8.5 for submission and 8 for general impression. 
In the 6-year old division Andrea Müller-Kersten steered Elisabeth Tepper's Oldenburg stallion Di Magic (by Del Magico x Canaster) to victory with an 8.1 total and a massive lead upon the runner up. The grey stallion got 9 for walk, 7.5 for trot, and 8 for canter, submission and general impression. Sabine Oberdieck and the Trakehner mare Special Selection (by Imhotep x Consul) placed second with 7.5. The dark bay mare got 7 for walk, 8 for trot, 7.5 for canter, 7 for submission and 8 for general impression. 
Photo © LL-foto
Results - 2019 Bundeschampionate Qualifier - Bülkau
5-year olds
1. Eyleen MT (by Escolar / Laurentianer) -  Kläne,Yvonne - 8.40
2.  Selfie (by Scuderia / St. Moritz) -  Heemsoth,Greta - 8.10
3.  Don Domingo (by Dimaggio / Don Davidoff) -   Diez,Alvaro -  8.00
4.  Don Allegro (by Don Nobless / Fürst Heinrich) -  Heemsoth,Greta - 7.70
5.  Quentin (by Quasar de Charry / Münchhausen) -   Ignatius,Melinda - 7.50
6.  Day by Day (by Destano / Argentinus) -  Kalus,Malte - 7.40
6.  Champagne's Fienchen (by Franziskus) -  Ripphoff,Kira - 7.40
8.  Die Dörthe (by Don Nobless / De Niro) -   Becker,Anna­Marie - 7.30
8.  Fireball MZ (by Franziskus / Donnerball) -  Goerens,Mathis - 7.30
10.  Achtsam (by All at once / Laudabilis) -   Flach,Judith - 7.10
10.  Don Olympic (by Don Olymbrio L / Don Schufro) -   Liebregts,Mayke - 7.10
13.  Frandrokus (by Franziskus / Sandro Hit) -  Pavao,Pedro Luiz Almeida - 7.00
13.  DiCaprio OLD (by Dimaggio / Sir Donnerhall) -   Schoka,Anja - 7.00
15.  Silberfee S (by Sir Donnerhall I / Rohdiamant) -  Daake,Mira von - 6.90
16.  Saavik (by Scuderia / Lauries Crusador xx) -  Kaese,Natascha  - 6.30
Despacita (by Destano / Wanderbursch II ) -  Schucher,Mareike - RET
6-year olds
1.  Di Magic (by Del Magico / Canaster I) - Müller­Kersten,Andrea  - 8.10
2.  Special Selection (by Imhotep / Consu) - Oberdieck,Sabine - 7.50
3.  Felicity Romance (by Fürst Romancier / Weltmeyer) - Flach,Judith - 7.40
3.  Deodoro (by Desiderio / Münchhausen) - Heemsoth,Greta - 7.40
5.  Barolo (by Belissimo M / Hochadel) - Bewerungen,Eike - 7.10
6.  Fürstin (by Fürstenball / Burlington) - ­Piening,Emily - 6.30
DeeJay BK (by Destano / K2) - Kubelke, Jorn - RET
Related Link
Eurodressage Coverage of the 2019 Bundeschampionate