Denmark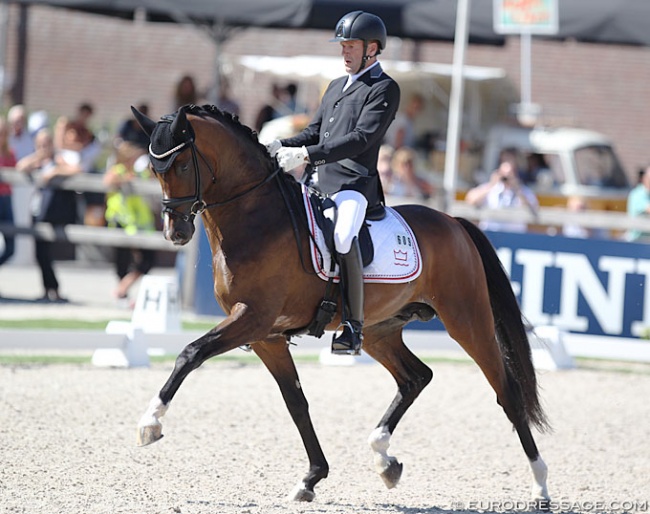 The starting lists for the first Danish selection trial for the 2019 World Young Dressage Horse Championships are ready and give an overview of the team candidates vying for a spot. 
The Danish WCYH selection trials begin with a first meeting in Uggerhalne, Denmark, on 8 - 9 June 2019. 
On the first day the 5,5 and 7-year olds perform the preliminary test and on the second day they perform the finals test in front of the selectors from the Danish Equestrian Federation and Danish warmblood society. 
The best represented sire is Blue Hors Zack with eight offspring entered.
Interesting to note is the entry of Zhaplin Langholt, of which American owner Charlotte Jorst told Eurodressage in April that the horse would not compete for Ermelo as it would be "too much for him" after showing in the U.S. and traveling back to Europe. German Olympian Helen Langehanenberg will travel to Denmark to qualify her sponsor's Straight Horse Ascenzione (by Zack).
The Danish owned Westfalian stallion Revolution (by Rocky Lee x Rouletto), who was the winner of the 5-year old World Championships in 2018, needs to qualify through the German system.
Entered for the first trial, as published on Ridehesten, are:
5-year olds
Zidan DN (by Sezuan x Future Cup) - Rider: Betina Jæger      
Elverhøjs Raccolto (by Sezuan x Sandro Hit) - Rider: Meike Lang 
Ziva Enshøj (by Zack x Uno Don Diego) - Rider: Hannes Lüth
Straight Horse de Milla (by De Niro x Zack) - Rider: Mette Sejbjerg Jensen
Skovens Tzarina (by Zack x  Don Schufro) - Rider: Betina Jæger
Queenparks Wendy (by Sezuan x Soprano) - Rider: Andreas Helgstrand
Tørveslettens Sylvester (by Sezuan x Stedinger) - Rider: Severo Jurado Lopez
Søgaards Bon Royal (by Bon Bravour x De Noir) - Rider: Camilla Ahlers Pedersen
Runehøjs Shiva (by Sir Donnerhall II x Induc) - Rider: Anders Uve Sjøbeck Hoeck
Tophøjs Florentina (by Floriscount x Solos Landtinus) - Rider: Frederico Mexia de Almeida
Dam's Gaby (by Attention x Lancelot) - Rider: Adam Sparlund Olesen
Gørklintgårds Scorpion (by Gørklintgårds Santos x Don Schufro) - Rider: Sissel Jacobsen
Gørklintgårds Filou (by Fürst Romancier x Sandro Hit) - Rider: Sissel Jacobsen
Gørklintgårds Swing (by Gørklintgårds Santos x Don Schufro) - Rider: Annesofie Thøstesen
Søbakkehus Sir Danois (by Sir Donnerhall I x Midt West Ibi-Light) - Rider: Maria N Kristensen
UNO Sunshine Reggae (by San Amour x Donnerhall) - Rider: Susanne Barnow
6-year olds
Baunehøjens Carpaccio (by Charmeur x White Talisman) - Rider: Anette Ejlersgaard
Atterupgaards DeLorean (by Bon Bravour x Sandro Hit) - Rider: Selina Solberg Vittinghus    
F.A. Sir Supreme (by Sir Donnerhall x Lauries Crusador xx) - Rider: Katrine Rosa Bjørklund
Favour Gersdorf (by Foundation x Leandro) - Rider: Nadja Aaboe Sloth
Lindballe´s Just Perfect (by Johnson x De Niro) - Rider: Ann-Christin Wienkamp
Bournonville (by Bon Bravour x Loudini) - Rider: Lotte Wiuff Straarup
Hjorth's Filippa (by Florestan x Latimer) - Rider: Gitte Mors Burgaard
Atterupgaards Mildura (by Zack x Lord Sinclair) - Rider: Carina Cassøe Krüth
Azett Lynghøjgård (by Zack x Schwadroneur) - Rider: Kenneth Damgaard
Straight Horse Ascenzione (by Zack x  Don Schufro) - Rider: Helen Langehanenberg
Fleurie (by Fürstenball x Onassis) - Rider: Sanne Glargaard
Møgelvang Ferrari (by Sezuan x Come Back II) - Rider: Pernille Sigsgaard                
Hjorths Rapsody in Blue (by Don Romantic x Rosario) - Rider: Katrhrine With Petersen
Zhaplin Langholt (by Zonik x Stedinger) - Rider: Andreas Helgstrand
Anthony Pax (by Apache x White Magic) - Rider: Jan Møller Christensen
7-year olds
Hesselhøj Donkey Boy (by ERA Dancing Hit x Milan) - Rider: Jan Møller
Ryvangs Damon Dione (by Damon Hill x Come Back II) - Rider: Julie Dyrgaard
Nikitaro (by Romanov x  Don Romantic) - Rider: Ditte Mikkelsen
Zippo M.I. (by Zack x Don Schufro) - Rider: Michala Damm-Frydenberg          
Vestervangs Garson (by De Noir x Ragazzo) - Rider: Emma Ahlberg                    
Heilines Zackton (by Zack x Come Back II) - Rider: Carina Cassøe Krüth
Gammelenggårds Zappa (by Zonik x Akinos) - Rider: Jacob Nørby Sørensen
Sønderskovens Selection Hit (by Sieger Hit x Temple Wind xx) - Rider: Gitte Burgaard
Feldborgs Lantano (by Lancelot x Rendevous) - Rider: Adam Olesen
UNO Don Olympic (by Don Olymbrio x  Del Piero) - Rider: Anna Zibrandtsen
Related Links
Eurodressage Coverage of the 2019 World Young Horse Championships
Zhaplin Langholt Back to Europe, No Ermelo Planned
Revolution Wins Thrilling 5-year old Finals at 2018 World Young Horse Championships