2019 CDIO Uggerhalne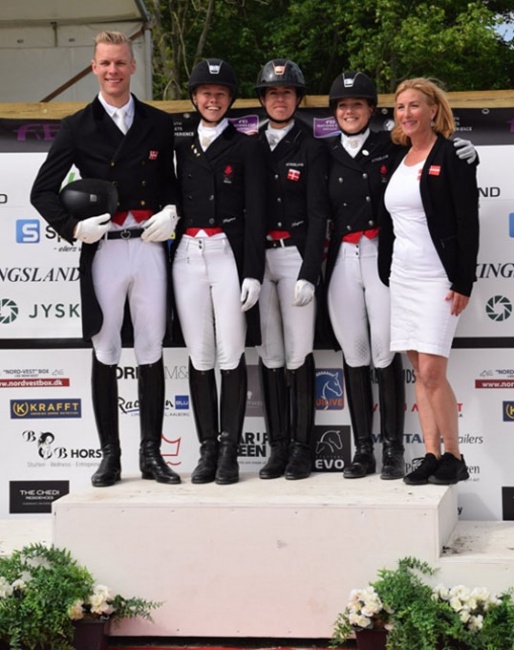 The Danish dressage team secured the victory in the third Nations Cup Leg of the 2019 series at 2019 CDIO Uggerhalne in Denmark on Sunday 26 May 2019.
Team Denmark included Daniel Bachmann Andersen, Agnete Kirk Thinggaard, Cathrine Dufour and Carina Cassøe Krüth and they edged out Sweden and Germany for the highest step on the Nations Cup podium.
The Danish team was spearheaded by Daniel Bachmann Andersen and Blue Hors stud's 11-year old KWPN stallion Don Olymbrio (by Jazz x Ferro). The pair won the Grand Prix with 77.652% and the Special with 78.809%.
"I work best under pressure, and we had a fantastic ride. Perhaps the best ever," said Bachmann.
Bachmann had team mate Cathrine Dufour on the Zinglersen family's Westfalian gelding Bohemian (by Bordeaux x Samarant) on her heels in the Grand prix (75.609%) while Swedish Therese Nilshagen and the 12-year old Oldenburg stallion Dante Weltino (by Danone x Welt Hit II) were on their heels in the Special with 77.362%.
"I think it went really well and Bohemian was 10 percent better than expected," said Dufour. "It means a lot for a rider that there is so much support from the spectators." Dufour will compete Bohemian and not her number one Cassidy at the Danish Championships in Uggerhalne in two weeks. "I have chosen to save Cassidy for the European Championship because he is an older horse, and it is hard for him to be in the competition three days. The Nations Cup is a great preparation for Bohemian. I hopes that he can keep his tongue right in his mouth and continue the good path he's on."
The Kur to Music was won by Danish Agnete Kirk Thinggaard and her 16-year old Hungarian bred Jojo AZ (by Ginus x Justboy). They topped the board with 77.480% in the freestyle, after placing 8th in the Grand Prix with 71.478%.
Helgstrand and Lollipop Dominate CDI 3* Tour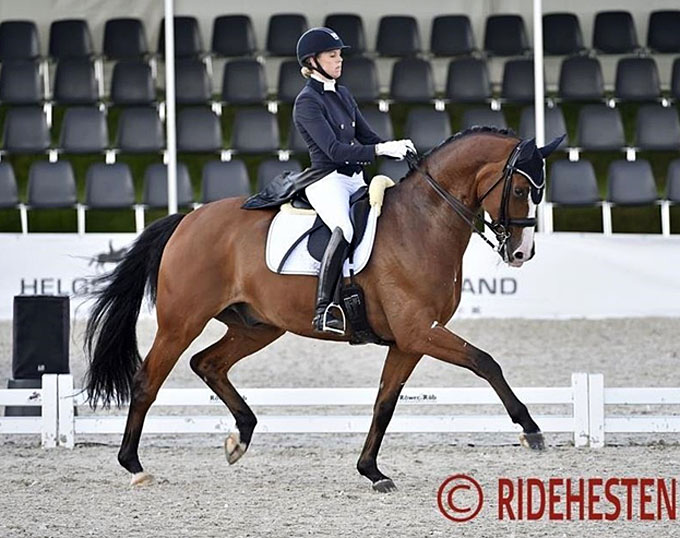 Marianne Helgstrand and Elena Knyaginicheva's 15-year old Lollipop (by Lord Sinclaiur x Welt Hit I) dominated the 3* big tour on home turf at the show staged by her husband Andreas. She won the Grand Prix with 71.217% as well as her first Grand Prix Special with 71.362%. 
Lollipop was bred by the Lewitz Stud and sold at the 2008 P.S.I. Auction to an international investment group before being purchased by long-term Kasselmann client Elena Knyaginicheva. The bay gelding was competed successfully by Bianca Kasselmann before the ride went to Emile Faurie in 2017. Emile Faurie and Lollipop competed for the British Team at the 2017 European Championships in Gothenburg and enjoyed one of their biggest successes together in the CDI4* in Hamburg in 2017.
Helgstrand twice edged out German Fabienne Müller-Lutkemeier on Nancy Gooding's 13-year old Hanoverian gelding Flynn PCH (by Falsterbo x Walt Disney). The pair posted 70.891% and 70.277%.
"At the stallion licensing in Herning in March we finished number 11. I didn't even expect that I would win," said a thrilled Marianne Helgstrand. "I had hoped that we would be in the top 5, but I had no more hope for that. My legs shook a lot more than they usually do. It is really silly, because it is the same people who are watching me now, but it doesn't meant I'm home just on my own."
Vallentin Takes Two in the Under 25 Division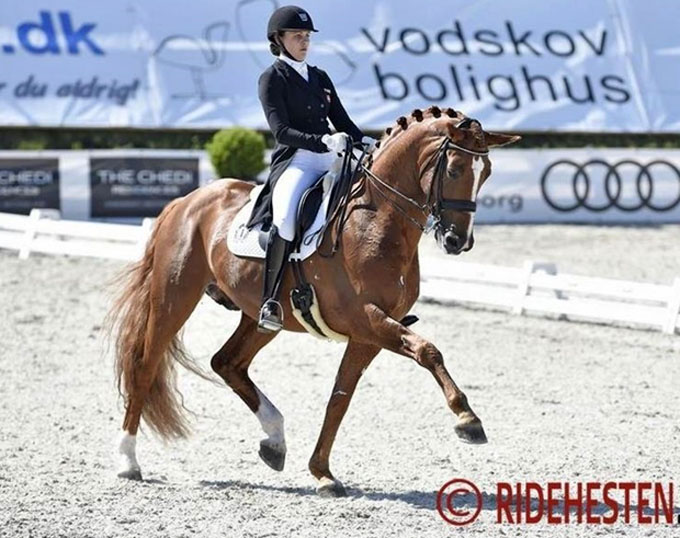 Helgstrand's assistant trainer Victoria Valentin captured a double victory in the Under 25 division aboard Sam Duckworth's 13-year old Oldenburg stallion Ludwig der Sonnenkonig (by London Swing x Liberator). 
In a field of 10 international Under 25 riders, Valentin proved consistency and scored a winning 74.755% in the Intermediaire II  and 72.265% in the Short Grand Prix. Valletin and Ludwig almost captured a spot on the Danish senior Grand Prix team for the 2018 World Equestrian Games in Tryon, but dropped back to Under 25 level to compete at the 2018 European Under 25 Championships, where they earned a short Grand Prix test bronze medal. 
"It is of course nice to win both classes we rode on the weekend. It gives a lot of experience and routine to start internationally," said Victoria, who feels no extra pressure to compete at home. "It does not mean anything. I don't get extra nervous because we're at home, and I don't feel I need to perform more than I usually do." 
Vallentin will now focus on the Danish Under 25 Championships in two weeks, where she aims for the title.
Photos © Equitour Denmark - Ridehesten
Related Links
Scores: 2019 CDIO Uggerhalne
Teams Known for 2019 FEI Nations Cup in Uggerhalne
Danish Team Selected for 2019 CDIO Uggerhalne
Geesteren and Järvenpää Added to 2019 FEI Nations Cup Series
Eurodressage on the scene at the 2018 CDIO Uggerhalne