2019 World Championships for Young Dressage Horses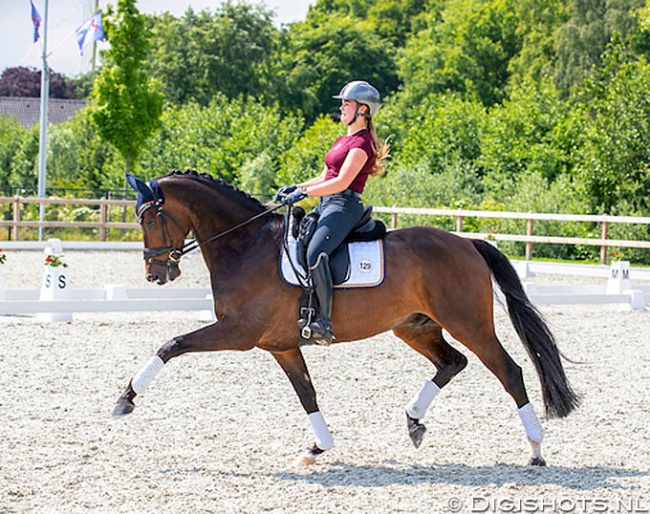 The Dutch Equestrian Federation and KWPN society hosted the second observation and training trial for team selection for the 2019 World Championships for Young Dressage Horses on 21 - 22 May 2019 and redrafted a new long list of potential team candidates.
This was the second of three observation trials where the selection panel coaches and assesses the team candidates and draws a long list that gets shortened after each trial. The team will be announced after the third session.
The selectors are Johan Rockx, Monique Peutz and Floor Dröge. They dropped eight 5-year olds, seven 6-year olds and two 7-year olds from the initial first long list after the second trial.
The second trial took place in Nunspeet, The Netherlands.  Three horses were absent from the trial but the riders have given valid reasons to the selectors: they are Imposantos (Bart Veeze), Iwardo AF (Cynthia Eggenkamp) and Jovian (Andreas Helgstrand). The latter pair has not shown itself in the first nor second trial.
The third selection trial will take place in Ermelo on 20 June 2019.
Eleven 5-year olds, thirteen 6-year olds and eleven 7-year olds have been long-listed.  They are:
5-year olds
Andreas Helgstrand* - Jovian (by Apache)
Emmelie Scholtens - Joe Blue Horse (by Zatchmo)
Emmelie Scholtens - Johnny B.Goode (by Dreamboy)
Esmee Donkers - Just Wimphof (by De Niro)
Esmee Donkers - Johnny Depp (by Bordeaux)
Franka Loos - Jayson (by Johnson)
Kirsten Beckers - Jeniro (by Negro)
Kirsten Brouwer - Joyride E.H. (by Ampère)
Marieke van der Putten - Jameson Rs2 (by Blue Horse Zack)
Nicky Snijder - Jongleur Sth (by Expression)
Vai Bruntink - Jatilinda (by All at Once)
6-year olds
Bart Veeze - Imagine (by Dream Boy)
Bart Veeze - Imposantos (by Wynton)
Cynthia Eggenkamp* - Iwardo A F (by Dorado)
Dinja van Liere - Independent Little Me (by Uno Don Diego)
Emmelie Scholtens - Infinity (by Apache)
Emmelie Scholtens - Indian Rock (by Apache)
Femke de Laat - Intro K (by Apache)
Hans Peter Minderhoud - In Style (by . Eye Catcher)
Joyce Lenaerts - Beukenvallei's Iconic B (by Bon Bravour)
Laura Reija - Imagine (by Chippendale)
Marije de Lange - Inspiration (by Everdale)
Nicky Snijder - Identity Sth (by Charmeur)
Quinty Vossers - Inferno (by Everdale)
7-year olds
Adelinde Cornelissen - Henkie (by Alexandro P)
Anne Meulendijks - Hot-Spot (by Dancer)
Dinja van Liere - Hermès (by Easy Game)
Dinja van Liere - Haute Couture (by Connaisseur)
Dinja van Liere* - Hartsuijker (by Johnson)
Esmee van Gijtenbeek - Hot Chocolate (by Apache)
Johannes Rühl - Hilton De L'Esprit VLS (by Johnson)
Joyce van Opbergen - Haronia-Donna (by Bordeaux)
Mara de Vries* - Habibi DVB (by Don Schufro)
Olga Boucher - Houdini la Haya (by Krack C)
Quinty Vossers* - Hummer (vby Charmeur)
Photo © Digishots
Related Links
Long List After First 2019 Dutch WCYH Team Training and Observation Trial
Holland Kicks off Selection Trials for 2019 World Young Horse Championships
Eurodressage Coverage of the 2019 World Young Horse Championships