Italy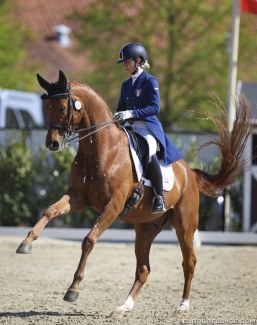 The Italian Equestrian Federation (FISE) has published the names of the long-listed riders in the running for team selection for the 2019 European Youth Riders Championships in San Giovanni in Marignano, Italy, on 24 - 28 July 2019.
After a five year break the European Junior/Young Riders Championships returned to Italy. In 2014 they were hosted in Arezzo, this year they will take place at the Horses Riviera Resort near Rimini, Italy, and they coincide with the Children and Under 25 Europeans. 
The FISE dressage department issued guidelines on how Italian riders could get selected for the team. It recommended a set of shows where they would be observed by the selectors although results from other CDI's also count. 
FISE Dressage Director Cesare Croce hopes that the Italian team candidates will especially focus on riding in front of selector and chef d'equipe Laura Berruto at the CDI-W Lipica (23-26 May), the Italian Championships (21-23 June), and the CDI Leudelange (2-7 July) after which the teams will be announced. Italian based Irish Grand Prix rider Anna Merveldt and her own coach Johann Hinnemann are Italy's official team trainers. 
Italy's long listed youth riders with their score average are:
Children
Anna Tarabella - May - 69.391
Silvia Diciatteo - Tinus -  66.472
Cecilia Ruffini - Bailando Cobra -  62.864
Lucia Giribaldi - Luigi G - 49.356
Sofia Forato - Cleopatra - 0.0 
Celeste Milano Franco d'Aragona - Stanly - 0.0
Junior Riders
Beatrice Arturi - Donaudistel - 70.660
Melanie Bartz - Diary Dream OLD -  68.595
Melanie Bartz - Delgado - 68.352
Alessia Volpini - Easy Deasy -  67.203
Valentina Ugenti - Britney - 66.699
Valentina Merli - Le bom - 65.678
Caterina Neri - Stella Pack Roxana -  65.498
Maria Vittoria  Duranti - Coco Fee -  65.274
Marzia Chilelli - Oliver Vitz - 65.122
Carlotta Vismara - Helios -  64.847
Andrea Neri - Freestyler -  64.683
Beatrice Cocco - Eszi S -  63.964
Ginevra Bianco - Dali Salvador -  61.255
Bernadette Rizzuto - Cover Girl - 60.617
Young Riders
Valentina Remold - Broadway - 69.047
Valentina Remold - Double Cool Darius MJ - 67.748
Alice Campanella - Gracile DES -  67.684
Ginevra Coperchio - Edipo el Bayo - 65.547
Filippo Di Marco - Fidergald - 65.033
Kiliane Angelico - Willow -  64.662
Giulia Parmeggiani - Mayestro P - 61.226
Aurora Roncoroni - World Champion - 0.0 
Sara Michelotti - Ferentino - 0.0
Olivia Moriano - Worldly Wise - 
Under 25 
Francesca Rapazzoli - Rhadamanthus -  66.182
Margherita Josi - Le Contendro - 63.251
Margherita Josi - Kjaerholms Placido - 62.118
Serena Fumagalli - Black Panther - 61.858
Francesco Sangiorgi - Sorrento - 58.191
Valentina Croce - Lorely - 0.0
Photo © Astrid Appels
Related Link
Eurodressage Coverage of the 2019 European Youth Riders Championships