2019 CDIO Compiègne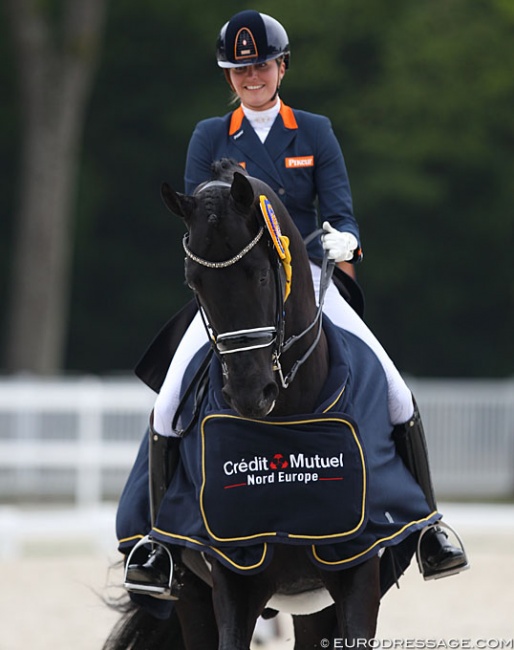 Dutch duo Emmelie Scholtens and the KWPN licensed stallion Desperado exceeded everyone's expectation, including their own, by winning the final class  of a magical show weekend - the CDIO Grand Prix Kur to Music - at the 2019 CDIO Compiègne in France on Sunday 19 May 2019. 
Judges by Isabelle Judet, Michael Osinski, Katrina Wüst, Francisco Guerra and Maribel Alonso, the Kur featured seventeen pairs that battled it out to gain as many points for the Nations Cup ranking, that was determined over three rounds at the first European leg of the 2019 FEI Nations Cup series.
Although Team Great Britain won the Nations' Cup ahead of Sweden and the U.S.A., it was a Dutch pair that topped the board in the Kur.
Emmelie Scholtens and Ad Valk's 11-year old black stallion Desperado (by Vivaldi x Havidoff) were on strong form in Compiègne. In the Grand Prix they already posted a personal best score and in the Kur they even upped the ante and shifted into an extra gear. The black stallion is especially spectacular in front and has very eye catching, uphill extensions and tempi changes. For the collected work, the horse still needs to improve in the self-carriage and strength behind, but Scholtens expertly steered the stallion around to nondescript music that was easy on the ears. They scored 81.585% for the victory. 
The expected winner of the class was German individual duo Helen Langehanenberg on Louise Leatherdale's 17-year old Hanoverian stallion Damsey (by Dressage Royal x Ritual), but they ended up in second place. Langehanenberg recently placed third in the 2019 World Cup Finals in Gothenburg behind the world's number one and two (Isabell Werth, Laura Graves) but did not peak north of Paris. The pair landed place two after a mistake in the tempi changes. They scored 80.775%.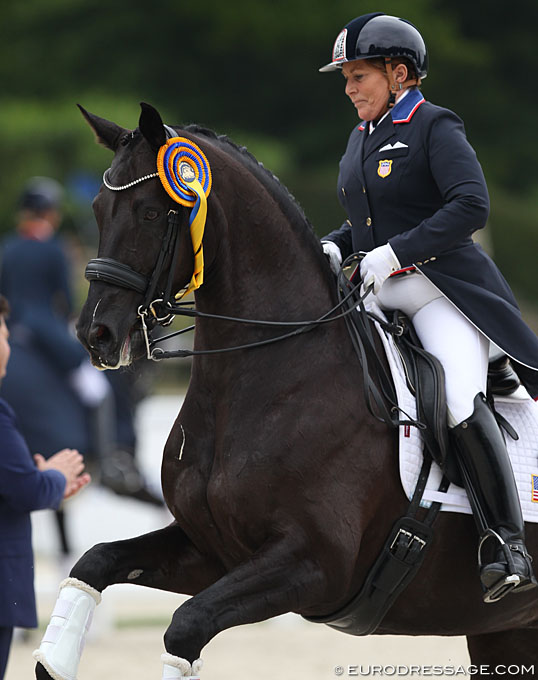 What is fun about having Americans on European soil is that they are like bring a fresh breeze in freestyle world. So many European Kurs to Music are unprofessionally arranged, copy-paste dingeling ding dong freestyles that are unmemorable and still score high points because the artistic mark is usually directly proportional with the technical score (read: +5% to the technical mark). However Americans dressage riders dare to bring something new, something different, something fresh to the fore. Shelly Francis's acapella kur of some pop hits is an acquired taste, but it really grows on the auditor and the more you see/hear it, the funkier and exhilarating it gets. Also the second U.S. rider in the Kur, Heather Blitz and Semper Fidelis, had music that was different and therefore already interesting to start with. Francis and Pat Stempel's 15-year old Hanoverian gelding Danilo (by De Niro x Andiamo) landed third place with 79.610%.
Check out a few more photos from the Kur to Music in Compiègne.
Text and Photos ©  Astrid Appels - NO REPRODUCTION ALLOWED
Eurodressage took photos of pretty much all riders in Compiègne. If you are interested in our photos for your social media, contact us for permission and our conditions for republication
Related Links
Scores: 2019 CDIO Compiegne
Team Great Britain Wins 2019 CDIO Compiegne Nations Cup with Stellar Hughes Hitting 77%
Kittel and Well Done win 5* Grand Prix at 2019 CDIO Compiègne
Wahlkamp-Nilsson and Eddieni Win 3* Grand Prix at 2019 CDIO Compiègne
Team GB Wins Nations Cup Leg at 2019 CDIO Compiègne