2019 CDI-W Mariakalnok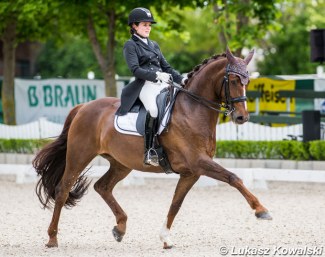 French dressage rider Rachel Bastady made sure that the French national anthem - the Marseillaise - was played twice at the 2019 CDI-W Mariakalnok in Hungary on 10 - 12 May 2019.
Bringing two horses to the show in Hungary, the 24-year old Bastady competed in five classes and had a busy weekend.
Aboard Agathe Stempflin's 9-year old Oldenburg mare Donnerdiora (by Krack C x Donnerschlag) she posted three scores above 70% in the small tour. Bastady started her competition campaign in Mariakalnok with a fourth place in the Prix St Georges on 71.364% and upped the ante in the next two rounds. She achieved a double whammy, winning the Intermediaire I with 71.088% and the Intermediaire I Kur to Music with 75.025%.
"This is the first competitive season for Donnerdiora HDS at this level and she is gaining maturity and experience at each competition," Bastady told Eurodressage. It' s very encouraging for the future of our career. Donnerdiora HDS is very expressive and dynamic in the Trot. Moreover, she was very serene and willing throughout the competition."
Bastady has been riding Donnerdiora since 2016, but their CDI career started only two months ago in Italy at Ornago. At the beginning of May they travelled to Hungary for back to back shows, first at the CDI-W Budapest where they were fourth and fifth and last week in Mariakalnok. The liver chestnut mare was discovered by her owner - Agathe Stempflin from Haras du Steinberg in Folgensbourg, France - as a foal. She was initially acquired to become part of her breeding programme.
"Because of her qualities of movement and her fighting spirit, her career has been re-oriented for sport," Rachel explained. "My strong friendship with Agathe and the absence of a successor for Fandango d'Arx helped to make her available to me in 2016. " Bastady has been slowly bringing her up the levels. "In order to bring the mare into the best disposition, we decided not to push her. She's very easy to collect, for instance. In addition to her quality movements, her ability to collect are her strong points. Donnerdiora HDS is a very special mare. She has a warrior mentality. She is extremely attached and generous and she loves to be taken care of."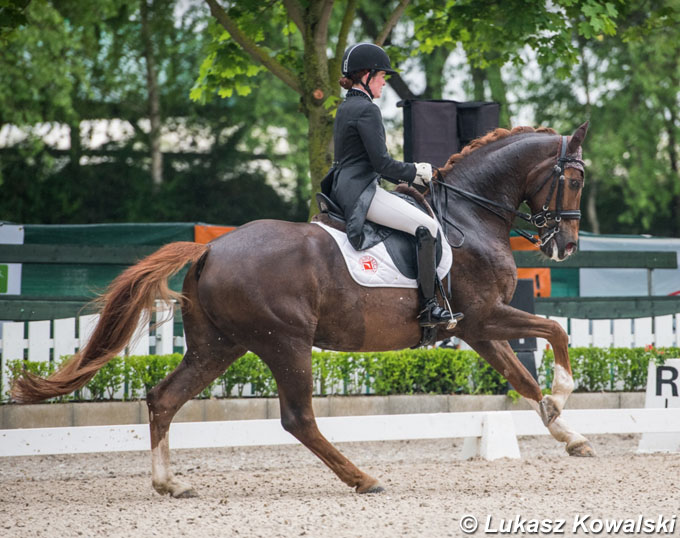 On her long-time partner Fandango d'Arx, a 14-year old Hanoverian gelding by Florencio x De Niro, she competed in the Mariakalnok Grand Prix Special tour. They were 14th in the Grand Prix with 65.826% and 11th in the Special with 65.106%.
"With Fandango d'Arx, I usually participate in the U25 competitions," said Rachel. "Unfortunately, there was no U25 competition in Máriakálnok, so I entered him on the big tour. It was the first time I had competed in the Grand Prix and I am very happy about the result. There is still a long way to go and a lot of work to be done, but it is reassuring to start with a good feeling and an encouraging result. This result allowed me to participate in the Grand Prix Special and it was an enriching experience."
Fandango D'Arx has been Rachel's partner-in crime since 2015 when she was still a young rider. Their youth career culminated with a start at the 2016 European Young Riders Championships in Oliva Nova, Spain. In 2017 they worked on the transition to Grand Prix and did no internationals, to make their CDI Under 25 debut at the CDI Nice in October 2018.
"Fandango d'Arx is my first horse," said Rachel. "I really hoped to bring him to Grand Prix, even if most people thought he would be limited to the small tour. The most difficult thing for Fandango d'arx and for me was learning and managing the piaffe. That's why I approached Alexandre and Grete Ayache a year ago. They are both excellent riders with a lot of experience. From now on, I will regularly train in their stables for periods of 3-4 weeks in a row."
Bastady will take her duo to the CDI Lipica next, followed by Brno and the French Championships in Vierzon. 
"If my results are sufficient, I hope to be able to participate to the European U25 Championship with Fandango d'Arx in San Giovanni in Marignagno," Rachel added. "Then we will see..."
Photos © Lukasz Kowalski
Related Links
Scores: 2019 CDI-W Mariakalnok
French Teams Selected for 2016 European Junior/Young Riders Championships
Saint-Cast and Van den Berghe Win 2012 French Junior and Young Riders Championships
Jawurek, Bonifay, Noel, Gallinard Win 2018 French Youth Riders Championships