2012 French Junior and Young Riders Championships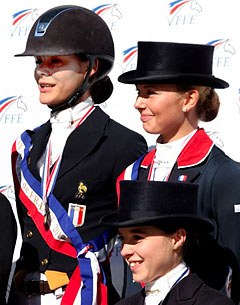 Junior rider Victoria Saint-Vast and young rider Victoria Van den Berghe grabbed the national title at the 2012 French Junior and Young Riders Championships held at the national dressage show in Compiegne on 5 - 7 October. The field of competitors was quite small with only 11 riders in total battling it out in two divisions.
Most French riders, who competed at the 2012 European JR/YR Championships in the summer, were absent from the Nationals. Neither Sharon Yvroux, Jessica Hel, Alix van den Berghe, nor Helene Legallais made it to Compiegne.
In the Junior Riders division former French FEI pony rider Victoria Saint-Cast  dominated her age group aboard the tall Hanoverian Lou Heart (by Londonderry x Dream of Glory). She won both rounds with 65.514% and 66.105% scores, leaving the competition far behind her. The silver medal went to Clementine Pelouard aboard the French bred Indy de Lauture (by Prince d'Incoville x Mistigri). She received 63.865% and  61.158% from the judges and referred Ninon Ciesla on the German bred Dumbledor (by Donatelli x Silvertop's As) to a third place overall.
In the young riders division French European Championship team member Victoria van den Berghe and her Rhinelander branded Scalia (by Sandro Hit x Mackensen) took a great start in the first round with a 70.079% earning test. Her 68.158% score in the second round sufficed for the gold medal. Pauline Guillem and the KWPN bred Whisper Gold (by Gribaldi x Wanderbusch II) became the reserve champions posting scores of 66.500% and 67.763%. The bronze went to Ninon Vandenabeele on the Bavarian Rakino (by Ragazzo x Wall Street).
Results - 2012 French Junior and Young Riders Championships - Compiegne
Junior Riders
1. Victoria Saint-Cast - Lou Heart - 65.514%  -  66.105% --- 65.809 %
2. Clementine Pelouard - Indy de Lauture - 63.865%  -  61.158%  --- 62.511 %
3. Ninon Ciesla - Dumbledor - 61.054% - 61.105% --- 61.080 %
4. Claire Balezeaux - Donatello - 60.703%  - 59.684 --- 60.193 %
5. Rachel Bastady - Sciara - 56.054% - 63.263    % --- 59.659 %
6. Alix Bravard - Shamira - 54.676% - 62.842%  --- 58.759 %
Young Riders
1. Victoria van den Berghe - Scalia - 70.079% - 68.158    %  --- 69.118 %
2. Pauline Guillem - Whisper Gold - 66.500% - 67.763 %  --- 67.132%
3. Ninon Vandenabeele - Rakino - 65.289% - 66.632 %  --- 65.961 %
4. Gaelle Riviere - Okarina du Feraigu - 61.842% - 61.316%  --- 61.579 %
5. Antoine Nowakoswki - Paco du Montois - 60.605% - 60.500%  --- 60.553 %
Related Links
Jessica Michel Wins 2012 French Grand Prix Championships
French Riders Short Listed for 2012 European Junior/Young Riders Championships