Nordic International Sales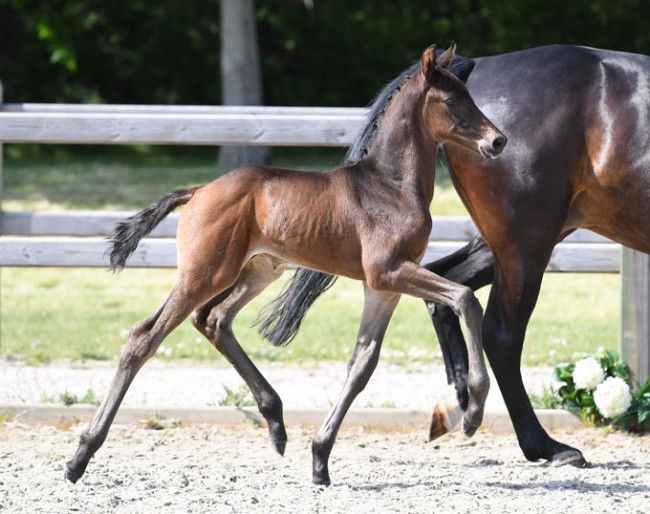 The Danish Warmblood Society is hosting an elite foal auction - the 2019 Nordic International Sales - at the international dressage and show jumping competition Equitour Denmark in Uggerhalne, Denmark, on 25 May 2019. 
An exquisite collection of 21 dressage bred foals cherry picked in different breed societies will be up for auction at Andreas Helgstrand's spectacular horse show that hosts the FEI Nations Cup. 
The auction is organized by Denmark's most renowned experts in the field of horse dealing. This is a rare opportunity to acquire a foal of exceptional class.
A Grasp from the Unique Collection
A grasp from the collection will reveal several of many highlights, including the Danish warmblood colt Francetti (by Franklin x Sezuan), who is the full brother of the most expensive filly sold at the 2018 Nordic International Sales. This stunning colt is the combination of one of the best performing dam lines to one of the leading producers in Denmark of strong and powerful gaits. Francetti is by Franklin out of international Grand Prix mare and triple World Young Horse Champion Fiontini.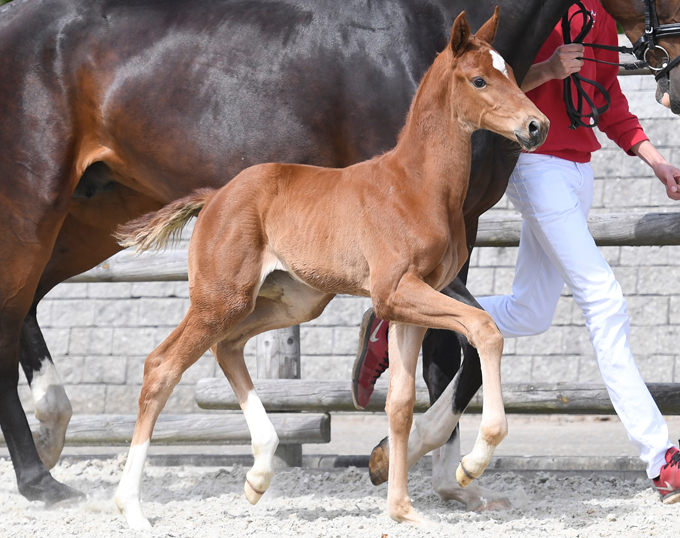 The Danish warmblood bred Spring-Rose-O  (by Springbank II x Blue Hors Farrell) is a filly with superb gaits. She is soft and elastic and keeps her impulsion effortlessly. She's a well built lady, with a correctly placed neck, a strong top line and some impressive hind legs. This filly's dam line includes Overgaard's Hit Me, dam of the gold medal stallion Blue Hors Zackerey. The line also produced three Olympic dressage horses: Gay (2000 OG Sydney), Dorina (2012 OG London) and Gorklintgaars Dublet (2016 OG Rio).
Danish warmblood colt Vancouver S (by Vitalis x Blue Hors Romanov) is a foal of international quality. He has 3 excellent gaits and moves with great suppleness, impulsion and rhythm - all with no effort whatsoever. Vancouver's sire; Vitalis belongs to the absolute elite of dressage and is one of the most sought after young stallions. Vancouver's dam Roxan is sister to the Grand Prix horses Cartier and Dorina. The dam line is one of the most successful in international dressage breeding, having produced Fiontini, licensed stallions Zackerey and Zackzu, as well as GP horses Gørklintsgård's Dublet, Charmeur, Calderon and Achat.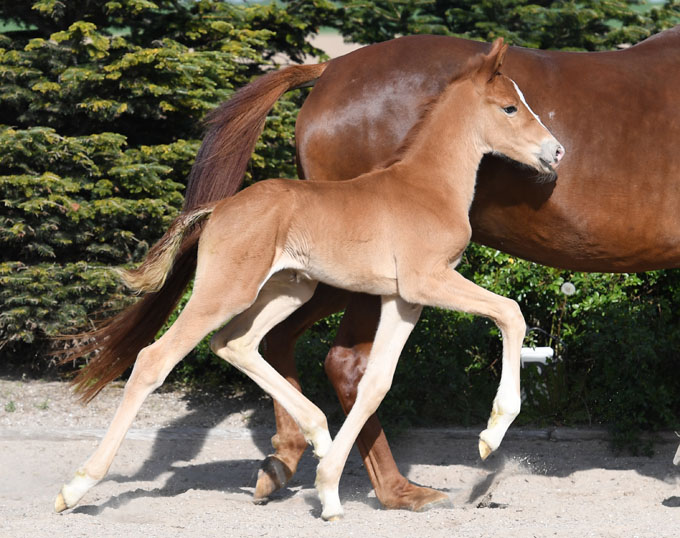 The Danish warmblood filly Springborgs Ganya (by Knock Out x Sir Donnerhall). She dances joyously with an unfailing taste for life and ease in all of her movements. Springborg's Ganya is leggy and well proportioned. She has an athletic trot and through-the-body canter constantly working uphill. Her dam was the Danish Mare of the Year as a 2-year old. Grand dam Springborg's Givenchy is an elite mare that produced Springborg's Guyana, who now competes in advanced dressage. Besides that she has had a countless foals selected for the Danish Warmblood Elite Show and produced the 2014 Danish Warmblood Colt of the Year. The dam line furthermore contains several licensed stallions, including Blue Hors Fifty Cent and Fredendal's Fountain. 
Bid Live or by Phone
The auction will be streamed live by Zibrasport.dk. If you are unable to come to Uggerhalne, you can experience the auction from behind your computer and bid over the phone. The auction committee is ready to help and call you when the foal you want is up for auction.
Simply complete this form and send to auction@varmblod.dk. Then you will be contacted on the auction date, to follow up on your expectations.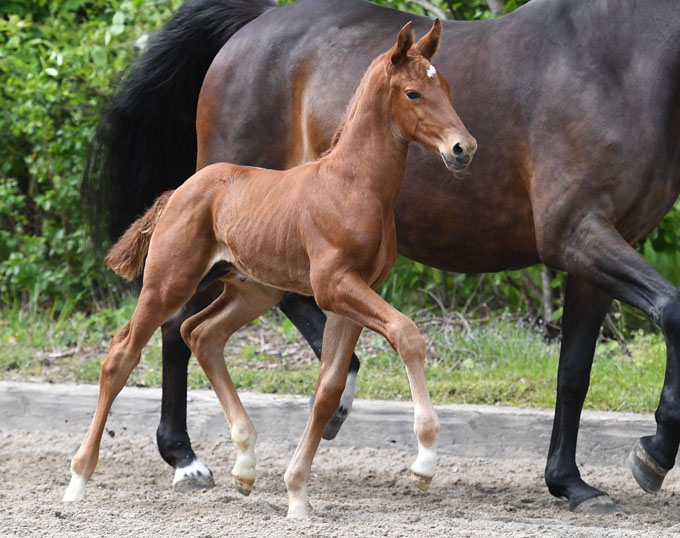 Experience the Auction as a VIP
A large part of the good atmosphere is created by our VIP guests. It is possible for our best customers and guests to enjoy a refreshment before the auction and get close to the arena during the auction to enjoy the beautiful foal and bid.
Should you be interested in buying foals, contact the auction at auction@varmblod.dk for further information.
Discover the complete collection of the 2019 Nordic International Sales here.