2019 CDI-W Mariakalnok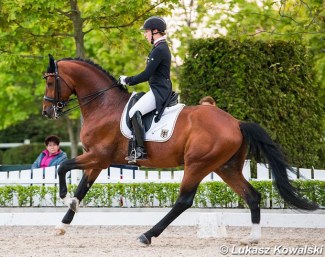 Young rider Cosima von Fircks spearheaded the German campaign to victory in the Young Riders' CDIO Nations Cup at the 2019 CDI-W Mariakalnok in Hungary on 9 - 12 May 2019. Von Fircks not only locked in the German nations' cup win, but she also completed a trifecta, topping the board in all three rounds in her respective division. 
The 20-year old Von Fircks steered her father Helmut von Fircks' premium licensed Hanoverian stallion Nymphenburg's First Ampere (by Ampere x Weltruhm) to a triple win at their first CDI together in Mariakalnok.
In the Young Riders' team test Cosima and First Ampere blazed the trail towards the highest step of the podium in the Nations' Cup with their 70.882% winning score. Assisted by Silke Hanft (69.206%) and Bettina Nuscheler (68.853%) and with Enya Müller's 68.500% as scratch score, Germany dominated this team competition ahead of Austria and Poland. 
"First Ampere felt really good in the team test. He was really concentrated and listening well to me," Cosima told Eurodressage. "Mariakalnok was, on the one hand, for sure a big honour because it was my first nations cup and, on the other hand, it was a good rehearsal for Warendorf in two weeks (Preis der Besten). I decided to keep things on the safe side and not to risk too much to give the horse more security, because he's still really young."
Cosima and First Ampere truly found their stride in Hungary and improved each day. They went on to win the Individual Test with 72.118% and the Kur to Music with 72.625%. As Mariakalnok was quite a spontaneous decision, Cosima did not have custom music ready for First Ampere, who is nicknamed Anton at home.
"The individual test was already on our fifth day in Mariakalnok and the weather was quite challenging," Cosima explained. "I'm really proud of him, how easily he stayed with me and didn't get too distracted. I rode the freestyle of my former horse Diabolo. All songs are by Pink. Luckily music and choreography fit perfectly for Anton, but we will see, maybe we will get him a bit more masculine music."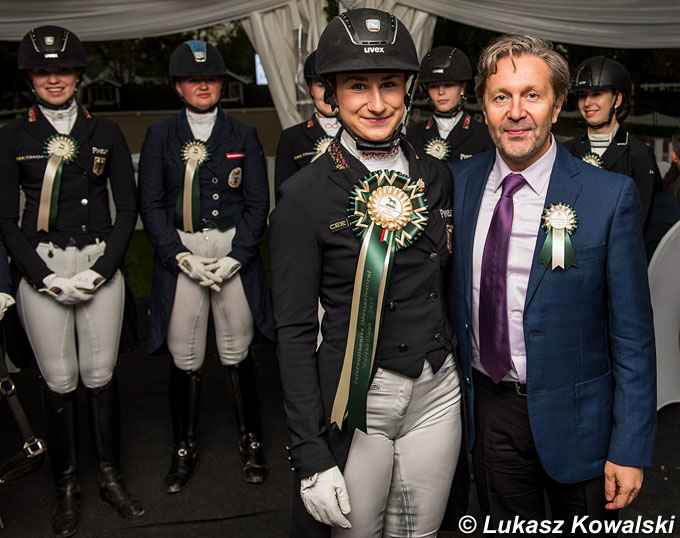 Nymphenburg's First Ampere is no stranger to the international show arena. Bred by Jan Siemsglüss, First Ampere was discovered by Helmut as a foal eight years ago. The stallion has already had a stellar career as a youngster. Under Eike Bewerungen the horse was Hanoverian Young Horse Champion and under Tessa Frank he became a bronze medalist at the 2014 and 2016 Bundeschampionate. He also competed with her at the World Young Horse Championships in Ermelo in 2016 and 2017 placing 9th and 6th in the Finals. In 2018 Lukas Fischer rode First Ampere to a 6th place in the 7-year old division at the World Championships.
First Ampere has also proven himself as a breeding stallion. Flying Dutchman (by First Ampere) was the price highlight of the 2016 Westfalian Elite Foal Auction, selling for 95,000 euro to Von Fircks. The colt has now been licensed for breeding. Flora Keller, sponsor of German GP rider Benjamin Werndl, purchased a second licensed First Ampere offspring, Fine Spirit. The Werndls now have five of his offspring in their yard. 
Cosima took on the ride on First Ampere just two months ago in March after the stallion moved from the Nymphenburg yard in the north of Germany to the private barn of the Von Fircks' family in Munich. At their show debut in Eicherloh, Germany, the new duo clocked 73.40% for the victory.
"It's a big honor to ride this amazing horse and I feel really happy to ride him every day," said Cosima. "He gives me goosebumps and when he watches you with his cute eyes it feels like he can directly see into my soul. I feel really grateful that my father has given me the opportunity to ride him. Anton is a really funny horse who loves to be in the center of attention. To be honest it took him probably three minutes when he arrived in Munich until everyone in the barn fell in love with him."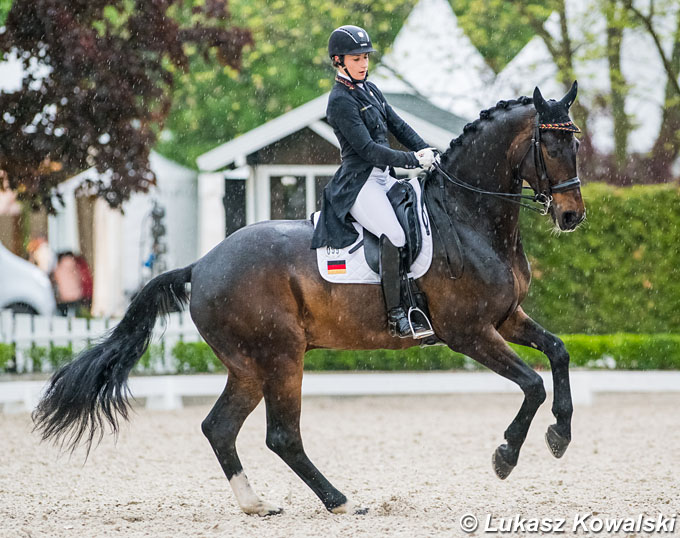 Cosima's biggest competitor in Mariakolnak was she on her second ride, Nymphenburg's Easy Fellow (by Ehrenpreis x Ferragamo). Von Fircks and the 13-year old have been a long-time combination and are now in their third year together competing at internationals. Cosima made her CDI debut on him at junior level at the CDI Wiener Neustadt in April 2017. The horse was off from competition in 2018, but has returned to full strength this year.  In Mariakalnok they were second in the team test (69.382%) and second in the Individual (71.059%). 
"Easy Fellow also felt really good," Cosima dded. "I really got the feeling that we are back on track after his long injury. The Preis der Besten qualifier in Kronberg was his first competition after a 1.5-year show break, which is why things still weren't perfectly secure and spot on. Everything was already a lot more secure and smoother in Mariakalnok."
Looking at the near future Cosima remains patient and aims at established a trusting bond with her young small tour horse First Ampere, while she works on building strength with Easy Fellow.
"Firstly my plan is to ride good rounds in Warendorf and qualify for Hagen with Anton," Cosima explained. "We get more secure with every test we ride and keep on getting more routine. Anton only competed in a handful of S-dressage tests before he came to me. It's just unbelievable how much ground quality this horse has and everything feels like flying. We jokingly call him Anton Airways. In our first tests the focus was on security but now the movements are more safe and I want to show more and more of his amazing walk, trot and canter and to "celebrate" him in the arena. With Easy Fellow I will ride national and international competitions this year to gain more routine in the S-Tour."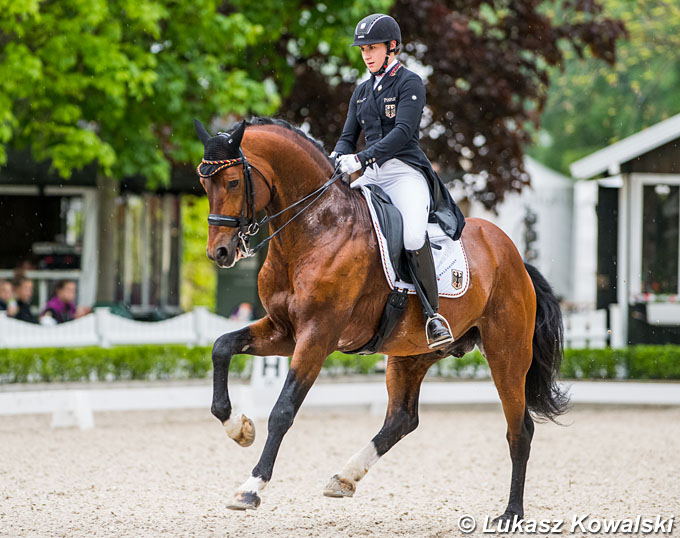 Like any ambitious youth rider, Cosima also dreams of a team spot for the 2019 European Young Riders Championships in Italy in July.
"To ride a European Championship for sure is my biggest dream in years and with this horse I know it's possible," she said, "but to be realistic I know that we're still not long together at all and the quality and number of amazing combinations this year is enormous. We will definitely give our very best but I don't expect anything. My goal this year is, to perform well in Warendorf and Hagen. Maybe this year the amount of time is too short to set a goal as big as the Europeans. We will just give our best and see wherever the journey takes us."
Photos © Lukasz Kowalski
Related Links
Scores: 2019 CDI-W Mariakalnok
Lukas Fischer Takes on Nymphenburg Horses
Feldhaus, Steisslinger, Pistner, Rothenberger Win 2019 Preis der Besten Qualifier in Kronberg
Scores: 2018 German Youth Riders Championships
Quel Filou Leads the Way in 6-YO Preliminary Test at 2017 World Young Horse Championships
Flying Dutchman, Price Highlight of the 2016 Westfalian Elite Foal Auction
Daytona Platinum and First Ampere Shine in 5-year old Preliminary Test at 2016 Bundeschampionate
Tessa Frank Loving the Riding Life at Gestut Nymphenburg
Change in Management at Gestut Nymphenburg
Gestut Nymphenburg Team Sweeps the Board at the Base Jungpferde Cup in Munich