F.O.C.U.S.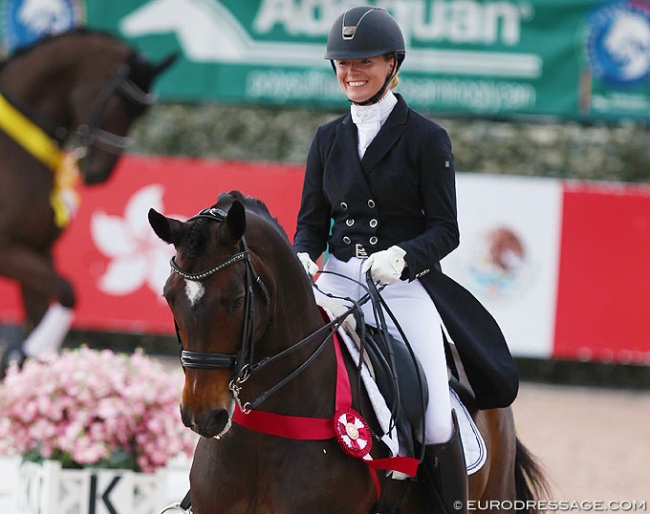 Canadian Grand Prix rider Lindsay Kellock has shifted her professional career into a new gear, making a serious bid for a spot on the Canadian Pan American Games team on Floratina while she also her eyes looking east at the Tokyo Olympic Games with Sebastian and new ride Final Cut.
The 29-year old Kellock has been an assistant trainer to Canadian born U.S. Grand Prix rider Ashley Holzer, for seven years. Two years ago Lindsay made the brave decision to begin her independent business, although the multiple Olympian continues to mentor and coach her. 
Lindsay currently rides and train horses out of Melissa Schiff Soros' Enterprise Farm in Rhinebeck, NY and Wellington for the winter. 
Aiming for Lima with Floratina
Kellock has had a highly successful season in Wellington, Florida aboard Chloe Gasiorowski's 11-year old Hanoverian mare Floratina (by Fidertanz x Rubin Royal). Out of 13 small tour CDI competition starts she won once, placed second no less than six times, and was three times third in a strong field of international riders, most of them competing for qualification for the 2019 Pan American Games in Lima, Peru in July.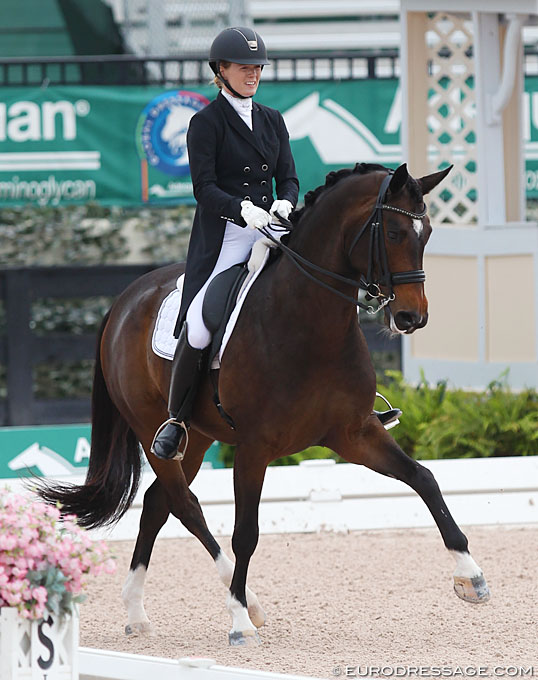 "Chloe purchased Floratina to be her schoolmaster from Oded Shimoni this past December, but she generously gave me the ride for the season to try and make Pan Am Team," Lindsay explained. "The mare has not received a score below 70% and is currently sitting in second position to be on Team Canada for the Pan Ams."
She credit the mare's rideability and temperament as her forté, aiding them in consistently achieving top results in the show ring.
"Flora's biggest strength is her character," said Lindsay without a doubt. "She has an incredible work ethic  and wants to please the rider all the time. I always have my best rides at the show as she always motivated by the new environment.  Flora never says no and is the type of horse that just goes with the flow . Whatever the atmosphere it  doesn't bother her at all. When we are competing she doesn't want to make a mistake most of the time if we have any errors  it's probably a miscommunication from me. She is so cuddly in the barn and always looking for attention very personable for a mare."
With Canada's penultimate Pan Am qualifier set at the CDI 3* in Ottawa on 16 May 2019, Kellock and Floratina are in a very strong position for that coveted team place.
"This will hopefully be our last qualifier before the team is selected in June," Lindsay added. "In the meantime I will be training in New York with Ashley and in the fall Chloe will start to ride and compete her.
The Ultimate Dream, 2020 Tokyo Olympic Games
For any ambitious dressage rider the Olympic Games are the ultimate dream. This is no different for Lindsay. With two irons in the fire -  Sebastien and Final Cut - Kellock has created a solid foundation for her Olympic campaign.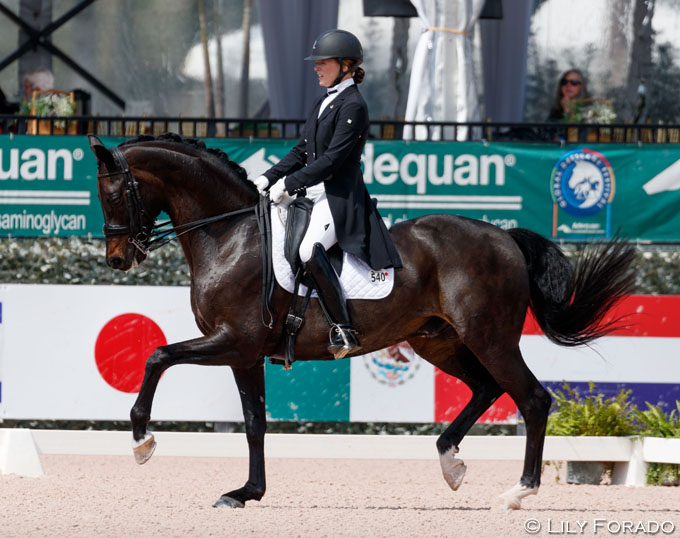 Owned by Enterprise Farm, the 13-year old Rhinelander gelding Sebastien is by Sandro Hit x Fidermark. The gelding has little show experience and made an impressive debut at his first CDI at Grand Prix level at the 2019 CDI-W Wellington in March. The pair scored 68.913% in the Grand Prix and 72.660% in the freestyle.
Sebastien has been an interesting horse to train and ride and keeps Lindsay thinking creatively. 
"Sebastien is extremely confident in himself," said Kellock. "He is a very talented horse but has definitely challenged me along the way with his strong character. I have to make dressage fun for him by changing up the program frequently to keep him interested.  This was our first season competing in "Friday Night Lights" in Wellington which is a  big atmosphere. He handled it like a champion as if he had been doing it forever.  He really loves the big atmosphere and the crowd to pump him up."
Lindsay's second option for Tokyo Dreaming is the more experienced 15-year old Hanoverian gelding Final Cut (by Federweisser x Carismo), owned by Enterprise Farm. 
Final Cut has built up an impressive show record in Europe under Swedish Per Sandgaard. Enterprise Farm has always owned the majority of Final Cut in partnership with Sandgaard's Arphus Farm. Per trained and competed him to Grand Prix and from 2016 through 2017 Swedish junior/young rider Cornelia Petterson campaigned the horse in Europe in the youth riders' classes.  Enterprise Farm imported him in February 2019 for Lindsay.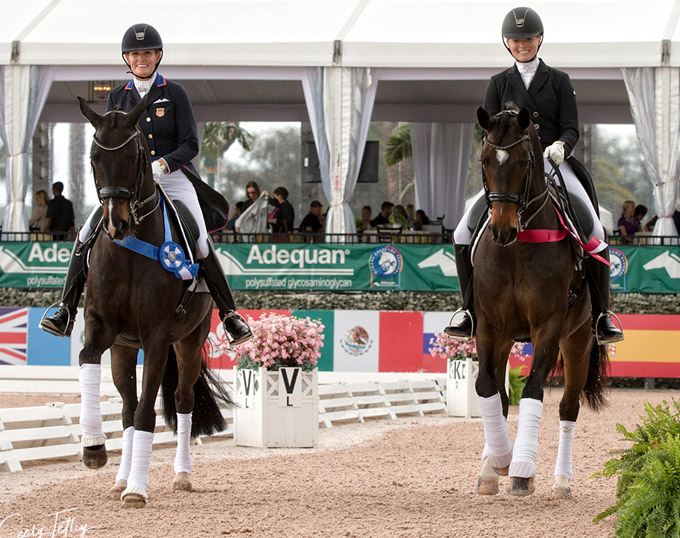 "Final is the overachiever, but always looking to the rider for support and confidence," said Lindsay. "Final has the energy  I have to try and keep him as relaxed as possible in a show environment. I am grateful to have two completely different horses to ride in their way of going. I'm always learning something new on both of them."
Lindsay and Final Cut got their feet wet at the 2019 CDI Wellington at the end of March. The pair competed in the small tour and scored 71.176% in the Prix St. Georges and 70.686% in the Intermediaire I to place second twice. 
"Sebastien will start competing Grand Prix in the fall and of course the goal will be to try and qualify for the Olympics in Tokyo next year," said Lindsay about her future show plans. "It's a bit early for me predict what Final's plan will be as I'm still getting to know him, but the goal will to also have him start Grand Prix in the fall to get ready for the 2020 Wellington season. We'll see where we go from there."
To Boldly Go New Distances with Enterprise Farm 
Melissa Schiff Soros, who is a small tour rider in her own right, is behind Enterprise Farm. She is "an incredible supporter" for Kellock as she has not only provided a work base for the young professional, but Olympic hopefuls to ride as well.
Aside from competing, Lindsay also takes in horses for training and teaches students.  Her pupil Lisa Apa competed in her very first CDI in the Amateur division in Wellington and won with 67% riding Rigolo. 
Kellock continues to rely on Holzer for mentoring and advice. 
"Ashley is a huge supporter of mine and is always making an effort to help me as best she can," said Lindsay. "I owe so much of this success to her. Managing her barn for seven years was an incredible experience and taught me so much. Not only is she an amazing trainer and coach, but she has an incredible work ethic and always goes out of her way to make everyone around her successful as well as competing at the highest level herself."
Photos © Astrid Appels - Cealy Tetley
Related Links
Irwin and Laurencio Back in Small Tour Winner's Circle at 2019 CDI-W Wellington
Bell, Fraser, Trussell Make it a Canadian Sweep at 2017 CDI-W Saugerties
Holzer and Dressed in Black Sweep 2016 CDI Tryon Big Tour
Partnership Between Petterson and Final Cut Comes to an End
Markne and Sandgaard Give Ride on Final Cut to Cornelia Pettersson