2019 Bundeschampionate Qualifier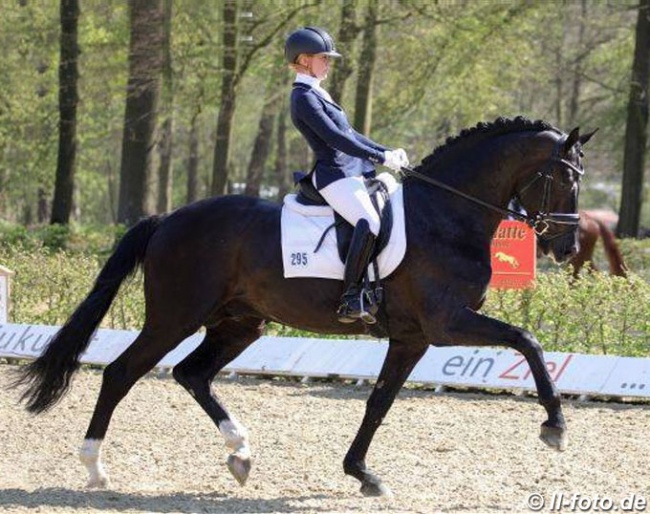 The 5-year old Secret and the 6-year old For Final OLD won the first Bundeschampionate qualifier of the 2019 show season. The event was held at the St. George riding club in Bremen on 26 April 2019. 
The 5-year old division was judged by Cornelia Hinsch, Uta Riemann and Dierk Groth. Popular breeding stallion Secret (by Sezuan x St Moritz) made a rare public appearance. After winning silver at the 2017 Bundeschampionate, the stallion did not compete until January 2019.  This month he did two local events in Elmlohe and Dötlingen as a warm-up to the Bremen qualifier. Under Swedish Jessica Lynn Andersson (now Thomas) he scored a winning 8.5. Hermann Gerdes and the Oldenburg mare Caty (by Sir Donnerhall x Furst Heinrich) was second with 8.2. Two combinations tied in third place on 8.0: Kira Ripphoff on the Westfalian stallion Chuck Bass (by Cennin x Rosentau) and Jessica Lynn Thomas on the Oldenburg stallion Valentino (by Vivaldi x Donnerschwee).
In the 6-year old division two combinations achieved a ticket to Warendorf by scoring 8.0 or higher. The winner was Stella Charlott Roth on Lodbergen's Oldenburg stallion For Final (by For Romance x Dimaggio) with 8.2. She edged out David Taylor on Julia Hermann's Oldenburg mare Heideblüte Z (by De Niro x Sir Donnerhall) with 8.0. Two pairs tied in third place on 7.7. They are Marilena Gerdes on Wolfhard Schulze's Hanoverian mare Dornröschen (by Don Schufro x Sandro Hit) and Melanie Tewes on Sissy Max-Theurer's Holsteiner stallion Caracciola MT (by Chin Champ x Calido).
Photo © LL-foto
Results - 2019 Bundeschampionate Qualifier - Bremen
5-year olds
1. Secret -  Thomas,Jessica Lynn -  8.5    
2. Caty OLD  -  Gerdes,Hermann -  8.2    
3. Chuck Bass -   Ripphoff,Kira -   8.0    
3. Valentino -    Thomas,Jessica Lynn -   8.0    
5. Vidar -   Thomsen,Catja   - 7.8    
6. Lightroom  -  Habermann,Mike - 7.7    
6. Fürst Fabrice OLD  -  Schnieder,Rieke  -   7.7
8. DiCaprio OLD -   Schoka,Anja   -  7.69
9. Labbadio -   Habermann,Mike  -   7.39
10. Belgardo -   Gerdes,Hermann  -  7.39
11. Franziskaner -  Dominguez Bernal,Manuel   -    7.312
12. Fireball MZ -   Goerens,Mathis - 7.112  
13. Innocenzo  -  Siedentopf,Vanessa  -  7.114  
14. Tiffany - Lammers,Tanja -  7.015  
15. Despacita -   Schucher,Mareike -  6.916
16. Sylt -    Monsig,Laura Marie -  6.416  
17. Frandrokus -   Pavao,Pedro Luiz Almeida -  6.4  
Die Dörthe -   Becker,Anna-Marie  - RET
Flappersnap Deluxe-   Busch-Kuffner,Silvia - RET
Geniale -  Korte,Annika - RET
6-year olds
1. For Final OLD  -   Roth,Stella Charlott   -    8.2    
2. Heideblüte Z  -  Taylor,David  - 8.0    
3. Dornröschen -   Gerdes,Marilena  - 7.7    
3. Caracciola MT -   Tewes,Melanie -   7.7    
5. Di Magic -  Müller-Kersten,Andrea -  7.5                              
6. Edward Tudor  -  Thomsen,Catja  -  7.4
7. Felipa del Sol SH -   Reins,Friederike - 7.0
8.  Fritz Santinus -   Busch-Kuffner,Silvia  - 6.9
8. Special Selection -   Oberdieck,Sabine -    6.9
10.  Surprice's Sunshine -   Becker,Anna-Marie -  6.8
11. Ballino von der Weide -  Schnieder,Rieke  -   6.7
12. Love Parade -   Lage,Nina zur  -  6.6
12. Fashion Lady B  - Roters,Demona  - 6.6
Détente -  Platen,Maxi Kira von - RET
Related Link
Eurodressage Coverage of the 2019 Bundeschampionate