2019 CDN Wellington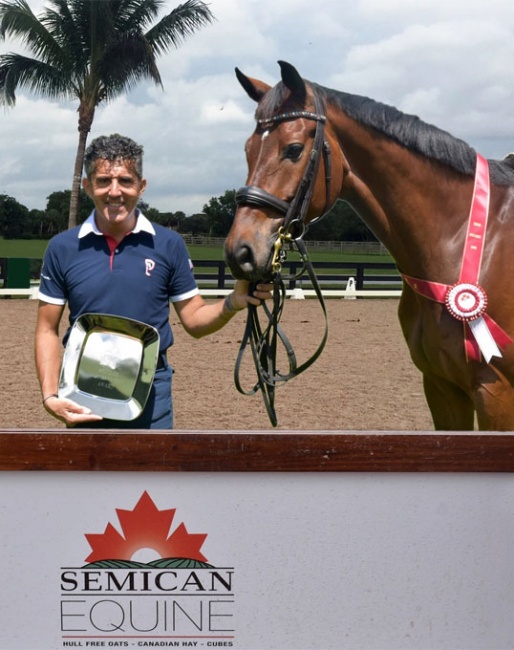 Dressage rider, Dr. Cesar Parra says he is still riding high from scoring his personal best in the FEI 7 year old division with GK Sir Beckmann (Sir Donnerhall x Witchita) during the Gold Coast Dressage Association (GDCA) season finale show in Wellington, FL. 
His excitement came through in his Facebook post after the ride, "Wow! Wow! Wow!  Thank you, GK Sir Beckmann - winning with 76.646% in the 7 yr old test. My highest score in this test in my life. So happy and so very proud of this amazing young horse!" Parra posted. The extraordinary test capped off a successful winter season that Parra has had with the big, gorgeous Hanoverian gelding. He says that bringing this young horse up through the ranks over the last few years has been a joy, and he feels Sir Beckmann is coming into his own. "It was very exciting because I've been working on all the little details that I've been told about in the previous shows and CDI's, with all the feedback from the judges," Parra describes about the ride, "It all comes down to the basics," he adds.  Parra and Sir Beckmann's performance was a wonderful display of the harmony between a dressage horse and rider, especially for a horse at such a young age. This is why the pair was recognized by the Semican Achievement Award.
The Semican Achievement Award is presented to a horse and rider combination that earns top scores and displays outstanding excellence in their performance. The award includes a commemorative neck ribbon and engraved tray. Parra was thankful for the award, which was new this year at the GCDA. "It's always nice to see companies sponsoring our horse shows," Parra says, "I think all the help that we get in dressage sport is great. It's a fast growing sport and it's nice to see more and more people involved in it," he adds. Semican is a Canadian company that manufactures Semincan HullFree Oats from a highly specialized non-GMO crop grown exclusively in nutrient rich Canadian soil. HullFree Oats provide the ideal blend of easily digestible carbohydrates and fat.  Because of its unique structure, the oats naturally supply energy and improve recuperation. The calm energy that the Semican HullFree Oats provide enables the disciplined dressage horse to perform at its best.
Parra says that Sir Beckmann definitely performed his best during the finale. "I am very happy," he continues, "I think we excel with the trot.  His trot is really breathtaking and the canter is starting to have more balance." Parra goes on to explain that the requirements for the 7 year old test are the same as the Prix St. Georges. "It's a little bit demanding on the horse," he describes, "So to keep a nice connection and harmony with the horse is challenging with a 7 year old. I was able to maintain a nice connection throughout the test with Sir Beckmann. He keeps improving in his desire to cooperate and his willingness to do more things, which makes it easier." 
Semican is looking forward to watching Sir Beckmann and Parra during the spring and summer seasons, and wish them all the best. Already well known in the racing and polo sectors, Semican HullFree Oats provide the ideal blend of easily digestible carbohydrates and fat.  Top equestrians have found them to be the perfect top dressing for current feeding programs to aid digestion, provide energy, and supply protein, minerals, vitamins and anti-oxidents. Semican is also well respected in the equine world for their extensive selection of Canadian hay cubes, hays and their Oat Snack treats .To learn more about Semican HullFree Oats, visit www.Semican.ca
Press release by Johnny Robb
Related Links
Parra Brings Sir Beckmann Up Through The Ranks, Winning 7-YO Classes at 2019 CDI Wellington
Performance Farm Commits to Helping U.S. Young Riders to Reach their Goals
Parra Again Qualifies String of Rising Superstars for 2018 US Developing & Young Horse Championships