Borculo Foal Auction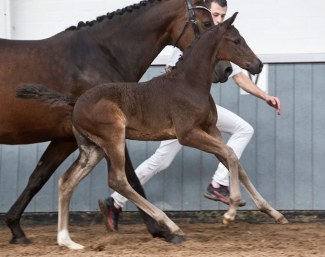 Celebrating its fortieth birthday, Foal Auction Borculo kicks off the anniversary year appropriately with an amazing collection of dressage and jumping foals for the first Borculo Online Foal Auction. An exclusive number of ten foals born somewhat earlier in the year managed to please the dressage and jumping selection committee's critical eye in terms of model, movement as well as pedigree.
This exclusive foal collection, consisting of four fillies and six colts, will come under the virtual auction hammer from 26-29 April via www.veulenveilingborculo.nl.
World-renowned Dodona line and offspring by Murona
As we zoom in on the six dressage foals, we first encounter beautifully bred Orbelluce da Silica. He is by the promising performance stallion Escolar (Hubertus Schmidt), who made a winning international Grand Prix début at the end of 2018. His dam is a state premium mare, who is sired by Grand Prix stallion Belissimo M. Out of this Hanoverian dam line also stems Grand Prix horse Ravelo (s. Royal Diamond). The next colt is Onassis. With this black eye-catcher we see the appealing For Romance II combined with a dam, who has proven herself under the saddle and brings in the blood of Hanoverian legends De Niro, Lauries Crusador xx and Weltmeyer.
Legendary names also pass by when we look at Odono Paulowna. This colt by the excellent Fürstenball descends from the world-renowned Dodona dam line. His strong branch leads directly to Adone, the dam of double Olympic champion Rembrandt (Nicole Uphoff). Furthermore we see, among others, granddam Andorra, a sister to Grand Prix horse U II (Gunter Seidel). The striking colt On Cloud Nine is by Jarville, still a young sire and recently victorious in his first international young horses class. Through his dam Great Morona (s. Ziësto) and granddam Chere Murona (s. Don Schufro) we arrive at the famous broodmare Murona, the dam of Grand Prix horse Axel (Alexandre Ayache). She is also at the basis of stallions such as High Five U.S., Blue Hors First Choice and Knock Out.
The blood of Totilas and a sister to Grand Galaxy Win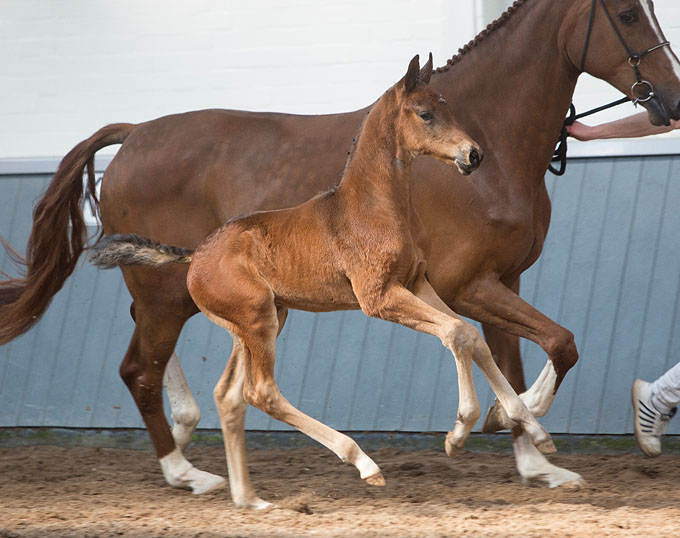 The blood of the legendary Totilas is prominently present in the two fillies. First of all we have a direct daughter by this leading sire in the making out of the dam Beauté GEP (Negro x Donnerhall). This mare is a full sister to Small Tour horses Ermellino GEP (Jordi Domingo) and Riwals Zucchero (Mariska Schalekamp). She is also a half-sister to Grand Prix horse Winnetou G.E.P. (Ruth Hole), who as a son of Gribaldi is closely related to his niece Ooh La La de Flora.
And last but certainly not least we have Ollolai. This genetic gem is by upcoming Grand Prix talent Glock's Toto Jr. Her dam Champ Win T (s. Oscar) is an elite mare and a sister to none other than the highly regarded and widely approved stallion Grand Galaxy Win (Charlotte Jorst).
Genetic high-flyers in jumping foal collection
The foals mentioned meet their equals in the four exceptional jumping foals (two colts, two fillies) presented. The sons of the wonderful BWP stallion Halifax van het Kluizebos (Lorenzo de Luca) and Kassander van 't Roosakker (Gregory Wathelet) both have dams, by Zirocco Blue VDL and Verdi TN respectively, that are a sister to eight international jumping horses. The two genetically exceptional fillies lead us to Colman combined with a very strong branch of the famous Sina stem on the one hand and Olympic stallion Apardi combined with Etoulon VDL's sister on the other.
Register for the online auction
Borculo Online Foal Auction is a new asset to Foal Auction Borculo's range. A total of ten exquisite foals will be auctioned online on www.veulenveilingborculo.nl from Friday 26th till Monday 29th April.
Buyers interested can easily register on the Borculo Foal Auction's website and make a bid on one or more foals through their account.
CSI and Elite Auction
A month later, on 24th May, it's time for the Borculo CSI Foal Auction (jumping foals). This physical auction's second edition, after its successful 2018 opening, will again take place during Jumping Schröder Tubbergen. We close off the 2019 auction season with the well-known Elite Auction Borculo that has been on the agenda since 1979. This takes place Wednesday 28th August (jumping foals) and Thursday 29th (dressage foals) at the appealing Paardensportcentrum Lichtenvoorde location in the town of Vragender.