Hanoverian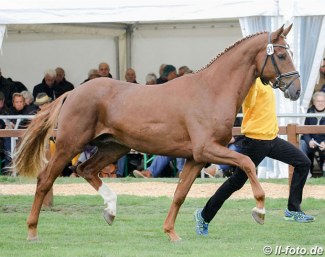 Damaschino became the top scoring stallion in the 14-day stallion suitability test held in Schlieckau, Germany, on 3 - 16 April 2019. 
The suitability test is mandatory for 3-year old and 4-year old licensed colts. The Schlieckau testing was focused on show jumpers, but several stallion owners entered their dressage colts there as well for logistical reasons.
Damaschino is by Danone I out of Feine Dame (by Fidertanz x Caprimond). He is owned by Burkhard Wahler from Klosterhof Medingen and was licensed in Verden in October 2018. At the testing in Schlieckau he scored the highest overall total of 8.35 points with 8.75 for dressage and 7.33 for show jumping. The colt further scored 10 for character and willingness to work, 9 for trot and canter, 7.5 for walk, 9/5 for rideability, 6.5 for jumping in freedom and 9.5 under the test rider. 
With dressage horses failing to produce proper jumps it is harder for them to stand their ground in a group with well moving jumpers. Out of the eight highest scoring horses overall, six of them were jumpers: Coreandro (by Caretino) got 8.30, Keaton (by Kannon) got 8.23, Condoctro (by Cornet Obolensky) earned 8.15, Chezarro (by Casall) and a nameless For Pleasure offspring got 8.05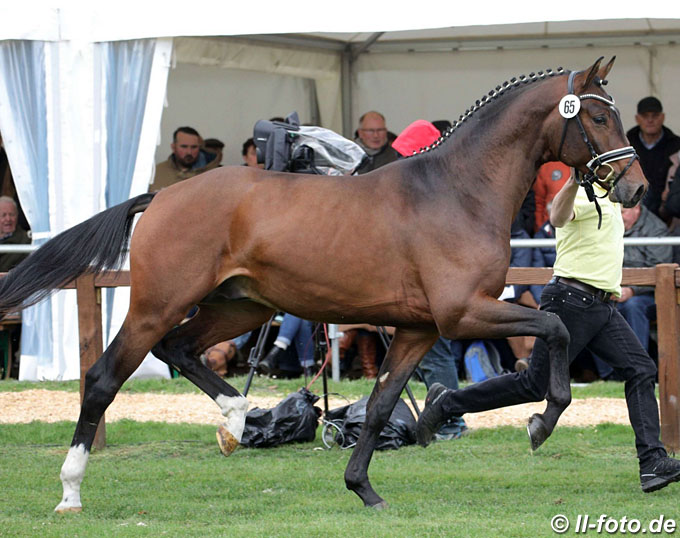 The second best scoring dressage horse overall was Fusionist (by Franklin), who got 8.08 overall. He earned 8.54 for dressage and 7.55 for jumping. The chestnut got 8s for his character, 9 for trot and canter, 7.5 for walk, 8.5 for rideability, 7 for jumping in freedom and 8.75 under the test rider. 
Furst Dior (by Furstenball) earned an overall of 8.0 with 8.16 for dressage and 7.48 for jumping. Venano (by Veneno) scored the highest individual dressage score after Damaschino (8.66), and with a 7.0 for jumping, he also finished on an 8.0 overall. 
Photos © LL-foto
Related Links
Maracana and Franco Nero, High Scorers of the 2019 Verden Stallion Sport Test
Dilegros, High Scorer of 2018 Stallion Suitability Test in Schlieckau
Sezuan's Donnerhall, High Scorer at 2018 Schlieckau 50-Day Stallion Performance Test
Karajan, Top Scorer at 2017 Schlieckau 14-day Stallion Suitability Test
German Stallion Performance Testing Undergoes Further Changes, Suitability Tests in 2017