2019 Horses and Dreans Online Auction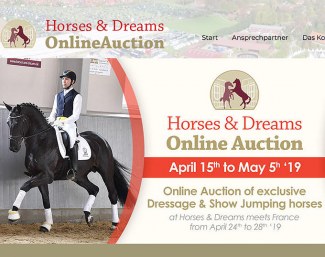 On 15 April 2019 ten elite young dressage horses from Hof Kasselmann and 10 excellent show jumping horses from Paul Schockemöhle's stable will go online in their second Horses & Dreams Online Auction. 
The complete collection can be viewed at https://www.horsesanddreams-auction.com
The Auction will be take place from April 15th to May 5th. You can view and test ride the horses in this time period at Hof Kasselmann.
If you are visiting the Horses & Dreams CDI/CSI Hagen on 24 - 28 April 2019, make sure to stop by the barn to look at your potential future dressage partner. The collection will be presented live during the competition.
Don't forget to register today and join the bidding!