2019 CDI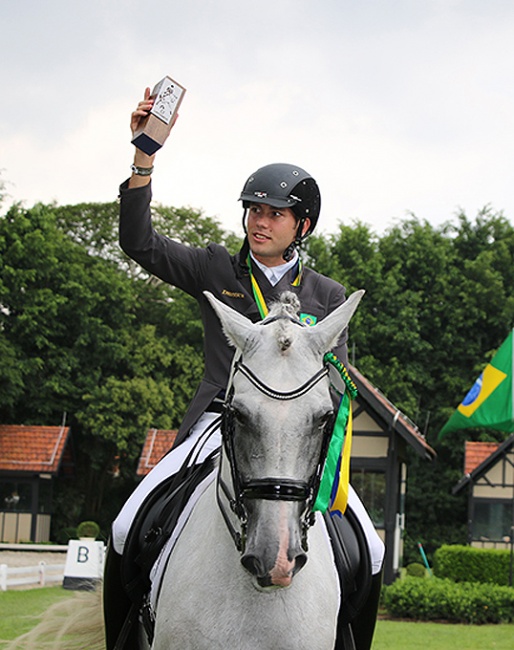 Brazilian João Victor Marcari Oliva has set the tone at the first Brazilian Pan Am Team qualifier aboard his new ride for the season, Biso das Lezirias, at the 2019 CDI Sao Paulo on 15 - 17 March 2019.
Four team qualifiers will be held in Brazil leading up to team selection for the 2019 Pan American Games in Lima, Peru. There mixed teams of Grand Prix and small tour riders from North, Central and South America  will battle it out for team and individual medals. Brazil will send one Grand Prix combination and three small tour riders as a team.
At the first qualifier held at the Sociedade Hipica Paulista in Sao Paulo, six combinations already achieved the Minimum Eligibility Score of 69% set by the Brazilian equestrian federation.
Marcari Oliva has taken the lead. The 23-year old is a Brazilian team routinier and one of the very few Brazilian top riders who is actively competing in Europe and Brazil, and not just in an Olympic year when personal prestige is even greater. Initially trained by Norbert van Laak and now working with Portuguese Paulo Caetano, Joao is now back in Brazil and has taken Maria Caetano's former ride Biso das Lezirias with him for his Pan Am enterprise. 
At the first Pan Am trial in Sao Paulo, Oliva won both small tour classes. He posted 71.863% in the Prix St Georges and 69.951% in the Intermediaire I.
Biso das Lezirias is a 13-year old Lusitano by Solar Pinhais out of Demente (by Maravilha). He was owned by Manuel Luis Goucha and competed by Maria Caetano up to medium tour level until 2017. They grey did not show internationally in 2018. In 2019 Barbara Laffranchi purchased the stallion and gave the ride to Joao three months ago. Joao will only spend the season in Brazil with the Pan Ams as goal, before returning back to Europe to further his education.
In a field of 10 combinations, competition was quite tough with no less than five riders scoring 69% or more in the Prix St Georges and Inter I. Mauro Pereira Junio and the 14-year old Brazilian bred Don Enrico AMM was on great form and finished second twice with 70.245% and  69.657%. The 38-year old Pereira rides the chestnut for owner Anna Capella Mantegazza. Yara do Amaral and the 11-year old Brazilian bred Lusitano Dileto HI stayed right on Pereira's heels with two third places on  69.608% and 69.265%. The 23-year old Yara only began competing internationally a year ago. She bought her chestnut from Elsom Aparecido Sabadine.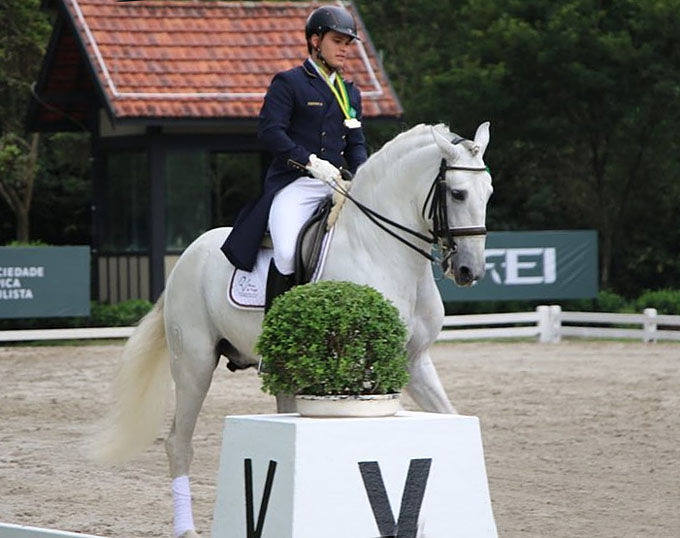 Just three combinations contested the two big tour classes at the CDI Sao Paulo. Both were won by Pedro Manuel Tavares de Almeida on Aoleo. He earned 68.529% in the Intermediaire II and 68.007% in the Grand Prix.
Sandra Smith de Oliveira Martins, who is a 4* judge and the Technical Director Dressage for the Brazilian Equestrian Federation, stated that at the Pan Ams Brazil is aiming for a medal at the Pan Ams as well as team Olympic qualification for Tokyo. The last time Brazil won an individual medal at the Pan Ams was in 1983, when Orlando Facada secured bronze at the Pan Ams in Caracas, Venezuela. They won team bronze four teams, in 1975 (Mexico City), 1983 (Caracas), 2007 (Rio de Janeiro) and 2015 (Toronto).
The second Brazilian Pan Am team qualifier will be on 27-28 April 2019, followed by trials on 25-26 May and 21-23 June, all in Sao Paulo.
Photos © Erica Costa, Carola May
Related Links
Scores: 2019 CDI Sao Paulo